Chris Pine Swears by Argan Oil and his Mason Pearson Hair Brush
The film star – and face of Armani cologne – shares his grooming, diet, and exercise routine. Plus, who gives him the "best man-hair in America."
---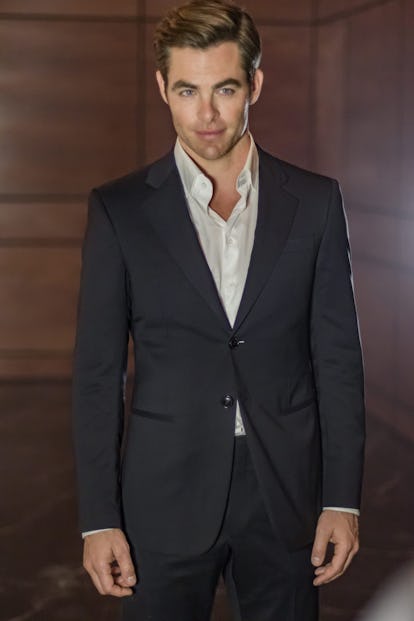 Courtesy of Giorgio Armani
Inside Giorgio Armani's Rodeo Drive offices, Chris Pine is finishing a photo shoot for the brand's new Armani Code cologne, which hits counters in February. After wrapping the dark and romantic campaign, Pine emerges from the photo studio and saunters toward me on the balcony. "I just ate a ton of pasta," Pine says with a carb-inspired grin, looking not at all like a man who consumes a ton of, well, anything. "It's like even my shoes don't fit anymore," he grunts, as he kicks off his loafers.
With Pine seated across from me—in all his barefoot, blue-eyed, Paul Newman-esque glory—it occurs to me that if we could somehow bottle his essence, the world would be a better (or at least sexier) place to live. For now, we will have to settle for Armani's latest Profumo cologne, of which he is also the face. Over the course of our conversation we touch on a variety of topics, from his Oscar-buzzworthy performance in Hell or Highwater ("it's been revelatory, seeing the response") to his upcoming Wonder Woman co-star Gal Gadot ("she's gracious and strong"). But today is first and foremost about cologne, and so Pine shares his simple grooming habits, workout routine, and what it feels like to have "the best man-hair in America," here.
I wanna go back in time just a little bit, and discuss your first grooming memories. Growing up, were you an awkward teen? Or were you always the kid voted "Most Likely to Become a Movie Star/Cologne Model?" No! I had horrendous cystic acne when I was 15. It was miserable, miserable, miserable. So from about 15 to 17, I was washing my face daily, desperately trying to cleanse it of the dirt and acne, which obviously never worked.
Then what was your grooming breakthrough? Years ago, I dated this girl once who was a huge fan of argan oil and coconut oil. It's actually all she would ever use. From then on all I ever used was argan oil for my face—and no serum. Simplicity is really important to me. I like things done simply and well. Also, I appreciate getting older. So I like crow's feet. I like looking like I've lived. So for me, it's essentially a cloth for my face, argan oil, and that's about it.
So if we raided your bathroom, that's all we'd find? Oh god no! I've gotten so much free stuff over the years, so much free product. I just went to this GQ event in London, and I literally must have gotten 10 pounds of free collagen elixirs. You know, crazy stuff like collagen with tequila and caffeine. And I'm a little bit of a hoarder so I'm like, "well maybe I'll need this stuff at some point."
When you travel, what's in your dopp kit? It's argan oil, my beard brush, and my Mason Pearson hair brush which I've had since my mom gave it to me when I was 16. And cologne. That's pretty much it.
So–you're traveling all the time for work. What's your exercise routine on the road? And how do you find time to work out? Thankfully this past year when I was traveling, I had my good buddy Mark with me who is one of my best friends. I've known him for 15 years, and he's also an incredible trainer. if you bring your trainer along, you have to work out because you're paying someone to force you to do it.
What do you do for your workout routine? For me, working out is less an issue of pumping iron. Traveling screws up my back so much. Sitting down is so awful for me. And when I get off the plane, I need to wring my spine out. So my trainer has come up with a special routine, which is essentially just movements that twist your spine. The only way I can really describe it is aggressive, sweaty, fast yoga. We're also doing a lot of Kung fu and kickboxing right now, and a lot of mobility stuff.
What's your diet like? Are you on any sort of 10 million calorie, movie star Thor-diet? No. I'm lucky, because I have a naturally thin physique. So if anything, it took me a while to gain some muscle. But for me, more than anything it's about energy. Usually I try to eat pretty small. I don't eat much for breakfast, I'll have a moderately heavy lunch, and then a light dinner.
What's your diet kryptonite? Any weaknesses? I mean I love pasta, I love food. Like what I did today, which is eat a ton of pasta and crash.
OK, now the most hard-hitting question of the day: who does your hair? The wonderful Mr. David Cox, who I've known for 8 or 9 years. And he's a part of my family now basically. He's been in the business for years. He's worked with everyone. He started in high fashion in London in the 80s and he's the man. He travels with me anytime I have to work.
Well, he does excellent work. You probably have the best man-hair in America. So if you have the best man-hair in America—who has the worst man-hair in America? Donald Trump. I saw the debate the other night, and all politics aside—just looking at that man's hair: it's clearly a comb over. Obviously. But from whence it starts—I just don't know. It's something quite awful.
You've saved the galaxy multiple times in Star Trek….can you save America from Donald Trump? Just put in parentheses "and he begins to cry." [Laughs] I wish, man.
So I'm assuming you're with Hillary. Oh, absolutely!
Watch: Alex Prager Captures Giorgio Armani for W's September Issue