Jeffrey Tambor and Millie Bobby Brown Ruled the BAFTA Tea Party ahead of the Emmy Awards
The stars of Transparent and Stranger Things were eager to chat about their plum roles.
---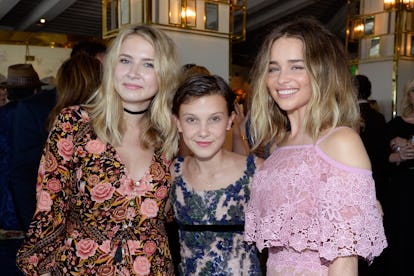 Getty Images for BAFTA LA
The British Academy of Film and Television Arts (BAFTA) held their annual pre-Emmy Awards Tea Party on Saturday afternoon, honoring nominees from the UK, US and beyond. The 80-degree Los Angeles heat prevented most from sipping any English tea, but revelers were happy to toast with a mid-day mimosa (or two, or three). The celebration was open to all Emmy nominees, but special attention was paid to Brits at the starry fête. Emmy Awards favorite Emilia Clarke ("Game of Thrones"), Julian Fellowes (double nominated for "Downton Abbey"), and Millie Bobby Brown ("Stranger Things") all showed up to support their fellow Britons.
Brown was one of the first stars to hit the red carpet, and the 11-year-old "Stranger Things" breakout brimmed with excitement as she made her way toward the party.
"It's been an amazing year. 'Stranger Things' has been such a phenomenal experience. I've learned so many things," Brown said. When asked what she was most looking forward to that afternoon, Brown replied, "I feel like I just need to dance all day, and rock it out!"
English actress Eliza Bennett was also ready to get the party started, and raise a glass to her native land in celebration. But it wasn't all fun and games for the talented star; Bennett was eager to talk about her hotly anticipated MTV series "Sweet/Vicious" and its socially relevant message concerning sexual assault victims.
"I'm honored and humbled that we get to be a part of this conversation around sexual assault," Bennett said. "If we can help raise awareness about what's happening at universities right now and the treatment of sexual assault victims, then everything we've been doing is worthwhile."
Another socially groundbreaking series, "Transparent," was also well represented at the BAFTA party. "Transparent" famously dominated last year's Emmy ceremony with 11 nominations and 5 wins. This year, the acclaimed show is up for another 10 awards, and hopes to repeat its success. Melora Hardin, a first time nominee this year for her role in "Transparent," shared her feelings on the show's success and its impact on society and the transgendered community.
"I feel that the show is helping people have more courage to be genuinely who they are. Audiences are seeing a part of our society that's been so otherized for so long, finally normalized in a family setting. [The audience realizes,] 'Oh they're just people, trying to figure out their lives like everybody else.' You get to see how this secret that Mort/Maura was holding for so long–how it affected not only him, but also his children."
Jeffrey Tambor's performance as Maura was honored with a historic Emmy win last year, and the actor is once again up for Outstanding Lead Actor. Tambor was also on hand at the BAFTA party, and expressed his gratitude toward the transgender community for embracing the show.
"[The show's impact on society] has been so life affirming," Tambor said. "Two parents came up to me recently and told me all about their young child who is transitioning. And as we had this conversation, I remember thinking: this is all I ever thought acting was. It's about change, it's about revolution, it matters. Comedy matters. And that makes me very proud."
At that moment, fellow Emmy nominee Keegan-Michael Key swoops into our conversation and gives Tambor a giant bear hug.
"Great to see you. What do you do again? You're an actor right?" Tambor jokes, with his signature deadpan wit.
"Yeah–I've been in a couple of things," Key says, with mock humility. The two laugh at their own bit, before promising to catch up later. Tambor then turns back to me, his face beaming.
"That's the real fun of this thing," Tambor says with a smile. "You get to see people you really love, and really appreciate."
Inside the BAFTA Los Angeles TV Tea Party 2016
Emilia Clarke and Cuba Gooding Jr. attend the BBC America BAFTA Los Angeles TV Tea Party 2016 at The London Hotel on September 17, 2016 in West Hollywood, California.

Photo by Kevork Djansezian/BAFTA LA/Getty Images for BAFTA LA
Actress Holly Taylor attends the BBC America BAFTA Los Angeles TV Tea Party 2016 at The London Hotel on September 17, 2016 in West Hollywood, California.

Photo by Kevin Winter/BAFTA LA/Getty Images for BAFTA LA
Kate Walsh attends the BBC America BAFTA Los Angeles TV Tea Party 2016 at The London Hotel on September 17, 2016 in West Hollywood, California.

Photo by Kevin Winter/BAFTA LA/Getty Images for BAFTA LA
Actress Tatiana Maslany attends the BBC America BAFTA Los Angeles TV Tea Party 2016 at The London Hotel on September 17, 2016 in West Hollywood, California.

Photo by Kevin Winter/BAFTA LA/Getty Images for BAFTA LA
RuPaul attends the BBC America BAFTA Los Angeles TV Tea Party 2016 at The London Hotel on September 17, 2016 in West Hollywood, California.

Photo by Kevin Winter/BAFTA LA/Getty Images for BAFTA LA
Isabelle Fuhrman attends the BBC America BAFTA Los Angeles TV Tea Party 2016 at The London Hotel on September 17, 2016 in West Hollywood, California.

Photo by Frazer Harrison/BAFTA LA/Getty Images for BAFTA LA
Yara Shahidi attends the BBC America BAFTA Los Angeles TV Tea Party 2016 at The London Hotel on September 17, 2016 in West Hollywood, California.

Photo by Kevin Winter/BAFTA LA/Getty Images for BAFTA LA
Tatiana Maslany and Maisie Williams attend the BBC America BAFTA Los Angeles TV Tea Party 2016 at The London Hotel on September 17, 2016 in West Hollywood, California.

Photo by Frazer Harrison/BAFTA LA/Getty Images for BAFTA LA
Cuba Gooding Jr. attends the BBC America BAFTA Los Angeles TV Tea Party 2016 at The London Hotel on September 17, 2016 in West Hollywood, California.

Photo by Kevin Winter/BAFTA LA/Getty Images for BAFTA LA
Hannah Murray attends the BBC America BAFTA Los Angeles TV Tea Party 2016 at The London Hotel on September 17, 2016 in West Hollywood, California.

Photo by Frazer Harrison/BAFTA LA/Getty Images for BAFTA LA
Allison Janney attends the BBC America BAFTA Los Angeles TV Tea Party 2016 at The London Hotel on September 17, 2016 in West Hollywood, California.

Photo by Kevin Winter/BAFTA LA/Getty Images for BAFTA LA
Maisie Williams and George R. R. Martin attend the BBC America BAFTA Los Angeles TV Tea Party 2016 at The London Hotel on September 17, 2016 in West Hollywood, California.

Photo by Frazer Harrison/BAFTA LA/Getty Images for BAFTA LA
Luke Brandon Field and Zelda Williams attend the BBC America BAFTA Los Angeles TV Tea Party 2016 at The London Hotel on September 17, 2016 in West Hollywood, California.

Photo by Kevin Winter/BAFTA LA/Getty Images for BAFTA LA
Eliza Bennett, Millie Bobby Brown and Emilia Clarke attend the BBC America BAFTA Los Angeles TV Tea Party 2016 at The London Hotel on September 17, 2016 in West Hollywood, California.

Photo by Kevork Djansezian/BAFTA LA/Getty Images for BAFTA LA
Kerris Dorsey attends the BBC America BAFTA Los Angeles TV Tea Party 2016 at The London Hotel on September 17, 2016 in West Hollywood, California.

Photo by Frazer Harrison/BAFTA LA/Getty Images for BAFTA LA
Jeffrey Tambor and Kasia Tambor attend the BBC America BAFTA Los Angeles TV Tea Party 2016 at The London Hotel on September 17, 2016 in West Hollywood, California.

Photo by Frazer Harrison/BAFTA LA/Getty Images for BAFTA LA
Millie Bobby Brown and David Harbour attend the BBC America BAFTA Los Angeles TV Tea Party 2016 at The London Hotel on September 17, 2016 in West Hollywood, California.

Photo by Kevork Djansezian/BAFTA LA/Getty Images for BAFTA LA
Paul Sparks, Michael Kelly, Julie Ann Emery and Carrie Preston attend the BBC America BAFTA Los Angeles TV Tea Party 2016 at The London Hotel on September 17, 2016 in West Hollywood, California.

Photo by Frazer Harrison/BAFTA LA/Getty Images for BAFTA LA
Graeme Manson, Kristian Bruun, and Jordan Gavaris attend the BBC America BAFTA Los Angeles TV Tea Party 2016 at The London Hotel on September 17, 2016 in West Hollywood, California.

Photo by Frazer Harrison/BAFTA LA/Getty Images for BAFTA LA
Emilia Clarke attends the BBC America BAFTA Los Angeles TV Tea Party 2016 at The London Hotel on September 17, 2016 in West Hollywood, California.

Photo by Frazer Harrison/BAFTA LA/Getty Images for BAFTA LA