Pamela Joyner Is Rewriting the Role of Black Art
With her emphasis on overlooked black artists, the San Francisco collector is on a mission to reframe art history.
---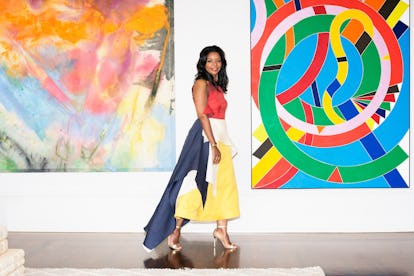 Photograph by Nathanael Turner, Styled by Claudia Mata; Hair by April Clay at Hair Play Salon; Makeup by Steve Wayne; Joyner wears Jennifer Fisher cuff; Manolo Blahnik sandals.
"I used to say that this house is full of artists you've never heard of," Pamela Joyner tells me on an unusually fine summer morning in Sonoma, California, where she and her husband, Fred Giuffrida, spend their weekends. "Now I say that this is a house full of artists you haven't heard of until recently."
San Francisco's bridges and towers form the distant particles of a spectacular view across Chardonnay and Pinot Noir vineyards. Until the 1970s, this serene hilltop was home to a nudist colony, and Joyner insists that the area retains much of its old hippie spirit, particularly when measured against its more precious neighbor Napa. The house, she says, was meant to be "decompression-focused, not art-focused," but inevitably, art seeped into every crevice. The works on display include a major Mark Bradford originally destined for a white wall in the couple's San Francisco home, only it wouldn't fit through the door; a row of porcelain "rags" by the Cuban artist Juana Valdes, who in this piece imbued bone china, valued for its whiteness, with a range of skin tones; and an enormous ribbon of woven wood by Leonardo Drew that, Joyner acknowledges with her easy laughter, certainly competes with the window treatments.
"I've never been the type to decorate to accommodate the art," she says, removing a sun hat the size of an inner tube and grabbing her first Diet Snapple of the day. "I love gold and big, old-fashioned drapes and dishes and crystal and Persian rugs." But Joyner doesn't do frivolous very convincingly. She takes a seat in the living room beneath one of Sam Gilliam's iconic dripped-and-draped canvases from the 1960s. "Now, Sam was born in Tupelo, Mississippi, in 1933. My mother was also born in Mississippi in 1933, so I think I understand what he was dealing with. When Sam took abstraction off the stretcher, he had to know that it was a breakthrough moment. To me, this work is an absolute act of subversion, a revolutionary act."
Joyner has a thing for revolutionary acts. Indeed, it would not be a stretch to call the Joyner-Giuffrida collection an uprising in its own right. "It's a collection with a mission," she says of this prodigious trove of mainly paintings, largely abstract, exclusively by artists of African descent from the postwar period to the present. "Our goal is ambitious. We want to reframe art history by introducing artists into the broader canon who have not necessarily been included but deserve to be."
Such a mission requires not only collecting but lending and donating works and stewarding artists' careers. September saw the publication of Four Generations: The Joyner-Giuffrida Collection of Abstract Art, a catalog of unusual scholarly rigor that testifies to the broad, international, and multi-institutional collaboration among curators and historians, artists, dealers, and other collectors whom Joyner has marshaled on her artists' behalf. The zeitgeist is very much on her side: A retrospective of the African-American figurative painter Kerry James Marshall arrives at New York's Met Breuer this month, and next summer, London's Tate Modern will mount a major exhibition on the shifting definition of "black art" in the United States in the past century. In the fall of 2017, a touring exhibition of works from the Joyner-Giuffrida collection will debut in New Orleans.
Joyner's "four generations" begin with Spiral collective painters such as Norman Lewis and Richard Mayhew, who met in the early 1960's in New York at the studio of Romare Bearden to discuss what it meant to be an artist of color at the clarion call of the civil rights movement. Their immediate successors included Gilliam, Jack Whitten, William T. Williams, Melvin Edwards, and Frank Bowling. The contemporary artists who first became known through the curator Thelma Golden's seminal "Freestyle" show at the Studio Museum in Harlem, in 2001, represent a third generation. Finally, the collection embraces young African-born artists such as the Ghanaian figurative painter Lynette Yiadom-Boakye and the South Africans Mikhael Subotzky and Zander Blom, who both happen to be white.
"I want to know who was influenced by whom, and how," Joyner says of her intergenerational lens. "It's perfectly fine for an artist to work in a silo, but that's not interesting to me." Joyner, who grew up in Chicago and spent 30 years working in the investment industry, recalls meeting the art historian and curator Lowery Stokes Sims while getting her MBA at Harvard. "I remember she said, 'You and your classmates are all going to go off and have your successful business careers, but don't forget to collect art.' Years later, when I had the resources, I called Lowery and asked her how to do it."
Joyner landed on Wall Street in the 1980's. (Fun fact: During those years, she became an avid participant in the Harlem drag-ball scene and knew nearly all the players in the 1990 documentary Paris Is Burning personally.) She draws some parallels between her early days in banking and the trials of the first African-American abstract painters, whose work had no reinforcing mechanism commercially and who had to contend with a market that wanted identifiably African-­American, uplifting, or politically charged pieces from artists of color — if they wanted any at all. "They did this work because they were compelled to do it," she says. "I didn't have a lot of peers or mentors on Wall Street in the beginning. My mother had a similar experience, when she came to Chicago on that train that took millions of African-Americans from the Deep South to the Northern cities to get an education. There was no real road map for any of us. This collection is part of that continuum." Her friend James Rondeau, the director of the Art Institute of Chicago, where Joyner is a trustee, believes that Joyner's is the rare collection that manages to tell a story: "Pamela is working at a level of ambition that is exceptional. She has embraced undervalued and neglected artists, but when she needs to, she buys at the top of the market. She's not a collector who is working in only one way."
This becomes breathtakingly clear to anyone who tours the Joyner-Giuffrida house in San Francisco's Presidio Heights neighborhood, where the 150-odd works on display run the gamut from Whitten's The Eighth Furrow, a squeegee painting executed more than a decade before Gerhard Richter made the technique famous, to Kara Walker's epic ­Terrible Vacation, a reimagining in gouache of J.M.W. Turner's Slave Ship, to the young Brooklyn-based artist Jayson Musson's Anticyclonic, which is made from the scraps of innumerable Coogi sweaters. Musson comments on cultural appropriation by referring to a style that was adopted by Biggie Smalls and later became a status symbol in post–Nelson Mandela South Africa. "Every affluent African-American man used to wear those sweaters — including my ex-husband," Joyner says.
Giuffrida, an investor who leaves decisions about the collection to his wife ("I don't think committees make the best decisions," he says), and Joyner are fixtures on San Francisco's gala circuit. But of the city's famously cliquey social scene, Joyner says simply, "We are in it but not of it." She feels that the Bay Area's artistic strongholds, gripped by old traditions, have not done enough to excite Silicon Valley's young entrepreneurs. "Another gala, or the bubonic plague?" Joyner imagines them thinking. "Give me a big dose of the plague."
Joyner, not exactly new-school herself, still manages to squeeze in a fitting at Carolina Herrera between appointments — and there are a great many appointments. In late summer, she flew to Johannesburg to give a talk about her collection and pick up a few works at the Joburg Art Fair. The fall was packed with obligations for the numerous boards on which she sits, as well as openings in New York, Chicago, and Los Angeles. The day after she spoke on a panel at the National Gallery, Joyner hosted a black-tie dinner for 200 friends and colleagues from a broad social circle that includes artists and collectors, bankers and ballet dancers. (She is a passionate balletomane, as suggested by the Misty Copeland Barbie on a shelf in her Sonoma den.)
A couple of years ago, the couple established an artist residency in Sonoma somewhat by accident, when the owner of the adjacent house decided to sell. They turned the garage into a proper studio space and started inviting artists to come with their families. "We've gotten to learn a lot about artists and art practices by living next door, and often we end up becoming good friends," Joyner says.
One of the first artists in residence was Lorna Simpson, who stayed in 2014, after a mad tear of exhibitions. Her first wish was to do nothing at all, and so in the beginning, artist and patron stayed up late talking, giggling, and drinking some very good wine. "I was going through a divorce at the time and was feeling an expectation to play by certain rules," Simpson recalls. "Pamela's reaction was 'Are you crazy? Turn over the car, cause chaos, start a revolution.' And then we sat through an earthquake together. Mother Nature came in and backed her up." Simpson, known for her photographs and films, made her first foray into painting on that retreat, and the curator Okwui Enwezor selected one of the Sonoma canvases for the following year's Venice Biennale.
On the day of my visit, the artist Samuel Levi Jones has woken up a bit bleary-eyed next door, having stayed up until 3 a.m. to watch a meteor shower. Joyner leads us downstairs, where one of Levi Jones's pieces, stitched together from the deconstructed covers of law books, hangs in a guest room. He explains that it emerged out of his distress last year over police abuses of power. "Here's abstraction with explicit political content," Joyner says. "But in this case, it's not enough just to see the work. Sam is a conceptualist, and the backstory is important. Who is written into and out of the law? Whom does the law serve?"
These are the same questions that Joyner has asked of art history. If the answers are different today from two decades ago, when she bought her first painting, she would not be wrong to take some of the credit. "Is the work transformational? If I can't answer yes, I take a pass," Joyner says. "Kerry James Marshall once told me to ask myself that, and I always hear his voice."
Watch W's most popular videos here: