Blade Runner: Oscar Pistorius
Paralympic sprinter Oscar Pistorius is the new face—and body—of 's A*Men fragrance. Vanessa Lawrence catches up.
---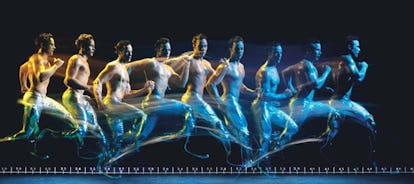 The allure of the superhero this summer isn't limited to blockbusters like X-Men or Thor: For his cologne, A*Men, Thierry Mugler handpicked South African Paralympic athlete Oscar Pistorius to front its futuristic campaign. The 24-year-old sprinter competes with the aid of two carbon fiber artificial limbs—thus earning him the nickname Blade Runner—and holds the Paralympic world record at 100, 200, and 400 meters. In a landscape populated by screen idols and rock stars, Pistorius (like his fellow Paralympic sprinter Aimee Mullins, who just signed on with L'Oréal) isn't exactly the traditional choice for a cologne spokesman. But his combination of physical prowess and inner fortitude caught Mugler's eye. For his part, Pistorius claims a natural affinity with the patchouli, coffee, and vanilla–​ based scent—though in a promotional video, the bare-chested sprinter lets his raw speed do the talking while sporting ergonomic silver leggings that meld with specially designed blades in place of his prosthetics.
Because of a congenital disorder, Pistorius was born without fibias; both of his legs were amputated below the knees when he was 11 months old. Still, he grew up wrestling and playing rugby, water polo, and tennis before discovering running at the relatively late age of 17. Though he has since conquered the Paralympic world, he's faced a number of obstacles in his quest to take part in able-bodied events. An initial ban suggested his prostheses gave him an advantage, but he now races in both arenas. Currently, Pistorius is training hard with the goal of representing South Africa at the 2012 Summer Olympics in London, while also establishing a foundation to give prosthetics to those who can't afford them. As for the "Muglerized" blades he nabbed from the A*Men shoot: "I'm not sure I'll wear them again," he says, "but they're a great souvenir."
Pistorius: Ali Mahdavi