Parasite Director Bong Joon Ho Hints at HBO Limited Series Plot
Little is known about his upcoming collaboration with Adam McKay at this moment—but Joon Ho dropped something of a hint about it last night.
---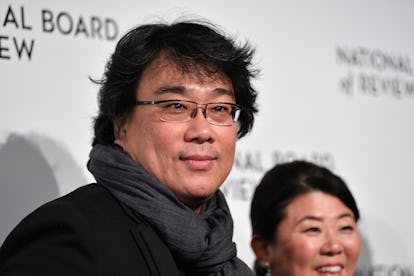 News of Parasite director Bong Joon Ho's latest collaborative limited series with Adam McKay may have just dropped, but the night before, the South Korean filmmaker hinted at what the narrative might be.
The upcoming limited series by Bong and McKay, who's known for his work on Vice and The Big Short, is described by The Hollywood Reporter as either "a follow-up to the movie or a or an English-language remake." It will air on HBO—the network reportedly won out on a bidding war with Netflix.
Little more is known about the limited series at this moment, including an air date. But Bong dropped something of a hint about it at the National Board of Review gala in New York on Wednesday night, where he received the award for best foreign language film.
When Bong was asked whether he would consider making a sequel for Parasite, he replied that the movie's format wouldn't be suited for a stand-alone second part.
"I don't think this film is a story that gets a sequel," he explained through a translator, standing with actors from the movie Kang-Ho Song and Lee Jeong-Eun. "Instead, there are so many hidden stories in between everything that happens within the film. So it's more of a necessity for a spin-off than a sequel. If you've seen the film, you wonder what happened to [the housekeeper Choong-sook] when she left the house and came back with all the bruises—and what happened to [the father] Ki-taek's character when he had the Taiwanese cupcake shop? It's all these background things."
Could Bong be hinting at what he's intending on doing with the limited series? Will viewers get the full explainer, the entire backstory on all the easter eggs and subplots that went unanswered in the movie? We can't be entirely sure—but for now, Bong's message is that after wrapping all the press he's been doing for Parasite during awards season, he'll be returning to the craft.
"I want to go back to my actual job, to create," he said.