Mother Dearest: When Famous Moms Become The Subject
Everything Is Copy and Nothing Left Unsaid, about Nora Ephron and Gloria Vanderbilt, are just the latest films by journalists taking on their parents as documentary subjects.
---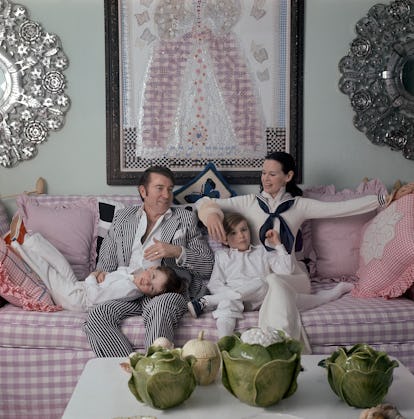 "Everything is copy," the late Nora Ephron said, famously and so many times it became her mantra. So it came as no surprise when her son, the journalist Jacob Bernstein, took her words and her life—warts and all—to be the subject of his first documentary film, Everything Is Copy, which premiered March 21 on HBO.
But Bernstein is not the only chip off the old block who has decided their parent's story is worth exploring onscreen. Tonight, Nothing Left Unsaid: Gloria Vanderbilt and Anderson Cooper, another familial documentary, premieres on HBO; the film was initially pitched by the CNN anchor and directed by Liz Garbus.
And just last fall, the filmmaker David Holbrooke released The Diplomat, which tells the story of his father, the would-be Secretary of State Richard Holbrooke; that film followed on the heels of the Oscar-nominated What Happened, Miss Simone?, which was conceived by Nina Simone's daughter, Lisa Simone Kelly, and was also directed by Garbus.
Taken altogether, it would seem this is a relatively new development in personal documentary filmmaking. "Do you want to make a film about your mother?" joked Sheila Nevins, president of HBO Documentary Films, when I reached her last week. "There's so much biography on television now, that anything that twists it into something slightly different [is good]."
These films—along with 2012's Ethel, Rory Kennedy's tribute to her mother, and 2003's My Architect, made by Louis Kahn's son Nathaniel—are no-brainers for HBO and other production companies: with familial blood comes unprecedented access and marquee names, even if it also brings the risk of exposing simmering feuds or, worse, hagiography.
"You worry about the objective storytelling, you worry about the I-remember-mama syndrome," said Nevins. "Are we going to euthanize the difficulties, are we going to cover all of the disagreements, are we going to make everything nice? Especially if the person is deceased. But I think these are very conscientious children," she said, before correcting herself: "Filmmakers."
For Garbus, it was important to have transparency up front. "It's always about being very honest and very clear, and setting the boundaries early on," she explained. "Certainly there were lots of shoots I did that [Cooper] wasn't around for, so there wasn't any sense that he was trying to control them."
Not to mention that the shadow cast by mom can loom large: "People say was it intimidating to have a mother like that," Bernstein said. "Yes it was, in certain ways. It was intimidating enough that I knew that the movie needed not to be terrible."
For Bernstein and Cooper, at least, they're used to telling stories, as reporters for The New York Times and CNN, respectively. "The children within themselves are professionals. That's why they're careful about exaggeration and reference," explained Nevins. Still, mixing journalism with memoir is not always an easy fit.
"It was interesting because I approached it as a reporter asking questions to a subject," Cooper said during an interview at the Sundance Film Festival, where Nothing Left Unsaid made its debut. "But at the same time, I know the subject so well that know if she started to lapse into stories she's told before, or pat answers that she has given before to people, I was able to say to her, 'You know what, that's not really the truth.' I couldn't have done that had I not known her, and somebody else asking the questions wouldn't have been able to do that."
"I'm certainly not accustomed to doing personal writing. It's not what I do. It's a place where I sort of diverged from my mother," said Bernstein. "But if you have an enormous experience—which her death was—and you don't figure out a way to write about it, you've sort of wasted it, if you're a writer."
There's a suggestion of profiteering in that sentiment, of which Bernstein is not ignorant. "I was very aware that it was an incredibly sad experience," he said, at a recent Everything is Copy screening at the Museum of Modern Art. "But an incredibly sad experience that I wanted to tackle creatively. And I did know, by the way, that if I didn't write about it quickly, my aunt was going to write about it," he said, referring to the author and playwright Delia Ephron. (She did in fact publish a memoir, Sister, Mother, Husband, Daughter, following Nora's death in 2012.)
But Bernstein was mostly motivated to make a film after a story appeared in New York magazine, by Frank Rich, about Ephron's surprisingly private death, after a lifetime of putting her personal life before the public eye.
"Part of why I think I didn't like it was because Frank Rich kind of got there before I did," he said. In other words, he'd been scooped. "Try not to make me sound like a total [expletive] when you write that I said that. But yes, one does have to be aware that there's power in moving quickly, whether you're writing about something personal or not."
Ephron likely wouldn't mind the ink spilled or celluloid spooled on her behalf—after all, everything is copy. And why not? Such projects benefit both the filmmakers and their audience: The public gains new entryway into the private lives of public figures, and the process is therapeutic for the children.
"You end up learning about a person in a way you never knew," said Cooper. "And there's nothing worse than a person dying and feeling like, 'I wanted to ask them this, I wanted to know more about this subject, but I was just too embarrassed to ask.'"
"We have this very overrated concept of closure, and the movie was not closure. The movie was continuance, and now the movie is done. That's closure," said Bernstein. "So I feel a little sad in a certain way. I think the hardest thing is letting it go."
Photos: Mother Dearest: When Famous Moms Become The Subject
Gloria Vanderbilt Cooper with her family in her NYC apartment in "Nothing Left Unsaid." Photo courtesy of HBO.
Gloria Vanderbilt in "Everything is Copy." Photo courtesy of HBO.
Nora Ephron with Jacob and Max Bernstein in "Everything is Copy. Photo courtesy of HBO.
Delia Ephron and Jacob Bernstein in "Everything is Copy." Photo courtesy of HBO.
Anderson Cooper and Gloria Vanderbilt. Photo courtesy of HBO.
Carl Bernstein, Jacob Bernstein and Nora Ephron in "Everything is Copy." Photo courtesy of HBO.
Anderson Cooper and Gloria Vanderbilt in "Nothing Left Unsaid." Photo courtesy of HBO.
Nora Ephron in "Everything is Copy." Photo courtesy of HBO.
Anderson Cooper in "Nothing Left Unsaid." Photo courtesy of HBO.