Paris Hilton to Release New Album Inspired By Deep House, Techno-Pop and Electro-Pop
She described it as a "whole new sound."
---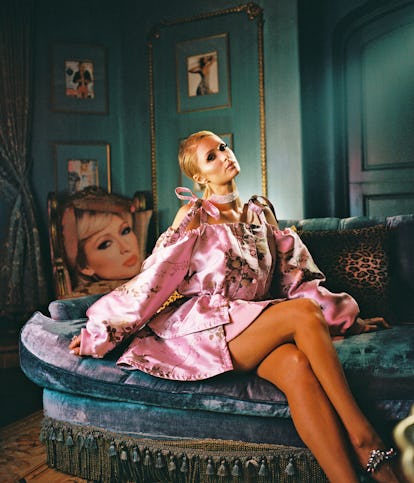 Mayan Toledano
The 2000s are back, but you — person on the internet reading about Paris Hilton — already knew that. The reigning queen of the era has confirmed as much, between breaking down her favorite 2000s trends and sharing how they've lingered around. "Young people now see what people wore before and want to bring it back," she told W earlier this year. "To now see things on the runway, and to see girls wearing things that I used to wear is really cool because nobody really dressed like me back in the day." Now, Hilton is taking aughts fever one step further, as she's just announced her plans to followup her 2006 debut album Paris — the one from which the bubblegum ear worm "Stars are Blind" hails.
While she didn't reveal when the album will be out, she did describe its vibe in an interview with TIME. Apparently, the album will be a "whole new sound" for Hilton. Though, it will be rooted in deep house, techno-pop and electro-pop, genres she experimented with on Paris and has made her signature as a star DJ over the past few years. Judging by that description, it will sound a lot like the song she shared over the summer, "Summer Reign," which was used to promote her Rosé Rush perfume.
Hilton also shared her influences with TIME, which include Katy Perry, DJ Chuckie, Michael Jackson. You can't say she doesn't reach for the stars. Plus, on the topic of her DJ career, Hilton also volunteered "I've always been a huge tech geek," a self-description that can also be confirmed in her hoarding of Blackberry phones over the years, which she still has neatly tucked away in her lavish home as she revealed to W.
Being a gear head isn't the only thing about Hilton that's contrary to the persona she created on The Simple Life. She also wants people to know that she has another side. "I want to be remembered for so much more," she told TIME. "People are so mean. And they don't know me. I get so misjudged. Just because my last name is Hilton does not mean that I'm some stuck-up brat."
Related: Paris Hilton Finally Changed Her Hair Color, Just in Time for Fall
Paris Hilton Breaks Down Her 13 Favorite 2000s Trends, And Why They're Still Hot:
See Long Forgotten Pictures of Paris, Nicky, And the Rest Of the Hilton Family
Kathy, Nicky, and Paris Hilton pose for a portrait in c.1985 in Los Angeles, California. (Photo by Donaldson Collection/Michael Ochs Archives/Getty Images)

Donaldson Collection
Rick Hilton, Nicky Hilton, Kathy Hilton, and Paris Hilton at the Beverly Hilton Hotel in Beverly Hills, CA (Photo by Jim Smeal/WireImage)

Jim Smeal
Paris Hilton, Kathy Hilton, Rick Hilton, and Nicky Hilton at the Beverly Hilton Hotel in Beverly Hills, CA (Photo by Jim Smeal/WireImage)

Jim Smeal
The Hilton family pose with Mickey Mouse at Walt Disney World Resort on February 19, 2005 in Lake Buena Vista, Florida. The Hilton family visited the resort in honor of Paris' birthday. (Photo by Matt Stroshane/WDW via Getty Images)

Getty Images
Paris Hilton with her parents, Kathy and Richard Hilton, 5th July 1996. (Photo by Colin Davey/Getty Images)

Colin Davey
The Hilton family at a Hilton Residence on May 27, 2001. (Photo by Patrick McMullan/Getty Images)

Patrick McMullan
Paris Hilton and Nicky Hilton during Anand Jon Fall 2001 – Backstage and Runway at WWF Restaurant, Times Square in New York, NY, United States. (Photo by Ron Galella/WireImage)

Ron Galella
Rick Hilton, Kathy Hilton, Paris Hilton and Barron Hilton (Photo by J. Vespa/WireImage)

J. Vespa
Nicky Hilton and Paris Hilton in New York City, New York (Photo by Ron Galella/WireImage)

Ron Galella
Nicky Hilton & Paris Hilton during "Enough" New York City Premiere at Loews Theatres (68th Street) in New York City, New York, United States. (Photo by Jim Spellman/WireImage)

Jim Spellman
Nicky Hilton in Tommy Hilfiger , Rick Hilton, Kathy Hilton and Paris Hilton in Tommy Hilfiger (Photo by Theo Wargo/WireImage for Tommy Hilfiger)

Theo Wargo
Paris Hilton during Paris Hilton File Photos in Los Angeles. (Photo by S. Granitz/WireImage)

Steve.Granitz/INACTIVE
Kathy Hilton, Nicky Hilton, Rick Hilton and Paris Hilton attend Rick Hilton's Birthday Party at Hilton Home on August 26, 2005 in Southampton, NY. (Photo by Patrick McMullan/Patrick McMullan via Getty Images)

Patrick McMullan
Nicky Hilton and Conrad Hilton attend T-MOBILE SIDEKICK Lounge at the MERCEDES-BENZ Bridgehampton Polo Challenge at Two Trees Farm on July 19, 2008 in Bridgehampton, NY. (Photo by NICK HUNT /Patrick McMullan via Getty Images)

Patrick McMullan
Paris Hilton and Nicky Hilton at an event in New York. (Photo by Steve Eichner/Getty Images)

Steve Eichner
Conrad Hilton, Mark Burnett, Donald Trump, Melania Knauss, Rick Hilton and Kathy Hilton attend Kathy and Rick Hilton's party for Donald Trump and "The Apprentice" at the Hiltons' Home on February 28, 2004 in Holmby Hills, California. (Photo by Patrick McMullan/Patrick McMullan via Getty Images)

Patrick McMullan
Paris and Nicky Hilton pose for photographers at the Backstreet Boys" "Black and Blue" record release party November 21, 2000 at Times Square in New York City. (Photo by George De Sota/Newsmakers)

George De Sota
Paris Hilton and brother Barron Hilton during The Launch of Marciano Hosted by Vanity Fair at Dolce in Los Angeles, California, United States. (Photo by J. Vespa/WireImage)

J. Vespa
Barron Nicholas Hilton, Paris Hilton, Nicky Hilton, Kathy Hilton and Rick Hilton attend the World Music Awards 2010 at the Sporting Club on May 18, 2010 in Monte Carlo, Monaco. (Photo by Pascal Le Segretain/Getty Images)

Pascal Le Segretain
Paris Hilton, Kathy Hilton, Rick Hilton & Nicky Hilton (Photo by Jean-Paul Aussenard/WireImage)

Jean-Paul Aussenard
Donald Trump with Paris and Nikke Hilton during rehearsals for the 2001 VH1 Vogue Fashion Awards at Hammerstein Ballroom in New York City, 10/18/01. Photo by Frank Micelotta/ImageDirect.

Frank Micelotta Archive
Barron Hilton and Nicky Hilton attend the Dennis Basso SS17 fashion show during New York Fashion Week at The Arc, Skylight at Moynihan Station on September 13, 2016 in New York City. (Photo by Owen Hoffmann/Patrick McMullan via Getty Images)

Owen Hoffmann