Paris Hilton Announces Skincare Line With Unicorn Mist
It comes in an Instagram-baiting bottle.
---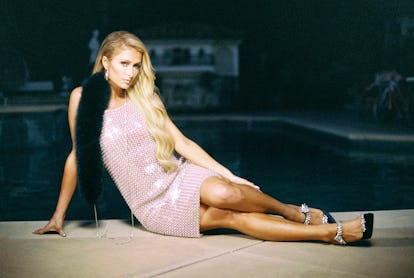 styled by Caroline Grosso. Visual Editor: Biel Parklee. Hair by Angel Gonzalez, makeup by Alexander Echeverri for Becca Cosmetics, manicure by Quisa Robinson. Photography Assistant: Tim Mahoney. Lighting Technician: Randy Newman. Fashion Assistant: Paige Viti. Production Assistant: Alex Hodor-Lee.
If her relentless fondness for rhinestones and everything pink is any indication, Paris Hilton doesn't follow the trend cycle; she sticks to her own internal clock. That is the case especially with unicorns, the mythical creature whose joyful rainbow aesthetic reigned throughout the first half of 2017. Even though all things unicorn seemed to have peaked with Elle Fanning's red carpet interpretation and Selena Gomez's Lizzy McGuire-inspired unicorn sweater, with the trend seemingly hitting a peak with Thom Browne Spring 2018 show where the designer brought a unicorn onto the runway, the Hilton heiress has just given her co-sign to the infinite Instagram hashtag fad. Today, Hilton officially announced her first foray into skincare and it's called Unicorn Mist.
Unicorn Mist looks exactly like you would expect it to: It comes in an Instagram ready, iridescent bottle branded with "Paris Hilton" and a logo consisting of a crown over a "P." Exactly what does Unicorn Mist consist of? Rose water, aloe vera, and marshmallow plant apparently. The product, which is the first of her all-natural Hilton Lifestyle, LLC skincare startup, contains a "proprietary rose water formula," according to the press release. "I am so excited to be able to bring such an amazing product to the market," Hilton said in a statement. "I have always had a passion for taking care of my skin and I only use products that actually work without harmful chemicals that are only a temporary fix. With this new company I can stand behind my own products and promote a brand that is focused on making products that truly work and can help everyone look and feel their best."
Fittingly, the bottle, which retails for $29, comes in a 50ml offering, allowing you to use it on the go when traveling, presumably as the in-demand DJ does, who has made jet-setting her lifestyle, between playing Ibiza clubs and promoting her other ventures, like her recent 23rd (!) fragrance, Rosé Rush. In between working on her skincare line, which is slated to debut in early 2018, Hilton has also been readying her second pop album, rooted in deep house, techno-pop and electro-pop, which she revealed earlier this month. 2018 is going to be Paris Hilton's year and it hasn't even started.
Related: Paris Hilton Invented Everything You're Doing in 2017, and She Knows It
See Long Forgotten Pictures of Paris, Nicky, And the Rest Of the Hilton Family
Kathy, Nicky, and Paris Hilton pose for a portrait in c.1985 in Los Angeles, California. (Photo by Donaldson Collection/Michael Ochs Archives/Getty Images)

Donaldson Collection
Rick Hilton, Nicky Hilton, Kathy Hilton, and Paris Hilton at the Beverly Hilton Hotel in Beverly Hills, CA (Photo by Jim Smeal/WireImage)

Jim Smeal
Paris Hilton, Kathy Hilton, Rick Hilton, and Nicky Hilton at the Beverly Hilton Hotel in Beverly Hills, CA (Photo by Jim Smeal/WireImage)

Jim Smeal
The Hilton family pose with Mickey Mouse at Walt Disney World Resort on February 19, 2005 in Lake Buena Vista, Florida. The Hilton family visited the resort in honor of Paris' birthday. (Photo by Matt Stroshane/WDW via Getty Images)

Getty Images
Paris Hilton with her parents, Kathy and Richard Hilton, 5th July 1996. (Photo by Colin Davey/Getty Images)

Colin Davey
The Hilton family at a Hilton Residence on May 27, 2001. (Photo by Patrick McMullan/Getty Images)

Patrick McMullan
Paris Hilton and Nicky Hilton during Anand Jon Fall 2001 – Backstage and Runway at WWF Restaurant, Times Square in New York, NY, United States. (Photo by Ron Galella/WireImage)

Ron Galella
Rick Hilton, Kathy Hilton, Paris Hilton and Barron Hilton (Photo by J. Vespa/WireImage)

J. Vespa
Nicky Hilton and Paris Hilton in New York City, New York (Photo by Ron Galella/WireImage)

Ron Galella
Nicky Hilton & Paris Hilton during "Enough" New York City Premiere at Loews Theatres (68th Street) in New York City, New York, United States. (Photo by Jim Spellman/WireImage)

Jim Spellman
Nicky Hilton in Tommy Hilfiger , Rick Hilton, Kathy Hilton and Paris Hilton in Tommy Hilfiger (Photo by Theo Wargo/WireImage for Tommy Hilfiger)

Theo Wargo
Paris Hilton during Paris Hilton File Photos in Los Angeles. (Photo by S. Granitz/WireImage)

Steve.Granitz/INACTIVE
Kathy Hilton, Nicky Hilton, Rick Hilton and Paris Hilton attend Rick Hilton's Birthday Party at Hilton Home on August 26, 2005 in Southampton, NY. (Photo by Patrick McMullan/Patrick McMullan via Getty Images)

Patrick McMullan
Nicky Hilton and Conrad Hilton attend T-MOBILE SIDEKICK Lounge at the MERCEDES-BENZ Bridgehampton Polo Challenge at Two Trees Farm on July 19, 2008 in Bridgehampton, NY. (Photo by NICK HUNT /Patrick McMullan via Getty Images)

Patrick McMullan
Paris Hilton and Nicky Hilton at an event in New York. (Photo by Steve Eichner/Getty Images)

Steve Eichner
Conrad Hilton, Mark Burnett, Donald Trump, Melania Knauss, Rick Hilton and Kathy Hilton attend Kathy and Rick Hilton's party for Donald Trump and "The Apprentice" at the Hiltons' Home on February 28, 2004 in Holmby Hills, California. (Photo by Patrick McMullan/Patrick McMullan via Getty Images)

Patrick McMullan
Paris and Nicky Hilton pose for photographers at the Backstreet Boys" "Black and Blue" record release party November 21, 2000 at Times Square in New York City. (Photo by George De Sota/Newsmakers)

George De Sota
Paris Hilton and brother Barron Hilton during The Launch of Marciano Hosted by Vanity Fair at Dolce in Los Angeles, California, United States. (Photo by J. Vespa/WireImage)

J. Vespa
Barron Nicholas Hilton, Paris Hilton, Nicky Hilton, Kathy Hilton and Rick Hilton attend the World Music Awards 2010 at the Sporting Club on May 18, 2010 in Monte Carlo, Monaco. (Photo by Pascal Le Segretain/Getty Images)

Pascal Le Segretain
Paris Hilton, Kathy Hilton, Rick Hilton & Nicky Hilton (Photo by Jean-Paul Aussenard/WireImage)

Jean-Paul Aussenard
Donald Trump with Paris and Nikke Hilton during rehearsals for the 2001 VH1 Vogue Fashion Awards at Hammerstein Ballroom in New York City, 10/18/01. Photo by Frank Micelotta/ImageDirect.

Frank Micelotta Archive
Barron Hilton and Nicky Hilton attend the Dennis Basso SS17 fashion show during New York Fashion Week at The Arc, Skylight at Moynihan Station on September 13, 2016 in New York City. (Photo by Owen Hoffmann/Patrick McMullan via Getty Images)

Owen Hoffmann