Pat McGrath's Master Class on How to Use Her New Concealer System
The beauty legend herself gives tips on how to use the Sublime Perfection Concealer System, which will be available in stores on February 21.
---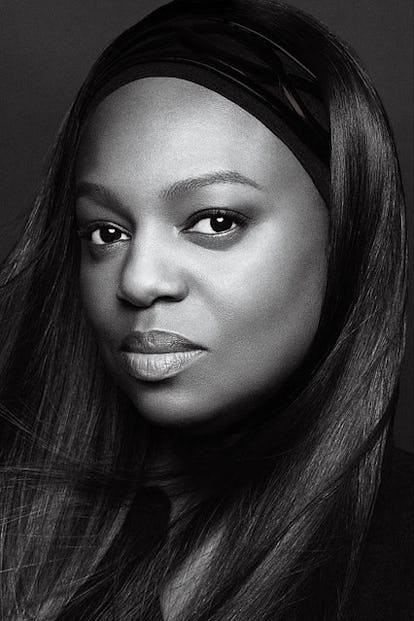 No one serves up eye-popping dazzle like the legendary Pat McGrath. Who could forget the glimmering, futuristic twist she conjured up at Valentino's Haute Couture show in Beijing by saturating models He Cong and Zhiqin Zuo with silver glitter while punctuating their eyes with jet black wings and their lips with crimson crystals? Or at Anna Sui's recent fall 2020 show, where she vamped up the drama with sparkly emerald eyes accented with femme-fatale lashes and a sumptuously stained berry lip. Even the simplest black cat eye takes on a fantastical, cinematic quality when rendered in her hands, as witnessed at the Marc Jacobs fall 2020 show.
But as any beauty obsessive knows, a great face starts with a great base. With over 25 years of experience adorning countless models, celebrities, and luminaries, you'd better believe that Pat McGrath knows skin.
Last summer, the beauty mogul released Pat McGrath Labs Skin Fetish: Sublime Perfection Foundation System—a trio of complexion perfectors that included foundation, primer, and powder. On February 21, she's expanding the set by launching the Sublime Perfection Concealer System, consisting of 36 shades of concealer, three universal under-eye powders, and a blending brush.
The collection's ultralight Sublime Perfection Concealers ($32) offer smooth, full coverage with a radiant matte finish, and come in five shade ranges (light, light-medium, medium, medium-deep, and deep) to complement an array of tones and undertones (warm, cool, and neutral). And while Mother— as McGrath is affectionately called—knows we want a cover-up with long-lasting staying power, she also knows we don't want anything drying, heavy or unnatural looking. So her products are formulated to be moisturizing: they're infused with a Vita-Serum Complex to stimulate the skin's natural hyaluronic acid and ceramide production. And the products' proprietary Flex Form Matrix allows it to conform and interplay with the shapes and grooves of the planes on our face without creasing.
Only a sheer veil of the system's Blurring Under-Eye Powders ($30) is needed to set the concealer. Its diffusing pigments brilliantly reflect and refract the light on skin, imparting brightness beneath the eye.
To achieve blending perfection, McGrath loves to use her hands as well as a brush. And although her line doesn't provide us with exact dupes of her tactile digits, it does give us the next best thing. The Sublime Perfection Concealer Brush ($32) was designed featuring a 40-degree angle that mimics the shape of McGrath's fingers, so we can feel like we were blessed by her touch.
Below, McGrath spills her tips on how to achieve custom, couture-like finishes with her new concealer range.
To Camouflage Dark Circles
"First, choose a concealer the exact shade of your skin. You want to make everything look seamless. You don't want to go too light because sometimes that draws more attention [to your under-eye area]. Using a small concealer brush, dab the concealer into the problem area, and blend it in. Then if there are still areas that you want to brighten, go in with a concealer shade that is one or two shades lighter and then dot that into the darkest spots. And lastly, since my concealer is moisturizing, and not a matte, drying concealer, set it afterward with a little powder."
As a Lazy-Girl Complexion Perfector
"Add one dab of the concealer to two pumps of your moisturizer. Mix it together. Then use as a wonderful skin coverage all over for a sheer tint." For the more laissez-faire who prefer a cover-up with substantial heft, McGrath suggests that they simply layer the concealer over their favorite emollient.
On Upgrading Your Regular Foundation to Version 2.0
If your foundation doesn't provide the full coverage that you desire, there's no need to buy a new base. "Simply whip in a few drops of concealer to beef up its coverage. The fact that your concealer can customize your foundation is major."
For a Demi-Matte Face
"Mix a little bit of the concealer with your primer, then smooth on to your skin. It won't be superglossy, but it will dry down to a more demi-matte finish." No setting powder is necessary as the primer combo will lock into place.
Selecting a Foolproof Highlighter or Contour
"Pick a concealer two to three shades lighter than your skin tone to highlight or brighten. Choose one two to three shades darker to add warmth and sculpt."
Pat McGrath Labs Skin Fetish: Sublime Perfection Concealer System is available February 21 at patmcgrath.com and sephora.com.