Patrick Schwarzenegger Shares How His 'Normal' High School and College Experiences Helped Him Prepare for His Leading Role in Midnight Sun
The 24-year-old son of Hollywood royalty and an American political dynasty was all grown up at the Midnight Sun premiere in New York.
---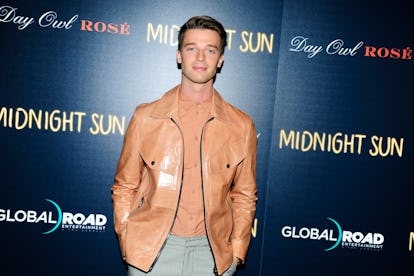 Paul Bruinooge/Patrick McMullan
Patrick Schwarzenegger has always wanted to be an actor, but he's glad he had some typical life experiences before taking on Hollywood. After starring in Ariana Grande's music video for her single "Right There," in 2013, and appearing on Scream Queens in 2015, Schwarzenegger takes the lead in Midnight Sun, the teen drama about a summer romance between Charlie (Schwarzenegger) and Katie (played by Bella Thorne), who has a genetic condition that prevents her from ever stepping outside into the sunlight.
On the red carpet for the New York premiere of Midnight Sun, Patrick Schwarzenegger told W that while his parents—journalist Maria Shriver and actor Arnold Schwarzenegger—have always supported his film goals, they still wanted him to have a normal childhood and adolescence. They encouraged him to go to college, and he enrolled at the University of Southern California. Now the 24-year-old actor acknowledges that, even though he is a descendent of Hollywood royalty, (those Kennedy genes are strong on his mother's side, and his father is not only an action film hero, but also the former Governor of California), he is grateful to have had the experience of a regular California kid.
He and Thorne filmed Midnight Sun over two years ago in Vancouver, just around the time Schwarzenegger graduated from USC. "[My parents] wanted me to pursue going to college and having an experience, not only for the educational side but for the social aspect and having that as an experience of life. I'm really happy I did do that," Schwarzenegger said. Pulling from his college experiences—and a special connection to USC as a graduate of the university—he was also able to train with the USC swim team four days a week in order to to get in shape for Midnight Sun's swim meet scenes.
Schwarzenegger admitted that having a typical adolescence helped him prepare for the role of Charlie, a recent high-school graduate who flubs his chance at a scholarship to U.C. Berkeley. "I went to high school, and it's funny because people are like, 'Oh, Bella, you didn't go to high school, and you didn't go to college. You didn't have these experiences.' And I did," Schwarzenegger said. "So I get what it's like during that senior year of high school, when you're working every day to go to your favorite college, and what happens if you get declined from them, and all that stuff. It's not fun!"
Schwarzenegger also noted that, between goofing off during the night shoots with Thorne, eating fluffernutter sandwiches (Thorne introduced him to the peanut butter–banana–marshmallow fluff combo), and getting to know his co-star outside of the movie, his parents would visit him on set when their schedules lined up.
The scion told his parents from a very young age that he wanted to be an actor, and they both were nothing but supportive of his aspirations to pursue a Hollywood career. "No matter how crazy my dreams are, they are supportive because my dad had some pretty wild dreams himself and he made them happen," the actor said, referring to his father's occupations as a professional body builder, actor, and two-term governor of California. "I think it's a little surreal for them to see their kid—maybe I shouldn't say that, I guess now I'm an adult—working! Just doing what I love to do."
Related: A Guide to the Very Large, Very Good-Looking, and Very Connected Kennedy Family