The Schwarzenegger Daughters Step Out at Matt Damon's Holiday Party
Katherine and Christina Schwarzenegger — who have a huge following of their own on social media — attended the event with their mother, Maria Shriver
---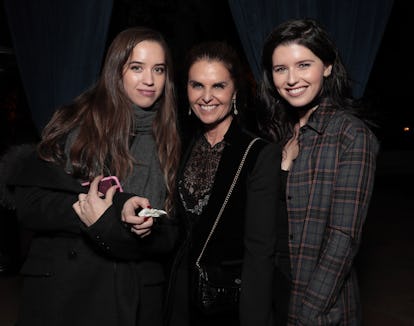 Getty Images for Amazon Studios
In Los Angeles this weekend, the actor Matt Damon threw a holiday party slash promotional event for Manchester by the Sea, which he helped produce, with his pal and co-host Jeff Bezos, the chief executive of Amazon.
In addition to the film's stars, Casey Affleck and Michelle Williams, guests included Hollywood names like Kate Beckinsale, Diane Keaton, and Faye Dunaway. There were also two new faces in the crowd though: Katherine and Christina Schwarzenegger, the daughters of Maria Shriver and Arnold Schwarzenegger, who attended with their mother.
Christina, 25, and Katherine, 26, are two of four children Shriver had with Schwarzenegger before they became estranged following his public affair with their housekeeper, with whom he also had a son. Patrick and Christopher Schwarzenegger are his two sons with Shriver, Patrick most notably being the former flame of Miley Cyrus.
The two Schwarzenegger girls, however, are making a name from themselves on social media, Christina with over 30,000 followers on Instagram and Katherine, who has her own lifestyle blog, has over 113,000. Katherine is also following in her mother's footsteps as the author of her two books, Rock What You've Got: Secrets to Loving Your Inner and Outer Beauty from Someone Who's Been There and Back and I Just Graduated… Now What? She is also a regular contributor to InStyle magazine with her #AskKat video series.
Christina, on the other hand, is a recent graduate of Georgetown University, her mother's alma mater, where she studied communications.
This is not the first time the Schwarzenegger sisters have stepped out to Hollywood functions with their parents and siblings — they've been on the red carpet with their Terminator father since they were toddlers — but now that they've both graduated and begun to make careers for themselves, we might be seeing a whole lot more of them.