Five minutes with fashion beast Patrick Wolf
British singer-songwriter Patrick Wolf is cultishly revered in the UK for his romantic techno-pop music and thoroughly avant-garde style. On his latest album, The Bachelor, he even convinced Tilda Swinton to lend her voice. (She...
---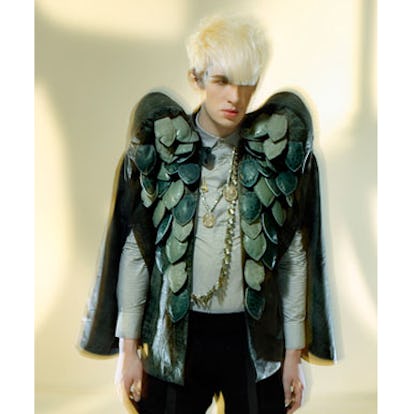 Tell us about your musical influences on The Bachelor. I guess it was more of a personal influence of just wanting to return to my English folk music roots and Irish family roots. My father was ill at the time and I was somewhat of a teenage terror up until my twenties so I wanted to re-establish what my father was into musically.
You're obviously obsessed with fashion. Who are your icons? John Galliano, Alexander McQueen, Karl Lagerfeld and Vivienne Westwood, who's been my obsession since I was eleven years old! If only McQueen's menswear was as great as his womenswear—that's the thing with a lot of menswear out there. And that's why I tend to work with people who design womenswear. I get them to make one-off menswear versions for me.
You were all over London Fashion Week this year. Three of my very close collaborators got their first shows there this season! Fred Butler, an amazing costume and prop designer who did basically all the accessories on my last tour two years ago, has now crossed over into accessories. Craig Lawrence, who made my outfits two years ago and still continues to, had his first show. And Ada Zanditon, who's done my whole wardrobe for this tour and for all my videos and my artwork, also premiered her line.
You got really dressed up for those shows. Yeah, I wore couture. I used to go to Fashion Week when I was seventeen and I know that if you're gonna turn out you have to go and steal the show! I guess that's why a big deal was made out of it.
Your outfits can be pretty provocative. Every day I become more myself and more confident about showing my natural behaviors. I did a video recently, the "Vulture" video, where I'm naked in a jock strap and I'm just becoming more myself for a moment, you know?
So that's your natural behavior? Any of these people who are made out to be provocative—like Madonna or Britney or Lady Gaga—they're they're just showing the world what a natural human being is. They're showing the secret parts of being human, not the freaky parts. People think that being provocative is being freaky, but a lot of the time the most provocative thing is when you're a natural human.
Photos: top and bottom, Nick Thornton-Jones and Warren Du Preez; live, Ali DiEmidio.