How the Collector Patrizia Sandretto Re Rebaudengo Became Italy's Peggy Guggenheim
The story of one of Europe's most daring patrons of contemporary art.
---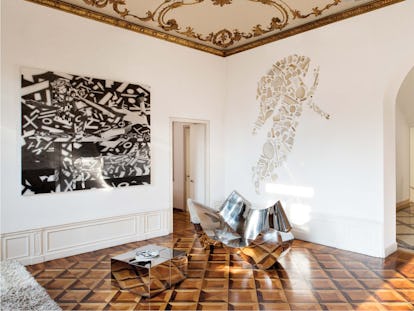 Photographs by Ambroise Tézenas
Every morning, before getting dressed, the Italian art maven Patrizia Sandretto Re Rebaudengo chooses a brooch or necklace from her 1,000-plus-piece collection of vintage costume jewelry, then pairs it with a classically cut ensemble that will set it off to best advantage. For the past decade, the Turin-based collector and patron has worked with her own tailor to choose the silhouettes, materials, and colors that will highlight the accessories' unique qualities and her own expressive yearnings. Though a stickler for detail—perfectly turned out and coiffed, her strand of choice encircling her neckline just so—she's also a dynamo who relishes engaging in large, unwieldy projects by ambitious rising art stars, the kind that require an adventurous spirit.
"I pay attention to work by artists who are radically changing our vision of the world," she told me one day this past November, during a weekend of events to celebrate her 25th year as a collector and the 20th anniversary of her namesake foundation. Headquartered in a former tire factory in Turin, the foundation is devoted to rotating exhibitions, educational programs, residencies, and the production of international projects. "I started collecting artists of my generation because I was interested in what they thought and did, in the way they saw the world in which we were living," she said. "Through them I learned not to be afraid of what I didn't understand right away."
She began collecting work by the Italian provocateur Maurizio Cattelan in 1994, well before he became a star, and backed him when he wanted to replicate the Hollywood sign in Palermo, Sicily, for the 2001 Venice Biennale, its first off-site project. The sign was erected on a landfill owned by her husband, the scion of an aristocratic Piedmontese family, and opened during the Biennale, with the Fondazione Sandretto Re Rebaudengo flying the artist and 150 guests from ­Venice to Palermo for a daylong impromptu performance and luncheon. She also underwrote Doug Aitken's breakout Venice Biennale hit, the 1999 eight-channel video Electric Earth, and his 2001 New Ocean, a film and installation she coproduced with the Serpentine Gallery, in London. "Patrizia is kind of a Trojan horse," Aitken says. "Beneath this calm and elegant exterior is someone who supports the extremes of art making."
More recently, during the winter of 2015, she gave the Argentinean sculptor Adrián Villar Rojas carte blanche to create Rinascimento, a site-specific installation at the foundation. Villar Rojas imported 109 imposing boulders from Turkey by truck for a series of sculptures overlaid with found organic matter, including fish, cheese, and salami. At the artist's request, there was no heating for the duration of the show to minimize the rotting stench for visitors, and most of the foundation's lights were removed so that the works' appearance changed as the daylight faded. "It was like being on the moon," recalled Sandretto Re Rebaudengo, who bought several pieces and kept the rest in storage for 18 months before shipping them to Los Angeles for the current Villar Rojas exhibition at the Museum of Contemporary Art.
For all of her glamour and the grandeur of her domestic life, Sandretto Re Rebaudengo, 58, is unassuming and joyful in person, with a grounded generosity that makes artists feel at ease in her company. She likes having them as houseguests at her turn-of-the-century villa in Turin, once owned by Carla Bruni's family, and where she regularly entertains. Here, the artworks, set against the home's elegant gilded moldings and original parquet and marble floors, signal Sandretto Re Rebaudengo's taste for the timely. There's a monumental collage by Annette Messager of hundreds of images of body parts; a sculpture of a giant bat by the Estonian post-Internet pioneer Katja Novitskova; and grids of doughnuts by the young American artist Josh Kline, some embedded with bullets, handcuffs, or police insignia. "It's so important when works are able to talk about the moment in which we live," she said. "My collection is not to decorate."
On this particular weekend, in addition to welcoming those attending Artissima, Italy's most important contemporary art fair, she was hosting a dinner for 200 following the opening of two exhibitions overseen by her foundation. One was a solo show of absurdist figurative paintings by Sanya Kantarovsky, the Russian-émigré American who was staying with her. The other, "Like a Moth to a Flame," a sprawling 25th-anniversary survey split across two locations, dramatically juxtaposed 70 contemporary pieces from her collection of more than a thousand works with hundreds of objects drawn from Turin's celebrated historic museums. It was both a portrait of Turin through objects that the city's residents have collected over the centuries and an homage to Sandretto Re Rebaudengo's role in transforming that once understated city, home to the arte povera movement of the 1960s, into one of Europe's capitals of vanguard art.
As the guests, among them the auctioneer Simon de Pury, the Centre Pompidou director Bernard Blistène, and the artists Tony Oursler, Liam Gillick, Josh Kline, and Paola Pivi, trooped through her home, Sandretto Re Rebaudengo greeted them one by one, before leading them all outdoors to the tented candlelit dinner where the tables were stocked with wine bottles sporting custom labels by Gillick. "There's no one like Patrizia in Italy," says Tom Eccles, the executive director of the Center for Curatorial Studies at Bard College, who curated "Like a Moth to a Flame," along with ­Gillick and ArtReview editor in chief Mark Rappolt. "She's not only supported artists early in their careers, but added works to the collection that were often milestones for those artists. And then she's organized exhibitions of their work and done all of this in Turin, so there's a major civic-minded component too."
When Sandretto Re Rebaudengo began her collection in 1992, there was virtually no institutional support for contemporary art in Italy. She grew up in an affluent family in Turin; her mother was an avid collector of Sèvres and Meissen porcelain antiques, and her father was a plastics-manufacturing magnate who encouraged her path to an economics degree at the University of Turin and a role in his company. She was married with two young sons when her father and his brother sold the family business; her restlessness to make a mark led her in 1992 to London's Lisson Gallery, whose founder, Nicholas Logsdail, took her to the studios of Julian Opie and Anish Kapoor, the 1991 Turner Prize winner. Those formative conversations with artists at the center of a burgeoning British art scene helped her see "behind the work," she said, and convinced her that she wanted to participate in its making and "to be more than a collector, to be part of their world."
One of her first areas of focus was female artists. She was guided by two key female mentors: Ida Gianelli, the longtime head of Turin's glorious Castello di Rivoli, Italy's sole contemporary art museum at the time; and the Cologne, Germany–based gallerist Monika Sprüth. Gianelli tutored Sandretto Re Rebaudengo in the evening after work; conversations with Sprüth often took place during their ski vacations together with their young families at Sandretto Re Rebaudengo's country house in Courmayeur, near Mont Blanc.
"I was very moved that somebody who didn't know so much about art had this feeling that she should support women artists," says Sprüth, recalling Sandretto Re Rebaudengo's early purchases of work by Cindy Sherman, Catherine Opie, and Barbara Kruger, among others. "These artists were not unfamous, but they were not the hot thing either. It was a certain risk she took when she bought them. She could easily have gone only into famous painters in those days, but she didn't." (Among the most resonant works in the "Moth" survey is Kruger's 1997 black and white head shot of Eleanor Roosevelt, with the words NOT UGLY ENOUGH stamped across her cheek.)
While her husband, Agostino, and sons, Eugenio, 30, and Emilio, 28, serve on her board, the Fondazione Sandretto Re Rebaudengo is one of the few world-class contemporary collections spearheaded by a woman. "There's a kind of die-hard determination and specificity to everything she does," Kantarovsky observes. "She's the matriarch of her family and also of this entity. It's an operation that's guided by her, which is unusual in a patriarchal society like Italy's." At the beginning, Sandretto Re Rebaudengo recalled, dealers made a beeline for her husband, the founder of a renewable-energy company. "Nobody paid attention to me," she said. "But it helps if you are economically independent. I could buy what I chose; I didn't have to ask." For 19 years, until 2014, the Italian curator Francesco Bonami was the foundation's artistic director. "In the beginning, you are afraid, and you don't know," she told me, acknowledging his valuable input. "But when I have to decide what I want to buy, I decide alone."
Just four years after she acquired her first works, Sandretto Re Rebaudengo opened her foundation's premier exhibition space, wanting to "create a place to present works the public couldn't see" elsewhere in Italy. It was housed in the Palazzo Re Rebaudengo, the 18th-century country home of her husband's family, in Guarene d'Alba, southeast of Turin. On the night she gave me a tour of its public spaces and elegant private quarters, she was also hosting an elaborate birthday party for Eugenio, who runs the online art platform Artuner. The house was alive with preparations. And yet, Sandretto Re Rebaudengo, clad in a claret velvet dress, tiered Kenneth Jay Lane leaf necklace, and spiky-heeled platforms, trotted up and down its many staircases, speaking knowledgeably about such works as Cattelan's Lullaby—a bag of debris gathered from the site of a Mafia bombing—while also correcting table settings and checking out the white truffles for supper. By the time the guests pulled up, the rooms were illuminated only by candlelight, suggesting a scene out of Barry Lyndon.
By contrast, the foundation's Turin outpost, opened in 2002, is a stark, minimalist single-level building in a working-class neighborhood, with a silvery café designed by Rudolf Stingel. Unusual among prominent collectors, Sandretto Re Rebaudengo does not limit exhibitions to pieces from her own collection and is committed to helping visitors understand the often challenging works on view. To that end, she has created a team of "art mediators," staff members trained to engage the public in discussion. The day after the dinner at home, as the two of us emerged from a room devoted to Hans-Peter Feldmann's 9/12 Front Page, created from the front pages of 151 newspapers documenting the events of September 11, 2001, a woman blocked our path and began singing for us, one of several site-specific interventions choreographed by the artist Tino Sehgal. "They look you in the eyes," Sandretto Re Rebaudengo told me afterward. "Some people sing along, others get confused and ask questions."
Many collectors relish the pleasure of being the first to discover an artist. While Sandretto Re Rebaudengo was a pioneer in presenting an exhibition of Los Angeles artists in 1998, and several dedicated to women artists in 2004, she follows her own decision-making metric: "I cannot say that 'I discover,' " she said. "But if we are good collectors, we are able to buy the work just a second before it becomes common language." To that end, she continues to bet on the rising generation of post-Internet stars like Ian Cheng, Hito Steyerl, and Rachel Rose. In May, Rose's latest large-scale video installation opens at the Philadelphia Museum of Art, the first initiative of a collaboration between this museum and the Fondazione Sandretto Re Rebaudengo to jointly commission and acquire an artwork in time-based media every two years.
Sandretto Re Rebaudengo is focusing next on the cutting-edge Matadero Madrid arts complex, where, in 2019, she will open another branch of the foundation, in a former slaughterhouse co-designed by the Ghanaian-British architect David Adjaye. As in Italy, it will present shows and offer residencies to curators, who will organize exhibitions after traveling throughout Spain to meet local artists. Sandretto Re Rebaudengo, who spent summers in Barcelona as a girl and owns a house in Cadaqués, sees Madrid as a vital link to the growing Latin-American art scene. Family projects are yet another going concern. On a snowy walk over Christmas in 2016, Sandretto Re Rebaudengo and Agostino discovered a small hotel with perfect views of Mont Blanc. It had been closed for years and wasn't for sale, but after a few phone calls, it was theirs. The couple is turning it into a five-star hotel, or perhaps lodging for friends. Agostino, she told me, intends for it to be as sustainable as possible. Emilio, who runs a catering business, will oversee hospitality; and she and Eugenio will invite artists to create furniture and works for the rooms and exhibition space. Pulling up renderings on her iPad, Sandretto Re Rebaudengo showed me the minimalist wooden aerie they have commissioned from Kengo Kuma, the Japanese architect designing the Tokyo 2020 Olympic Stadium. "I don't know if it will be a business," she said of the lodge, "but it will be fun for our family."
Her muse has long been the saloniste Peggy Guggenheim, for her embrace of the new. "Except that you have to be able to understand that art changes," Sandretto Re Rebaudengo emphasized. "I read that Guggenheim, when she was around 70, said, 'There aren't so many good artists as there used to be.' The trap is to collect artists only of your generation, because you feel closer to them. I'm afraid of not being able to read the moment. So I tell my team and my sons, 'If I say something like that, lock me in a room and don't let me buy art, because it means that my eyes are not able to see anymore.' "