Paul Andrew Makes Shoes Women Want
The shoemaker to the stars says his customer isn't going to wear "vertiginous heels everyday just because her husband or boyfriend thinks they are hot!"
---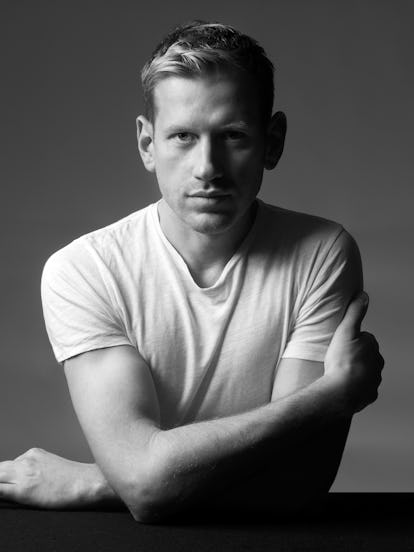 Since launching his collection in 2013, Paul Andrew has turned his footwear brand into a major industry player. Just one year along in 2014, he won the CFDA/Vogue Fashion Fund, and now his shoes are sold in 90 stores worldwide — Net-a-Porter, Barneys, and Saks among them — and are worn by some of the chicest women in Hollywood, including Jessica Chastain, Gwyneth Paltrow and Lupita Nyong'o. Here, he talks the low heel trend, his cult Rhea shoe and his forthcoming menswear line.
Why did you decide to go into designing accessories? What was your particular interest in footwear? My career path became clear quite early in life. My father was the Queen's upholsterer at Windsor Castle, and being surrounded by luxurious textiles and artisan craftsmanship was an enormous influence. In high school, my favorite class was Design Technology; I loved the idea of designing something that could enhance and perform in a person's life, and the being able to create it using modern technological advances. But fashion was always my first interest. Even as a young child I would save my pocket money in order to buy British Vogue. When it came time to choose a field of study for university, fashion footwear design seemed like the perfect amalgamation of all my interests.
What was it like getting your own business off the ground? When I launched my brand, I had already worked in the footwear industry for 15 years, designing for Donna Karan, Calvin Klein, Narciso Rodriguez, and Alexander McQueen, so I was fortunate to have a network of friends and colleagues who rallied behind me from the start. My launch was probably less fraught than that of other designers who started from square one. Everyone from the global retailers and Italian manufactures, to editors and celebrity stylists already knew me — so their early support was integral to launching the brand. But regardless, there have been a lot of early mornings and late nights in the intervening years!
What style do you find is perennially popular with your customer? In Spring 2014 I launched a style called Rhea, which is a deceptively simple flat sling-back style. I say deceptively because there was so much design and engineering that went into that shoe to make it the perfect, simple, everyday shoe. Everything from the angle of the strap, to the tension of the elastic was carefully considered, and I think because of that thoughtfulness, women of all ages are really gravitating towards it. I was in a store recently and saw three generations of women all buying the same style!
What accessories trends are you seeing among women right now? I think many women are gravitating towards a lower heel. From an aesthetic point of view, myself and other designers are creating young, sexy, modern versions that don't come off as old fashioned or mature. But beyond that, I think this trend speaks to the female luxury consumer today: she's not going to wear vertiginous heels everyday just because her husband or boyfriend thinks they are hot! She's much more interested in dressing for her real life, which may take her from the board room, to a PTA meeting, to an art opening in one day. I love seeing women in incredibly fashion-forward outfits and a low heel, to me it just speaks to the life that woman leads and the confidence she has in her intrinsic sex appeal.
So many chic celebs wear your shoes! Who is your greatest supporter? Jessica Chastain actually became a fan of the brand in Toronto when she was shopping at The Room. She bought a pair of shoes, which she wore that spring during a Cannes Film Festival press event with James McAvoy for The Disappearance Of Eleanor Rigby. The photographer asked her to slip off her shoes and she stepped into French Riviera; images of her carrying the shoes, clearly baring my name, were all over the press! It was like something out of To Catch a Thief. Jessica is the epitome of the Paul Andrew woman — she's thoughtful, smart, talented, and wonderfully funny.
Let's talk Fall 2016. Where did you get started, and what did you want to communicate? I am interested in speaking to a global audience. I take geographies, specifically cities as my key inspirations each season. Fall is about Istanbul, and the old mystique and richness of this city. I focused on Byzantine and Ottoman traditions — specifically the architecture and tile work, and attempted to incorporate these historical references in modern ways. Almost all of the hardware in the collection is custom developed, based on 13th and 15th century metal work. The level of research that went into this collection was really intensive.
You're also launching menswear shoes for Fall– what has that experience been like? It's interesting, the process of sketching and bringing that dream to fruition is inherently personal; so many of my designs are dreamt up when thinking about the women in my life and what they want to wear. But with men's, designing took on a much more immediately personal tone because in many ways I was designing for myself and the men that I know who were looking for something new, modern, and cool but not overly designed and embellished. I've always planned to launch men's, and actually designed men's for many years at other brands, but being able to let my imagination run wild and collaborate with my factories to create new, innovative techniques to create this line was a wonderful experience.
Talk about your plans for the future. What's next? I have a lot of ideas for how to build my brand and expand to other product categories. It's important to me to time these projects so that my company has the infrastructure for such growth to be sustainable. There appears to be a trend with young designers trying to do everything all at once. I would obviously like to be all over the world, with direct to consumer shopping experiences, and a series of stores, but my goal is for this to be a lasting brand that becomes part of the fabric of internationally recognized design, so it's important for me that I balance pacing myself and pushing myself.
Photos: Paul Andrew Makes Shoes Women Want
Paul Andrew. Image courtesy Paul Andrew.
Shoe from Paul Andrew's Fall 2016 collection. Photo courtesy Paul Andrew.
Paul Andrew Fall 2016 presentation. Photo courtesy Paul Andrew.