Marc's Place
Paul Fortune, who creates glamorous, grown-up interiors—like this media room he did for Marc Jacobs—sheds some light on his process.
---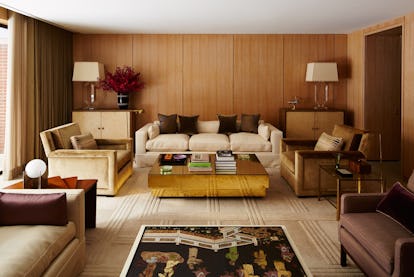 Photograph by Jeremy Liebman.
It's a rare pleasure to work with a compatible client—and even rarer when that client is a good friend. Marc and I have worked together for many years, and I think I function not so much as a decorator but as a sounding board for his ideas and concepts. We seem to have a similar vocabulary, which gives us a shorthand we communicate with—rue de Babylone/St. Laurent '70s/Garden of the Finzi-Continis/'40s chinoiserie/matelassé. Marc is a quick study and loves nothing better than to wade through the auction catalogs and share his finds with me. My job is to make sure the things he likes work—and they inevitably do. It's not often that I have had to reject his proposals. Occasionally, this can be a challenge (as in the case of a spectacular Paul McCarthy sculpture he was obsessed with), but eventually we work it out.
For the New York house, Marc worked successfully with Thad Hayes on the basic design and then asked me and the indispensable designer John Gachot to come in and address the furnishings and final decor. The materials we used were elegant and refined but not overly opulent—and the total effect feels comfortable but glamorous. This is not a hipster pad! You really can't define the style: Is it Paris in the '30s? Buenos Aires in the '40s? New York in the '70s? What it is is a place you want to be now—and one where Marc can retreat from his ridiculously busy work life.
Shortly after the house was completed, Hurricane Sandy destroyed the lower floors, including the room shown here. Once the initial shock passed, we decided to redo everything as it was originally: the cerused-oak-paneled walls, custom rugs, 38 layers of persimmon lacquer in the powder room—even the trees and plants in the garden. The media room, as it is referred to (I hate that term), was only recently restored. I prefer to think of it as the den—albeit a very grown-up one. You feel enveloped by the warm oak paneling, the sensual silk-velvet sofas, the plush rugs, and the flattering light from the parchment-shade lamps as you gaze out on to the terrace and the once-again-beautiful garden.
I love this room, and I love that Marc loves and enjoys it.