Trend: Rhapsody in Plume
Join the fashion flock and delight in colors of the peacock sort.
---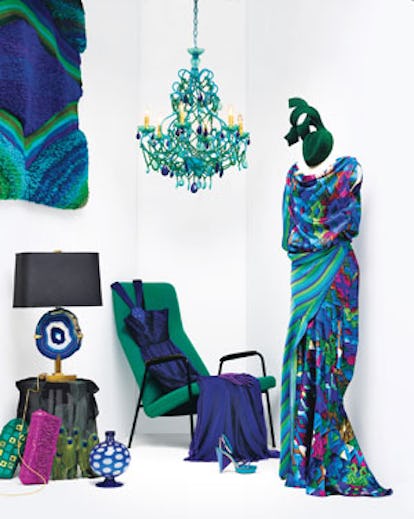 The fall runway collections boasted plenty of feathers—trailing down gowns, trimming accessories—not to mention loads of bird imagery. But there's another avian trend at the forefront of the season: a color palette lifted straight from peacock plumage. That's of the male variety, though; one who takes to flaunting his fabulously iridescent quills to woo the far less extravagant-looking peahen. To be sure, there's something irresistibly alluring and glamorous about these jewel-tone hues, including brilliant emeralds, indigos and purples—even exotic pops of fuchsia here and there. They don't call it peacock proud for nothing.
Fashion assistant: Brian O'Connor. Flying Fig's scarf at the Metropolitan Museum of Art, New York; KH Kaeppel's tapestry, lowstudio.com; Arte Vetraria Muranese's vase, lobelmodern.com; Distant Origin's lamp, distantorigin.com; Canopy Designs' chandelier at ABC Carpet & Home, New York.