Your Perfect Summer Espadrilles, Straight from Spain
From the island of Mallorca, a design studio dedicated to local artisans.
---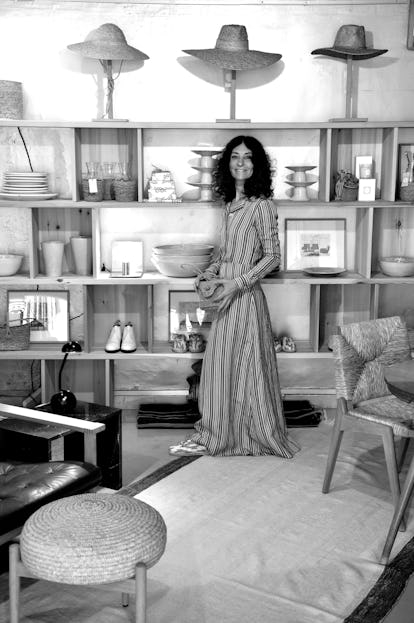 Nestled in the heart of Palma de Mallorca in Spain, La Pecera Mallorca is an intimate design studio and concept shop dedicated to the preservation of local artisans on the island. Trained as an industrial and interior designer, Marlene Albaladejo works full time for Carmina Shoemaker, and on her own, reproduces and sustainably manufactures pieces including furniture, hats, and espadrilles using local materials. Here, the Spanish designer discusses the importance of handmade objects, the beauty of Mallorca and branching into e-commerce.
Where do you find inspiration? I would say it's a combination of 20th century sculpture, architecture and design, as well as the nature and landscape of the island of Mallorca.
What was it like getting your business off the ground? In fact, it is a very gratifying experience—what started as a hobby (I dedicate most of my time to my job as designer and creative director of Carmina Shoemaker) is becoming a small sustainable and ecological business with the aim of preserving local Mallorquin traditional crafts.
How does traveling inspire you? What are your next travel plans? Traveling is always a great source of inspiration to me and, in general, I prefer non-Western countries because I find more motivation in radically different places to where I live. In this sense I am against globalization that standardizes, depersonalizes and loses the essence. Also in these countries, craft still holds an important weight. My next trip will be to Japan, a country that still keeps traditions alive, where they have great relevance and appreciation for handmade objects.
What accessories trends are you seeing among women right now? I have never been interested in trends, I find them a way to enslave and manipulate a woman. I love clothing and accessory design and quality that endures over time. I conceive my accessories as a design object rather than fashion.
How would you describe your personal style? I like to be natural, simple, honest, and when I can, introduce color as an expression of joy.
Has there been a favorite moment since you launched? The greatest satisfaction is always in the process of creation and the moment—it's almost magical!—in which the concept or idea becomes a real object.
Talk about your plans for the future. What's next? I plan to expand the range of accessories, furniture and objects that make up my small design store while maintaining hand crafts on the island of Mallorca, and, on the commercial side, create a website and start selling online. At the moment all sales are made in our small shop in Palma and are sold via email requests from people who see our products through friends.
Watch W's most popular videos here:
Photos: Your Perfect Summer Espadrilles, Straight from Spain
Marlene Albaladejo of La Pecera Mallorca. Photo courtesy La Pecera Mallorca.
Photo courtesy La Pecera Mallorca.
Photo courtesy La Pecera Mallorca.
Photo courtesy La Pecera Mallorca.
Photo courtesy La Pecera Mallorca.