Even When He's Apologizing, Pete Davidson Is Haunted by Ariana Grande Jokes
A literal war hero roasted the comedian over his breakup.
---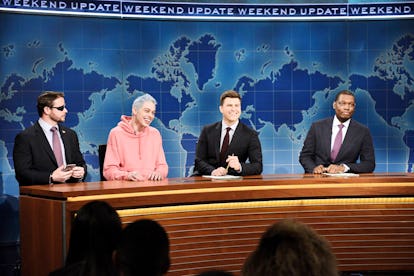 Photo by: Will Heath/NBC/NBCU Photo Bank via Getty Images
"In what I'm sure was a huge shock for people who know me, I made a poor choice last week," is how Pete Davidson, Saturday Night Live's resident self-aware, blue-haired former fiancé of Ariana Grande, began his bit on Weekend Update. He then apologized for making fun of Lieutenant Commander Dan Crenshaw during a segment in which he mocked the congressional candidate's looks. In that segment, Davidson cracked wise about Crenshaw's eye patch, which he wears because he lost his eye while serving abroad in the United States Armed Forces. But Crenshaw got the last laugh in more ways than one. The Republican not only won his bid for a seat in Congress but also appeared on Weekend Update alongside Davidson to accept his apology, talk about Veteran's Day…and roast the hell out of Pete for both his looks and his private life.
Before calling Davidson out for his looks, mostly his hair, Crenshaw let his cell phone ring, playing Ariana Grande's "breathin'" and inspiring a pretty strong audience reaction. Davidson smiled through the awkwardness, which is pretty much the only thing you're allowed to do when a recently elected congressman who is also a war hero roasts you on national television. "That's cool…Ariana Grande song," he commented, laughing after Crenshaw asked if Davidson knew the singer. In one of his trademark break-the-fourth-comedic-wall moments, Davidson admitted to the audience, "Eh, that was funny."
Davidson has never been above acknowledging his public persona in his comedy. Earlier in the bit, he laments the toll the outrage took on his mother, mentioning that America was mad at her son "and roommate" now that he's moved out of Grande's apartment and, apparently, back in with his mom.
Ironically, Grande was able to give the best breakup advice of all without even appearing on the show: Just keep breathin' and breathin'. And if that doesn't work…thank u, next.
See the full interaction below:
Related: Ariana Grande is Relying on Her Tight-Knit Friend Group Since Saying "Thank U, Next" to Pete Davidson
Why Celebrities Like Gwyneth Paltrow, Shay Mitchell, and Solange Are Still Going Glamping
Shay Mitchell went glamping somewhere deep in the mountains in August 2018.

Photo by @shaymitchell.
Leave it to Solange and her husband Alan Ferguson to be early to the glamping trend—they took this photo back in January 2015 when they went glamping with a group of friends to ring in the new year.

Photo by @saintrecords.
The glamorous camping lifestyle can extend to the Coachella Valley. Just ask Emma Roberts, who posed in a luxurious tent last April.

Photo by @emmaroberts.
Rather than rent a chic lodge or cabin, Guy Ritchie just went and built a cabin for himself all by himself in 2015. That's one way to ensure you'll always have a comfortable time when you go camping.

Photo by @guyritchie.
Carly Simon gets to go "glamping" every day of the week since she technically lives in a cabin in the woods full time.

Photo by @carlysimonhq.
Jamie Chung got the glamping memo at Coachella 2017.

Photo by @jamiejchung.
Emily Ratajkowski posed at a chic retreat in the desert in March 2018.

Photo by @emrata.
The Ranch at Rock Creek is reportedly one of the many glamping destinations for Gwyneth Paltrow, Kate Bosworth, and more celebrities, and it's easy to see why. Who could resist a clawfoot tub during a camping trip?
Style YouTuber Leo Chan relaxed in his upstate glamping site in November 2018.

Photo by @levitatestyle.