Peter Lindbergh Back in Fashion
Natalia Semanova, Shirley Mallmann. Vogue Italy. New York, USA. 1997. © Peter Lindbergh. Many contemporary fashion photographers are obsessed with a 'fantastic plastic' ideal - it's one of the consequences of the digital age,...
---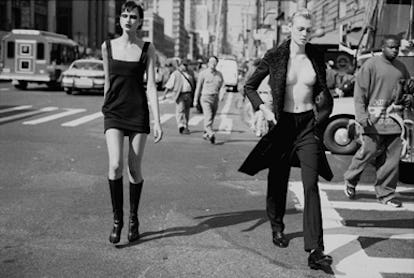 Many contemporary fashion photographers are obsessed with a 'fantastic plastic' ideal – it's one of the consequences of the digital age, where retouching has run amok and reality has gone out the window. Happily a few old-school talents, like Peter Lindbergh, are still on the scene, turning out neorealist images that take their inspiration from the streets rather than the rarefied fantasy bubble that is the world of high fashion. In his landmark retrospective at C/O Berlin, a former post office that has become a significant exhibition center for contemporary photography, Lindbergh brings together over 120 images and films, offering insight into his cinematic vision of female beauty.
Lindbergh's work has been divided into two sections. The first, and arguably the more powerful, is a collection of photographs, spanning more than two decades, and a film, which document his relationship to Berlin through a slew of muses who embody the city's postmodern cabaret spirit. Images of German fashion icons like Nadja Auermann, Tatjana Patitz and Veruschka hang alongside local personalities like the contortionist Nina Burri, actress Heike Makatsch and burlesque artist Eden. A collective portrait of female performance emerges, blurring the boundaries between the women's respective professions and emphasizing, instead, the strength and sensuality that underlie Lindbergh's perception of femininity. Interspersed between these subjects are stark close-ups of iconic landmarks, from fragments of the fallen Wall to empty stairwells of the Deutsche Oper theater, atmospheric set pieces that amplify the raw aesthetic impression Berlin is known for.
Upstairs hangs a more straightforward selection of famous images that have come to define Lindbergh's creative oeuvre. A large-scale portrait of Kate Moss from 1994, which first ran in Harper's Bazaar, is a monumental reminder of the supermodel's magical appeal, while a 1988 image shot for Comme Des Garcons in a monumental factory setting celebrates Lindbergh's brand of post-industrial glamour, which went on to inspire seminal cultural moments like Janet Jackson's Rhythm Nation tour and Madonna's "Express Yourself" video.
The curators at C/O aren't the only ones rediscovering their appreciation for Lindbergh's talent–after an 18 year hiatus, he began contributing to Vogue's US edition again this summer, and he put a number of covers for Vogue China under his belt this year as well. The fickle world of fashion deserves credit for not forgetting one of its most accomplished photographers, a man who managed to inject the glamour of the movies into the world of fashion over 25 years ago, long before editors went crazy for film stars.
"Peter Lindbergh. On Street, Photographs and Films. 1980 – 2010" runs through January 9, 2011 at C / O, Oranienburger Str 35/36, Berlin.
—Sameer Reddy