Legendary Photographer Peter Lindbergh's Pro Tip For Taking Selfies Will Almost Certainly Not Surprise You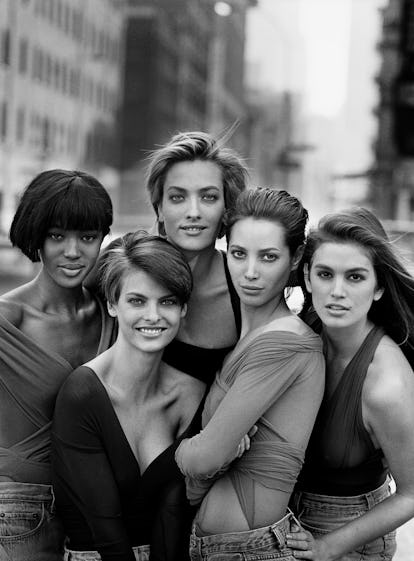 © Peter Lindbergh (Courtesy of Peter Lindbergh, Paris / Gagosian Gallery)
Stretching back to at least the 1500s, everyone from Rembrandt to Warhol to you, the Instagrammer, has engaged in a likeminded artistic practice: the making of their own stylized selfies. It's a tradition that's clearly stood the test of time in the art world, too—indeed, it's at the center of many contemporary photographers' practices, like the very prominent selfie-maker Cindy Sherman.
The German photographer Peter Lindbergh, though, feels differently about selfies. A fashion legend since the '90s for his black-and-white images of everyone from a baby-faced John Galliano to megawatt groupings of supermodels like Kate Moss, Naomi Campbell, Christy Turlington, and Cindy Crawford, Lindbergh's always been comfortable with his camera, even in front of A-listers like Julianne Moore and Charlotte Rampling. As it turns out, however, there is one big-name subject that makes the photographer ill at ease: himself.
"I think that selfies are actually pretty much the stupidest thing that there is at all," Lindbergh told the German magazine on Monopol on Tuesday, a few days before his latest massive exhibition opens at the Kunsthalle Munich.
Kate Moss, John Galliano, and Charlotte Rampling: A Look Back at Peter Lindbergh's Freshest Faces
Naomi Campbell, Linda Evangelista, Tatjana Patitz, Christy Turlington & Cindy Crawford, New York, 1990.

© Peter Lindbergh (Courtesy of Peter Lindbergh, Paris / Gagosian Gallery)
Lindbergh didn't stop there: the photographer also declared that the fashion industry has "gone to the dogs" for the way its imagery, particularly of women, is digitally manipulated with tools like Photoshop.
"When someone has the courage to be themselves, that is beautiful," Lindbergh continued. That's easy enough if you're Kate Moss; the rest of us, apparently, should simply keep our iPhone cameras forward-facing.
Related: 18 Artist Selfies that Get Under the Skin
Kate Moss on How Photographers "Always Ask" Her to Take Her Clothes Off: