The Art of Being Pharrell
The multi-hyphenate phenom opens up about living in the limelight.
---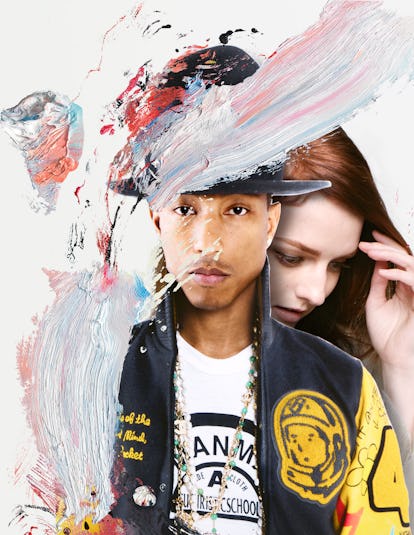 On January 26, at the Grammy Awards in Los Angeles, Pharrell Williams, who has been a musical sensation for most of his 41 years, had one of those rare nights that are life-changing. He won four Grammys, including Producer of the Year, but the awards were not the only reason that the evening—maybe even the year—belonged to Pharrell. Not only is he the cowriter of "Get Lucky," by Daft Punk, and Robin Thicke's "Blurred Lines"—songs that have madly addictive hooks that circle round and round in your head without end—but he also has unique personal flair that pops on TV and across the Internet. Williams, who has the ageless, slightly mysterious look of an Egyptian cat, with slanted almond-shaped eyes and sculpted features, seemed to know that his serious beauty needed a dollop of fun. At the Grammys he was dressed in jeans, a red leather Adidas Firebird jacket tailored to hug his narrow frame, and, as always, a custom-made tangle of necklaces—costume Chanel chains that he had recast in gold with jade and large freshwater pearls in place of the fake gems. On Williams's head was the final quirk: a brown felt, artfully dented Dudley Do-Right hat, designed by Vivienne Westwood in 1982. It was stately, arresting, and a little goofy—a perfect crown for the Pharrell coronation. The hat, which instantly became synonymous with its wearer and has rarely left his head since that night, was something else too—a visual reminder of Williams's philosophy of music, style, and life: Respect the past, but mix it up to create something both subtly familiar and new.
Since his youth in Virginia Beach, Virginia, where he was a prodigy on the drums, Williams has had great instincts and fearless curiosity. He has a knack for spotting talent (he singled out Justin Timberlake as a solo phenom when Timberlake was still committed to being in a boy band) and for picking up on the catchiness of a gospel chord progression (as heard in his infectious record-breaking No. 1 hit "Happy"). He is also a fashion savant, deftly able to fuse '80s B-boy, old-school preppy, and avant-garde Japanese sensibilities in his clothing line, Billionaire Boys Club (BBC); and a major art collector—with tastes that range from the graffiti artist KAWS to Takashi Murakami. With Williams, the goal is always classic with a kick, a look or sound that you'll subconsciously recall combined with something invented that you won't be able to forget.
"It's a strange thing about the hat," Williams told me three months after the Grammys, as he was waiting to rehearse "Happy" for an appearance on *Saturday Night Live*. It was 11:30 a.m. on a Thursday in early April, and Williams and his nearly all-female team (publicist, creative director, personal assistant, choreographer), along with his striking wife, the model Helen Lasichanh, were sitting in a tight cluster of chairs facing the stage at an NBC studio in Rockefeller Center. Williams, who was wearing a gray hoodie with billionaire boys club written in script across the front, his usual chains, loose jeans, and a forest green version of the Westwood hat, had arrived late the night before from Los Angeles, where he attended the annual star-studded Museum of Contemporary Art gala. At the event, a zillionaire named Vivi Nevo had the audacity to wear the Westwood hat, too. "People didn't like anyone else in Pharrell's hat," Lasichanh said, sounding somewhat amused. "People were upset. All night I kept hearing, 'Why is someone wearing Pharrell's hat?!' "
Pharrell's hat was not purchased for the Grammys. In fact, the hat explosion is a parable about the power of the limelight. "I bought it five or six years ago," Williams told me during the band's sound check. "I went into the store World's End in London with my friend Ronnie Newhouse to buy a pair of boots for my wife. While we were there, Ronnie [a creative director who understands the power and history of fashion like few others] told me that the hat was designed by Vivienne Westwood and was championed by her then husband, Malcolm McLaren, who managed the Sex Pistols. I bought two hats that day, and I wore one in a TV interview soon after. No one said anything about the hat. They didn't notice."
But that television appearance took place when Williams was not at the center of the world stage. Until 2013, he was hugely successful as a producer of songs like "Hollaback Girl," by Gwen Stefani, and hits for artists as varied as Madonna, Snoop Dogg, and Britney Spears, but he was cult famous rather than mass, first-name-only famous. After early success with his adventurous band N.E.R.D., which he started with two middle school friends, Williams segued into being an interesting hybrid: a sleek, adaptable student of all types of commerce and culture. Although he released a solo album in 2006, it didn't produce a hit single and quickly disappeared. "By 2013, I had accepted my role as the…camouflage," Williams explained. "I was the guy next to the guy, rather than the guy himself. All my formative years, I spent standing next to Jay [Z] or Justin [Timberlake] or all those kings. I've always learned from the masters, whether it's in music or art or fashion. But in 2013, it was different: Suddenly, it was not about being the camo anymore."
And so, back to the metaphoric journey of the hat: On December 31, 2013, only a few weeks before the Grammys, Williams wore the hat for a live segment of the TV show New Year's Rockin Eve. Although "Blurred Lines" and "Get Lucky" were the two songs of summer 2013, and even though Williams had appeared in the steamy video for "Blurred Lines," which features lambs and topless models, Williams was still not a source of endless fascination—the hat, once again, went unnoticed. "After New Year's, no one said anything online or anywhere else," Williams recalled. "But at that point, I was used to wearing the hat. It felt right. Things were changing. And I decided to wear it again to the Grammys."
Suddenly, all in one night, everything clicked: The global soundtrack he had been creating for 2013 was finally appreciated in its entirety, and the hat became a symbol of his uniqueness. "I was genuinely shocked by Grammy night," Williams said. "I had been happy running this career marathon. I didn't expect any medals. I was particularly amazed when I went backstage after winning the first Grammy and one of my managers told me that my hat now had its own Twitter account. During the show, a fan started tweeting as my hat." And that was the beginning of Pharrell Madness.
In a similar vein as the hat, his song "Happy," which would seem like a surefire winner, was not instantly appreciated. Williams wrote the tune for 2013's *Despi*cable Me 2, an animated movie about a miserable man named Gru. "Happy" was the 10th song Williams suggested to producer Chris Meledandri. "I was at zero," Williams explained. "After nine different songs, recorded fully, they were like, 'No, no, no, no.' So I went back and wrote 'Happy.' I didn't have the melody, just the chorus. For 20 minutes after I finished, I was jumping around the room. I told Chris to listen to the song in his car, that if he didn't like 'Happy,' I didn't know what to give him."
Meledandri put the song on repeat and was certain Pharrell had a hit, but radio wasn't interested. The movie was huge at the box office, but no one was playing the song. Months later, Williams realized that "Happy" needed a visual beyond Gru. Williams, his team, and the directors who call themselves We Are From L.A. conceived "24 Hours of Happy." In the world's first round-the-clock music video, which went viral almost immediately, a cast of hundreds, most of them unknown Angelenos, dance to the song over and over again. Williams appears at the top of every hour to kick off the next burst of "Happy" enthusiasts. While The New York Times called it "punishment-level glee," the online "Happy" extravaganza is a perfect cynicism-defying amalgam of infectious pop and art for the people.
It also made the song a massive success. By the time Williams performed the Oscar-nominated number in early March at the Academy Awards (wearing the hat, of course), "Happy" was No. 1 in Billboard's top 100, breaking all kinds of records for songs initially rejected by radio. "After 'Happy' took off, I saw that my insignia should be an equal sign," Williams said. He stuck out his feet, which were shod in distressed white Stan Smith sneakers that he had customized with brightly colored oil-paint pens. Williams had drawn a green equal sign on the toe box of his left foot, which pointed to a yellow daisy on the right shoe. "I have a new clothing collaboration with Adidas," he continued. "And it's called Adidas = Pharrell Williams. I know I can't trademark the equal sign, and that's fine with me because, you know what? It's just…equal. The 'Happy' video is about equality; my music is about equality, and being associated with the idea of equal got me where I am now."
Williams's mantra of equality is genuine, but it may be a reaction to the furor over the lyrics to "Blurred Lines," which many critics felt objectify women. Lines like "You're an animal" and the overtly sexual video caused an uproar, especially when Miley Cyrus twerked her way to infamy during a raunchy rendition of the song at the 2013 MTV Video Music Awards. Again, "Blurred Lines" had been slow to take off—it sat on the shelf for eight months until the video caused a frenzy. " 'Blurred Lines' made women, especially, want to dance," Williams told me. "I realized that a lot of women didn't know how to fit in to the rhythm of rap songs—they needed music to bend and curve a little bit. I was producing Robin Thicke, and he is a soulful white boy and I thought we could take some chances. That song was what happened."
Learning from his "Blurred Lines" experience, Williams is more mindful of his key constituency: women. His new solo album, G I R L, with its intentional letter spacing to underscore that idea of equality, is dedicated to the spirit of females everywhere. "I fully realize the power of women," Williams said as he prepared to go onstage. "If women wanted to put up their hands and say, 'No more children,' they could stop the world. We have to acknowledge their power: There is no person on the planet who didn't benefit from a woman saying yes twice—yes to make you and yes to have you. And every human being came through the golden doors of a woman's body. I'm not against the male species, but let's make things equal. Other than the hat, I'm getting to be known for putting my hands together in a prayer of thanks. My mood these days is grateful. I am so, so grateful."
The next day, Williams was in his two-room suite at the Crosby Street Hotel in downtown Manhattan. Lasichanh was in the next room, and their son, Rocket, who is 5, was visiting a museum with Williams's parents, who had come to town from Miami Beach to see their son perform on SNL and to celebrate his 41st birthday, which was on the same day. Williams, who was wearing the ubiquitous green hat, a gray button-down sweater, his necklaces, and a string of large freshwater pearls hanging from the front belt loops of his jeans ("Women have never left my side, so I don't feel uncomfortable wearing pearls," he confided), had just returned from being painted by Alex Katz, the 86-year-old artist who was interpreting him for W. "He talked about art and music—in that order—while he sketched," Williams explained as he sat down on the edge of the couch. "And I was thinking about music and art in that order. We understood each other in parallels."
I asked Williams what it was like to be the subject as opposed to the creator of a piece of art. "I like the idea of being a character in someone else's story," Williams replied. "It sounds odd, but I've always considered myself to be one of the characters in a Wes Anderson movie. For a while, I would dress like one of his people—I would wear Wallabees and tan suits. And, like Jason Schwartzman in Rushmore, in my head I thought I was responsible for all the culture in my school, in Virginia Beach. When Bill Murray takes off running for no reason in that film, that feeling is absolutely true to my life. I see myself in that run."
For Williams, being in Virginia Beach—where he grew up with his mother (a teacher), his father (a handyman), and two younger brothers—was a lucky break: In the early '90s, the producer Teddy Riley, who worked with artists like Janet Jackson and Britney Spears, set up his studio five minutes away from Williams's high school. "Instead of Riley moving his base of operations to New York or D.C. or even Suffolk or Hampton or Newport News, he moved his studio to Virginia Beach," Williams recalled. "It was kind of like telling me that Jesus, E.T., and Elvis are going to walk in at any moment! It was that incredible—just the biggest, luckiest thing that could have happened in my life." By the time he was 19, Williams and his high school friend Chad Hugo, who played saxophone, had formed the Neptunes. Soon they were working on hits like Nelly's "Hot in Herre" and Jay Z's "I Just Wanna Love U (Give It 2 Me)." In August 2003, when Williams was 30, the Neptunes were responsible for 43 percent of the songs on the radio.
"From the start, I chased my curiosities," Williams said modestly. "I had a vision then—I'd be like, 'It should be like this! Or 'We have to do it like that.' When I was young, I thought I knew everything. Now, I'm not sure if I know anything." In 2006, he released his solo album, In My Mind, which flatlined. "Everything was just too crazy then, and I lost my sense of purpose," Williams said. "I was that guy who's getting up in a girl's ear, her eyes, her curves, her booty, and sweat, sweat, sweat." Williams smiled. "Everything was too much. I couldn't concentrate. And when the record failed, I decided that being a solo artist was just not my path. And I was okay with that."
For years, he focused instead on the intersection of music and fashion. He designed sunglasses with an aviator shape and gold accents for Marc Jacobs, and he appeared in ads for Louis Vuitton sporting jewelry he had designed. Unlike his hat-based image today, which is upbeat and friendly, the Pharrell of the late aughts was sexy, disco snazzy, and cool.
And yet he was always inventing something. "I would get my jewelry made by Jacob the Jeweler," Williams said, showing off his striking chains. "And Nigo, who started Bathing Ape [the hugely successful Japanese fashion line known as BAPE], would go into Jacob with pictures of me torn from magazines and say, 'Make me the same thing as Pharrell in another color.' Jacob told me this, and I loved BAPE, so I looked Nigo up when I went to Japan. Although he didn't speak English, we became friends, and he encouraged me to start my own line, which became Billionaire Boys Club. I described to Nigo what I wanted the line to be, and he helped me make it happen."
A mogul was born. In addition to BBC and the just announced Adidas partnership, Williams has developed a fragrance with Comme des Garçons; a line of jeans with Bionic Yarn, a company that turns recycled plastic bottles into premium fabrics; a shirt collaboration with Uniqlo; and a series of limited-edition T-shirts inspired by the song "Happy." "Music will always be my first love," Williams said. "But the one thing I've learned is that this life is a movie and I am a cocreator." He paused. "It's a big movie, and there's a lot of creativity going on." Williams unconsciously patted the hat. "As long as I play my part, it won't be over for quite a while."
The Art of Being Pharrell
Urs Fischer
Williams photographed by Joshua White/JWPictures.com. Special thanks to Tara Subkoff. Hair by Edward Lampley for Bumble and bumble at D+V Management; Makeup by Anne Kohlhagen for Chanel. Models: Herieth Paul, Frida Aasen, Heather Marks all at Women Management; Tong Zhang at Next Model Management.
Urs Fischer
It's hard to ignore a work by Urs Fischer. Transforming humble materials into the boldest of sculptures, paintings, and objects, the Swiss artist revels in visual hijinks that destabilize the viewer. He's made an alpine chalet out of loaves of bread, cut an eight-foot-deep gaping hole in the floor of a gallery, constructed a 20-ton bronze teddy bear sculpture slumped against a desk lamp, and carved a mammoth wax candle replica of Giambologna's Rape of the Sabine Women, its wick lit so that it melted over the course of Fischer's 2013 retrospective at the Museum of Contemporary Art, Los Angeles. In June, Fischer plans to show new works at Sadie Coles Headquarters in London, and this summer, at Karma gallery's outpost in Amagansett, New York, he will unveil a giant candle sculpture of the painter Julian Schnabel sitting atop a pile of crates (his wick is likely to be ignited as well). With a nod to Dada, Pop, and surrealism, Fischer toys with shifts in scale and the colliding realities we experience daily in this era of visual overload. His cover for this issue, for example, references his 2012 Problem Painting series on aluminum panels, in which he obscured (or perhaps defaced?) publicity head shots of 1950s film stars with silk-screened images of assorted fruits, vegetables, and household items. Photographing Pharrell Williams in Los Angeles, Fischer initially thought he might show the star carrying a cutout of his own crafted image on the cover but then adapted the idea to feature women—the subject of Williams's new album, G I R L—toting around variously sized Williams cutouts near Fischer's studio in Red Hook, Brooklyn. Since Williams wore his signature hat in the photo Fischer ultimately shot for the cover ("It's like an Andy Warhol wig or something," says the artist. "It gives a clear identity"), Fischer decided to use an object large enough to conceal the face, while still revealing certain aspects of it. His idea all along, he says, was not to create a portrait so much as come up with a powerful image that would result from the clash between his photo of Williams and the bolt that playfully hides him. "Pharrell's world is a gentle, good world," Fischer, 41, says admiringly. "You think he will evoke something that's alive, like a flower, because of his public image. But I opted to do the opposite. There's a very masculine energy to the image. I thought, Why not take it there? After all, Pharrell ventured into my turf; I didn't venture onto his."
Williams photographed by Joshua White/JWPictures.com. Special thanks to Tara Subkoff. Hair by Edward Lampley for Bumble and bumble at D+V Management; Makeup by Anne Kohlhagen for Chanel. Models: Herieth Paul, Frida Aasen, Heather Marks all at Women Management; Tong Zhang at Next Model Management.
Mr.
A former protégé of art star Takashi Murakami, the Japanese artist Mr. is best known for his devotion to otaku, the Japanese subculture obsessed with manga, anime, video games, and fictionalized prepubescent girls. His drawings, paintings, and sculptures express an idealized view of childhood and his unending nostalgia for it. Based in Saitama, Japan, Mr. (whose moniker was inspired by the nickname of a Japanese baseball star) recently began incorporating posters, graffiti tags, and other elements of Western street art into his work. This collaboration with Williams, he says, allowed him to explore African-American culture, something completely outside his realm of experience. Though he and Williams are friends, the 44-year-old artist decided to work from an image of the singer he found on the Internet. "There's a style of drawing anime characters called mini kyara (mini characters)," explains Mr., whose first museum show opens in late fall at the Seattle Art Museum. "The style is pretty popular, and the rules are established to the point where you could write an instruction manual on how to do it. I followed the guidelines and applied them to Pharrell. He's someone who strikes a lot of symbolic poses, so I wanted to emphasize that idea."
©Mr./Kaikai Kiki Co., Ltd. All Rights Reserved. Courtesy the artist and Lehmann Maupin, New York and Hong Kong.
JR
The New York–based street artist known as JR started out as a graffiti writer, tagging his name all over his native Paris. One day he found a battered camera that someone had left on the subway and was soon snapping photos of his friends. When riots broke out in housing projects across France in 2005 to protest police harassment, JR went to photograph them and began covering walls and city blocks with giant portraits of the people in those marginalized neighborhoods. Usually it's their faces, sometimes just their eyes, that pop up in Brazilian favelas, Kenyan shantytowns, Shanghai's blighted areas—and last summer, Times Square. As JR, 31, has become more well-known, his kamikaze methods have given way to museum shows and sanctioned commissions, which recently included covering the floor and renovation scaffolding of the august Panthéon in Paris with the 4,000 faces of potential future greats. Traditionally, only the dead greats have been granted a spot inside.
JR's latest global project, Inside Out, which he undertook primarily with proceeds from sales of his works, invites participants to submit images of themselves; JR turns the pics into posters, which he returns to the senders so they can paste them up as public artworks. Sometimes he pastes them himself, as he did recently on the facade of a building in Los Angeles for the collaboration W organized between him and his friend Pharrell. Having noticed that the singer likes performing his hit song "Happy" with large choirs, JR, winner of the 2011 TED Prize, proposed that he and Williams invite female choristers from all over the world to submit portraits of themselves for a mural. After Williams posted a message to his 2.5 million followers on Instagram ("Women of the world, are you part of a choir? Are you happy?..Send your smiling face. You have 24 hours..go"), JR received more than 3,500 shots, some of which you see in this picture shot by JR. "I love the way these choirs gather around that song—all these faces are singing Pharrell's song even if he's never met them," says JR, who prefers not to reveal his real name and insists on wearing a hat and sunglasses whenever he's photographed. At the moment, he and Williams are at work on a short film about the riots in France, set to a score by Williams, that will feature members of the New York City Ballet dancing in the same streets where JR once stood inches away from burning cars. "Collaborating with another artist can be hard," JR admits. "Because it's two egos, two visions. You need someone with their ears open. And Pharrell is a master at that."
JR-ART.NET. Special thanks to Lucca Fletcher. Lighting assistant: Alex Jaras. Pasting Crew: Josh Cedicci, Alex Pierre.
Alex Katz
On the spring day when Williams arrived to sit for his portrait by Alex Katz, gray light was streaming through the skylights of the painter's top-floor loft in SoHo, New York, where he's worked and lived since 1968. Katz appraised the singer as he sat under a lamp next to the well-worn easel. A master of figurative painting, the Queens-raised artist turned to landscapes and portraiture at a time when Abstract Expression ruled the day; he has stayed the course, helping to put the pop in Pop art via his highly stylized pictures that often call to mind commercial and billboard art. "It was all instinctual," he told Williams of his beginnings. "I wanted a painting to look brand-new and terrific. And most realistic paintings don't look new." As Katz captured Williams in oil paint, he chatted him up. "It relaxes them," he confided to me later. "That way, you don't get a mirror face or a dead face." Katz had seen Williams on television but didn't know much about his music. Faces, however, are his stock-in-trade. Katz often rides the subway because "you get so much information from a face"; his subjects have run the gamut from poets and dancers to Kate Moss. To his eye, Williams was "a good-looking guy" in his green Vivienne Westwood hat, T-shirt, and knotted ropes of pearls. "Very sharp in his styling," Katz noted. "The pearls are really important—they're hot." The two talked about how their worlds overlap. "People think of painting as lasting forever," Katz said. "But it's like fashion or music: Every three years, there's another style and another audience." When Williams mentioned that his father restored cars when he was a kid, Katz sized him up. "I bet you didn't have the patience, did you?" "I hated it," Williams admitted, and they both laughed. As soon as Katz finished the painting, he decided he wanted to make a giant one from the one he'd just done. He would make a "cartoon," as he called it, that he would refine when Williams returned for a short second sitting, then expand that composition on another canvas he'd paint in a six-hour session. There's no doubt he has the stamina for it: Every day, Katz, 86, does 300 push-ups and 200 sit-ups, and runs three miles; in the summer, he also swims a mile and bikes six miles daily. Lately, he's been sprinting in the street. "Well," said Katz, whose landscape works currently fill an entire room of London's Tate Modern, "if you keep up your body, it just keeps going."
Photographed by Mark-Woods.com.
Rob Pruitt
Rob Pruitt is among the art world's canniest recyclers of pop culture, his resourcefulness no doubt honed while working at Martha Stewart Living in the days following his and Jack Early's roundly panned 1992 show at New York's Leo Castelli Gallery. Since his comeback in 1999 with "101 Art Ideas You Can Do Yourself," a paean to his DIY spirit of art-making, which included such installations as Customize Storage Boxes and Display as Sculpture and Sit on the Toilet Backwards, Pruitt has explored all facets of cultural excess. Best known for his glitter panda paintings, first shown in 2001, he has created a diaristic mural using Facebook pictures of his friends, transformed a Victorian house in upstate New York into a Goth art installation, and made hundreds of rainbow-colored panels of scribbled faces that express a spectrum of emotions. His Pharrell Williams room has its origins in two ongoing projects: his Studio Loveseat series, for which Pruitt and his assistants doodle endlessly on Ikea sofas; and his Ikea portraits, mass-produced printed canvases that become one-of-a-kind artworks once he paints over them. The idea for the sofas grew out of the plywood table where his studio assistants gather for lunch in his Brooklyn studio. They covered it in doodles as they ate, and their markings made Pruitt think of a message board where people could express themselves. Soon the doodling was taking place on the canvas couch that Pruitt had dragged into his studio. For his Studio Loveseat (Pharrell), Pruitt and his assistants not only "deep-Googled" images of Williams but also drew from Pruitt's well-known fascination with the star and his world. Pruitt has a long-standing obsession with "the notion of fatherhood," which has influenced many of his panda paintings, with their images of bears and cubs that reference Renaissance paintings of Madonna and Child. The media images of Williams that initially most appealed to him, Pruitt says, were "those of him giving his kid a piggyback ride or walking with him down the street. So that all ended up here on this love seat." Also on it are references to Williams's creative universe: his sneakers, clothing lines, song lyrics, and the Perspective chair he designed in 2008. Hanging just overhead are two Ikea prints of Marilyn Monroe—one painted over by Pruitt, the other by Williams. The project was inspired by Jasper Johns, who began painting targets and flags because, Pruitt says, by choosing recognizable imagery, he could free himself from the pressure of "What do I paint?" and focus on "How do I paint this?" Though Pruitt and Williams worked from identical Marilyns (Pruitt sent Williams both the portrait and a set of oil paints), they ended up with entirely different results. "I made it into a luscious kind of paint-strokey oil painting," says the artist, whose next show opens in September at Gavin Brown's Enterprise in New York. "But Pharrell did something more radical: He turned it into a text piece. He just superimposed a poetry fragment—actually one of his lyrics—which changes it all up. It's the best kind of collaboration, because neither of us is being something we're not."
Photographed by Mark-Woods.com.
Williams photographed by Joshua White/JWPictures.com. Special thanks to Tara Subkoff. Hair by Edward Lampley for Bumble and bumble at D+V Management; Makeup by Anne Kohlhagen for Chanel. Models: Herieth Paul, Frida Aasen, Heather Marks all at Women Management; Tong Zhang at Next Model Management.