Karl Lagerfeld Has Taken a Liking to Pharrell Williams
Plus, Janet Jackson is a mother at 50, Hillary Clinton plans to attend the inauguration of former presidential opponent Donald Trump, and Oscars hopefuls speak out.
---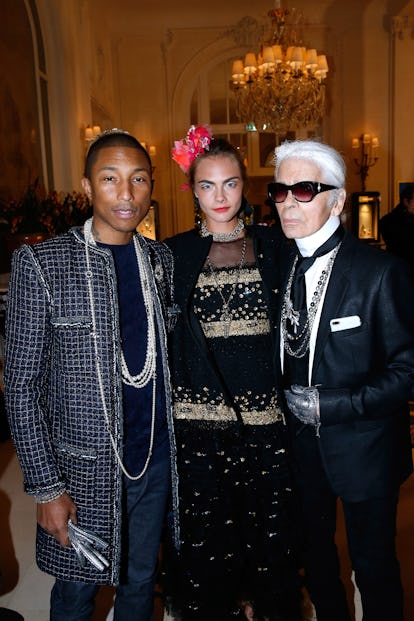 Getty Images
Clinton, Hillary Will attend Donald Trump's inauguration, as will her husband, former president Bill Clinton, and fellow former presidents George W. Bush and Jimmy Carter.
Garfield, Andrew Had not prayed before he was called upon to play a Jesuit priest by none other than Martin Scorsese. So he learned to pray.
Jackson, Janet At age 50, defies biology, is a mother now.
Mehle, Aileen The life and times of one of society's most notorious — and most beloved — gossip columnists, the woman who was Suzy.
Monáe, Janelle Musician (and multiple-Grammy nominee), label exec, soon-to-be Oscar nominee?
Moonlight Barry Jenkins and Tarell Alvin McCraney, the two voices behind Moonlight, grew up in the same neighborhood — but they never knew each other. Then, In Moonlight Black Boys Look Blue, McCraney's play, ended up in Jenkins's inbox.
Ramsay-Levi, Natacha The new creative director of Chloé, following the sudden departure of Clare Waight Keller, got her start making coffee at Balenciaga. How far she's come.
Smith, Paul Since founding his eponymous label in 1976, Smith has seen the ups and downs of the fashion industry first-hand — and he's thrived throughout it all. Here's what he has to say.
Williams, Pharrell The musician Pharrell Williams walked the runway for Chanel's Métiers d'art show last month. Karl Lagerfeld seems to have taken a liking to him: Williams is about to become the first man to model Chanel handbags in a campaign.
See W's most popular videos: