The Plein Truth
The German designer Philipp Plein is building an empire out of bedazzled leather and crystal-studded knits.
---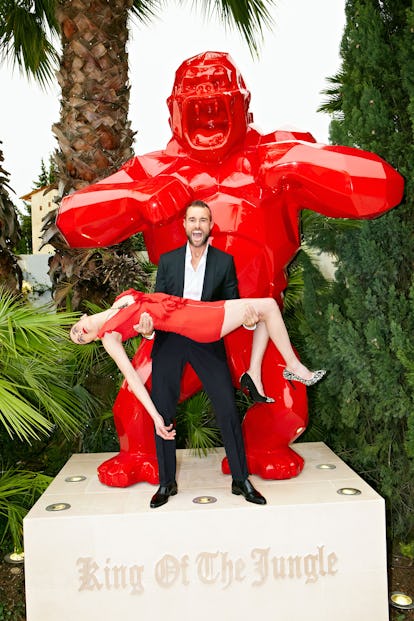 If you've ever doubted the power of positive thinking, spend a little time on Philipp Plein's Instagram profile. The fashion designer tags a photograph of his fourth (and counting) boutique in China, right next to Cartier in Dalian, with #unstoppable. He uses the hashtag again for a party snap from his Rodeo Drive store opening and then touts the acquisition of an 8,700-square-foot Bel Air estate once owned by Howard Hughes—referred to as #pleinmansion—with #ownit. In image after image, there are Plein's sparkly homes (in addition to the Bel Air spread, there are manses in Lugano, Switzerland, and in Cannes, France); pillow-lipped brunettes dangling from his muscular, tattooed arm; and models posing in his bedazzled rock 'n' roll designs, embellished with crystal slogans like j'adore plein and never enough. To understand the bulk of his fans' comments on Instagram, you'd have to be fluent in Russian, but even a quick review of the emoji posts reveals a large and adoring public. The 37-year-old former law student from Munich, whose labels for men, women, children, and the home have an annual wholesale turnover of $226 million, and who will boast more than 80 boutiques by the end of the year, can honestly declare #dreamscometrue.
If the name Philipp Plein feels like it came out of nowhere, that's because, by fashion world standards, it did. Plein never studied clothing design. He didn't work in marketing or modeling or styling or any of the side fields that draw people into the trade. He never interned with a couturier. The son of a heart surgeon, he took up furniture design in 1998 while in law school, mainly "to get independence from my parents," he says. The simplicity of the business model appealed to him: Customers paid 30 percent down for a table or chair that Plein would produce cheaply in the former East Germany. "When you have no money, you spend no money," he says of those early days, when he was essentially a one-man show, touring trade fairs with customizable stainless steel and leather pieces, growing the company into a success sale by sale, supported all the while by his then-girlfriend.
Fashion crept up on him slowly, just a few years into his designing life. First came some leather travel bags he had made to serve as color samples for his leather furniture. Next were vintage German Army jackets embossed with the kinds of Swarovski crystal skulls that now bedeck his fur pillows and throws, which he created to have something to hang on his stainless steel coat racks. "The jackets weren't for sale, but people kept asking for them," he says on a sunny fall morning at #pleinmansion cannes, officially known as La Jungle du Roi, as he fiddles with an extensive multiple-camera security system on a giant television in the living room. "I didn't sell any racks, so after a while, I said, 'I'll sell this fucking jacket.' And that was it. Gays, heteros, old women…everyone was crazy for it. I'd wear it to clubs, and people would freak out."
From there, it was a short leap to crystal-studded denim and cashmere, often bearing the skull motif that eventually became his trademark. Law school could never compete. Once the blingy-denim trend faded, Plein figured out his next step. "I needed to be more of a brand," he says. "But I can't reinvent pants and shirts, and why would anyone buy a plain cashmere sweater from me when they can go to Loro Piana? I discovered that if I did a hard-core application of Swarovski, I could sell sweaters and pants and shoes for 10 times more." So in 2009 he opened a proper showroom in Milan—where he still manufactures all his clothes, with the exception of the denim pieces—and proceeded to take his sparkly place in an industry that still hasn't really welcomed him into its ranks.
Part of the problem, as Plein sees it, is that his taste runs toward the populist. "I'm not designing to please the press," he says. "I'm designing for the people." To that end, he does not produce a separate runway collection for the purpose of inspiring editorial coverage. Everything he designs, he sells. His choice of spokesmodels betrays a similar common touch. In 2011, when Lindsay Lohan was in full train-wreck mode, Plein, who was at one time rumored to be dating the actress, cast her for his spring campaign. Though his company, based in Lugano, has a meaningful presence in Milan, the Camera Nazionale della Moda Italiana, Milan Fashion Week's governing body, has not put his shows on the official calendar, "because the fashion industry is a mafia," he says, smirking. "And they just want to protect their ranks. If I want to show, I have to be classified as an 'event.' " Well, if it's an event they require, Plein is happy to give them one. He has hired Iggy Azalea and Rita Ora to perform at his nighttime runway shows and at his after parties. Last fall's gas station–themed show, at which Ora played and Naomi Campbell walked the runway, featured real explosions—some a bit too close for the comfort of the crowd. Plein's stalwart PR department invites thousands of people to these shows, and thousands more wait in line outside. "Last year was like a Backstreet Boys concert, with people fainting outside, trying to get in," he recalls, showing me a photo on his phone. "People say, 'Are you crazy? Why are you doing this?' And I say, 'I want to enjoy and make people happy.' That's what fashion is about."
That's one idea of fashion. But in today's industry, dominated by heritage brands and, relatively speaking, discreet luxury, Plein remains a curious case. Still, his niche includes a free-spending public whose shopping circuit encompasses not just the traditional fashion capitals of Paris and Milan but also Monte Carlo, Moscow, Marbella, and Dubai. "I follow the money," Plein says. "Because I have to sell. I can't afford to open a shop just for image." Men's wear now accounts for more than half of the brand's total sales; Plein feels less competition in a world where even Dolce & Gabbana has abandoned gentlemanly flash. "My men's customer is a footballer, a guy like Cristiano Ronaldo," he explains. "He's in his 20s, drives a Ferrari or Lamborghini, has a diamond necklace, diamond earrings, and a beautiful girl. These guys don't want to look like their lawyers—wearing Brioni or Tom Ford—but they want to look expensive. I like to call it 'the right amount of wrong.' "
Meeting Plein at his home in Cannes is to see him in the setting he loves most. "I call it Happyland," he says, seated at the enormous dining room table with the house's silver cursive la jungle du roi insignia scrolling down the middle. "It's a magical place for me, where I can relax." There's a garage full of $400,000 Italian sports cars, the phrase every weapon needs a master written on its silver back wall in illuminated mirror mosaic. Rows of enormous candles line every room of the house, their woodsy scent filling the air. But relaxing for Plein means working. He spends several months here each year, not only holding twice-weekly parties but also cranking out collections, his staff imported for weeks at a time from Lugano. Tan and fit, with a gelled faux-hawk and a neatly trimmed beard, Plein is in his element, surrounded by assistants and handlers.
Plein with 
a model on Richard Orlinski's Wild Kong, 2013, at La Jungle du Roi, Plein's Cannes villa.
Plein with a model and his 
2014 Lamborghini Aventador. Model wears Philipp Plein dress. Plein wears Philipp Plein jacket, shirt, jeans, and sneakers.
A Plein-clad model 
in the designer's bathroom. Model wears Philipp Plein dress; Christiane Billet earrings from Dary's, Paris.
Lindsay Lohan and Plein at 
an amfAR Milano benefit, 2011.

Photograph by Tullio Puglia/Getty Images.
Photograph by Luke White.
A look from his 2015 spring show.

Courtesy of the designer.
But even if for those weeks the estate essentially becomes a campus—Plein trucks in pattern cutters and sewing machines as well as his design teams, creating a streamlined, round-the-clock mobile fashion factory—it is no dire corporate headquarters. The seven bedrooms where employees bunk are labeled either lust or envy, while Plein's chambers bear the moniker king. All have en suite bathrooms, with travertine tubs modeled on those at the Park Hyatt in Seoul, one of his favorite perches on his constant travels. Fur pillows and throws festooned with cheeky expressions like rich girls will take your heart, bitch girls will take your money decorate the beds. There is a real samurai suit of armor in the conference room where members of his staff sit on glowing white Eames chairs as they figure out new ways to bedazzle biker jackets and club-friendly evening wear.
"Philipp is passionate in whatever he takes on, but in a warm and pleasant way, not cynical and tricky," says his friend Lapo Elkann, whose Italia Independent sunglasses have been featured in Plein's shows. "He runs a fast-growing business, but it has a family energy." Well, that depends on one's definition of "family." During their time off, when the staffers aren't battling to the death on the Foosball machine in the downstairs playroom, they're working out in the home gym or getting a massage from the therapist who is on call. Next to a swimming pool that might have come straight out of a Duran Duran video, there is a refrigerator stocked with Moët & Chandon. Everything in the Plein universe points to someone who really, really likes his stuff, but the man himself insists his playthings are less important than how he got them all in the first place. "To me, the real luxury of my life is living my dreams," says Plein, his German-accented rat-a-tat-tat slowing a bit as he surveys his marble-and-mirror domain. "To start living your dreams, you have to have balls."