There Will Be Mud
In Slovakia, an entire island is devoted to the healing power of mineral-infused mire.
---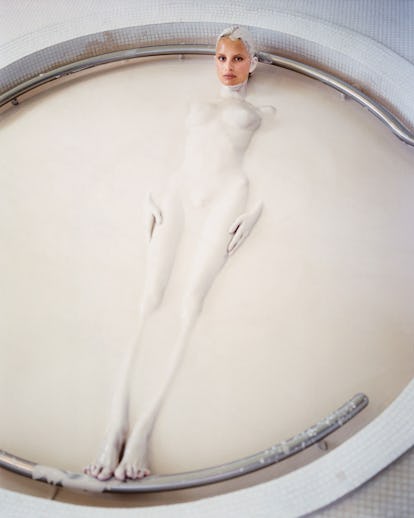 I've always been more of a prudist than a nudist. I mean,I have a hard time getting naked in front of my cats, let alone perfect strangers. So when a gruff-looking attendant at Danubius Health Spa Resort Thermia Palace, in Western Slovakia, gestured for me to strip down before entering the hotel's famous mud pool, I demurred. With a derisive snort and an eye roll, she went to fetch the special spa schmata reserved for puritanical Americans—an oversize blue cotton smock better suited for an operating room than a five-star resort. Faced with a garment more frightening than public nudity, I dropped my robe to the floor and stepped gingerly into the warm, murky water.
When my eyes adjusted to the low light, I could see the room's soaring domed ceiling and colorful stained-glass windows. A blonde Russian woman with enormous breasts perched unabashedly on a stone ledge nearby, covered head to toe in viscous blue-black sludge she'd scooped up from the pool's natural mud floor. I squished my way over to the other side and tried not to stare. When my 10-minute session was up, the attendant hosed me down, wrapped me in a sheet, and guided me to a relaxation cubicle, where she swaddled me tightly in wool blankets and ordered me to lie still and sweat for 15 minutes. Welcome to wellness, Eastern European–style.
As a beauty editor and writer, I'm used to visiting state-of-the-art detox destinations replete with 1,000-count-Egyptian-cotton sheets, thick terry towels, all manner of trainers, life coaches, and enlightenment gurus, and, of course, woefully limited portions of dairy-, gluten- and sugar-free food. But I'd never been anywhere quite like Thermia Palace, on Spa Island (yes, a whole island of spas!), located in the town of Piestany, about 50 miles north of Bratislava. Guests here aren't hung up on creature comforts and colonics, nor do they focus on fasting or fitting into skinny jeans. They come to be healed. And there's not a goji berry, green juice, or chia seed in sight.
Nestled at the foot of the Carpathian Mountains and surrounded by the River Váh, Piestany is known for its mineral-packed thermal water and sulfuric mud. When used in tandem, they are purported to treat a wide array of musculoskeletal diseases, back and joint pain, sports injuries, and skin disorders. Thermia Palace's proprietary mud, in particular, which is extracted from a slough of the River Váh and mixed with mineral water in special maturing pools for over a year to achieve maximum potency, is practically a national treasure.
According to local lore, the curative waters at Piestany were discovered by the emperor Marcus Aurelius's Roman legions, who found that the hot springs healed their battle wounds. These days, the parklike Spa Island is democratic in its approach to balneotherapy (water-based healing), a concept so embedded in Central European culture that spa stays are often covered by health insurance. There are six hotels that range from two to five stars, with the Thermia Palace at the luxe end of the spectrum.
Built in 1912 by L'udovít Winter, the Thermia features lavish Art Nouveau interiors, manicured gardens, and direct access to Irma Health Spa, the oldest and most comprehensive medical spa on the island. The fortunes of the hotel have always been linked to political events. In the years between the two World Wars, the guest register included royals, heads of state, industry titans, and cultural luminaries from around the globe. Then, in 1939, Winter, who was Jewish, was forced to sell his interests in Piestany to a German consortium and was eventually detained in a concentration camp. He returned to Piestany after the war, but not to the Thermia, which had been nationalized by Czechoslovakia.
For the next four decades, Communist officials and military leaders replaced glitterati at the resort, and in the late '60s and early '70s, the country built several hotel and spa facilities. These Soviet-era buildings contribute to Spa Island's architectural mash-up of modernism and Old World grandeur. "Designwise, it's like something straight out of Wallpaper magazine," says the London writer Sophie Benge, whom I met as she was finishing writing her book Healing Sources—Spas and Wellbeing from the Baltic to the Black Sea. But, she continues, "the healing protocols have remained unchanged for almost 200 years. For me, the authenticity and expertise make it easy to overlook the slightly sterile surroundings and occasionally taciturn service. The treatments pack a punch."
I'll say. After scheduling as many appointments as possible during my five-day stay (against the good advice of Dr. Rastislav Gaspar, Spa Piestany's medical director, who limits patients to one hot treatment per day), I really did feel like I'd been punched. It was my own fault. I'd wanted to wallow in as much magic mud and mineral water as possible, in the hopes of helping my achy knees, neck, and shoulders (which stem mostly from stiletto and smartphone addictions). But quick fixes aren't the fashion here. "This is the slow, cumulative approach to getting well," Benge says. For best results, the recommended stay is 21 days, and many visitors book a month or two.
I may have initially pooh-poohed the power of mud, but after two immersions in the mud pool, one in the mirror pool (which contains water so dense with minerals you can't help but float), and a mud pack (with hot goo the consistency of cake frosting), I was a believer. Somehow, I was simultaneously wiped out, energized, and oddly emotional.
I cried when my cats meowed while I was on the phone with their nanny. More tears welled up when, dazed from what can only be called a mineral overdose, I got lost in the labyrinthine halls of Irma Health Spa. And I was livid when a burly male masseur pawed me like a grizzly subduing a freshly caught salmon—unfortunately, I didn't know the Slovak word for "stop." (Overall, the treatments I had were excellent, with the exception of that massage and a weird new offering called Magic Glamour, which involved a female therapist with too much makeup dripping hot perfumed wax all over me.)
"You come here for the water, the mud, and the medical program, not the fancy stuff or froufrou massages," a regular from the Netherlands told me over dinner in the hotel's Grand Restaurant, which kind of resembles a spa version of the United Nations Delegates Dining Room. You don't come for the food, either, I thought grumpily as I picked at some pickled fish and a mystery morsel coated in aspic. At my request, Maria Kabatova, the head nutritionist, put me on her Slim Line program, and, for the most part, the diet options were better than the regular menu: tilapia with carrots and broccoli, trout with potatoes, and, my favorite, poached salmon on a bed of quinoa.
I don't think it would have pleased Ms. Kabatova to know I cheated at the dinnertime dessert buffet three nights out of four. But how could I possibly ignore an enormous table laden with cakes, cookies, cream puffs, and iced petits fours? I did wash it all down with the special redukce hmotnosti (weight reduction) tea she gave me—and some crisp, dry Slovakian Riesling.
Despite being a Slim Line saboteur, I managed to lose nearly two pounds. Was it the tea? The strudel-like dessert I'd grown so fond of? Who knows, but most of my aches and pains had vanished in the process. It seemed like a good reason to celebrate, so on my last night I helped myself to two glasses of a local sparkling wine and a bowl of salted peanuts before dinner. Please don't tell Ms. Kabatova or my name will be mud.