Pink Releases Music Video for "Beautiful Trauma" Starring Channing Tatum
A simple fix for a boring life.
---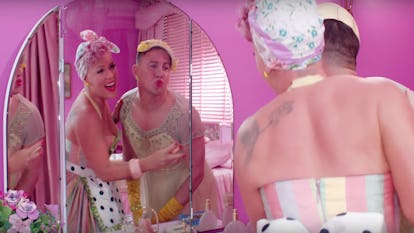 PinkVEVO
The line between music videos and indie films has been blurring for years, finally bringing us to the music video for Pink's latest single, "Beautiful Trauma." The technicolor clip somehow out-Wes Andersons Wes Anderson, and has better dance breaks than La La Land.
In the video, Pink plays opposite Channing Tatum, and though the two are trapped in a more tasteful version of your Barbie Dreamhouse, their garishly bright '50s wear doesn't seem to be making them happy. What does eventually cheer up the couple is Tatum's donning a dress and lipstick while Pink dabbles in menswear. The adventures don't stop there for the pair, who are even more delighted to try out what appears to be the Fifty Shades of Grey starter pack, complete with a whip and plenty of leather outfits.
Beyond the gender-bending and sexcapades, the video features some pretty solid choreography, courtesy of choreographers Nick Florez and RJ Durell and, of course, all the dance moves Tatum probably thought he'd never have to bust out again after wrapping Hail, Caesar!.
By now, Pink releasing a stunning music video shouldn't be surprising. Her music videos over the years have become iconic, from her chainsaw-wielding ways in "So What" to the countless costume changes of "Stupid Girl." This summer, she was even honored for her legacy in the music video world with the Michael Jackson Vanguard Award at the MTV Video Music Awards, stunning the Internet with a heartfelt speech that she addressed to her daughter. "We don't change. We take the gravel in the shell and we make a pearl," she said.
Related: Pink on Finally Ending Her Feud with Christina Aguilera: "We Grew Up"
Pink Gets Interviewed by a Cute Little Kid: