Blood Work
Piotr Uklanski's new museum show is not for the faint of heart.
---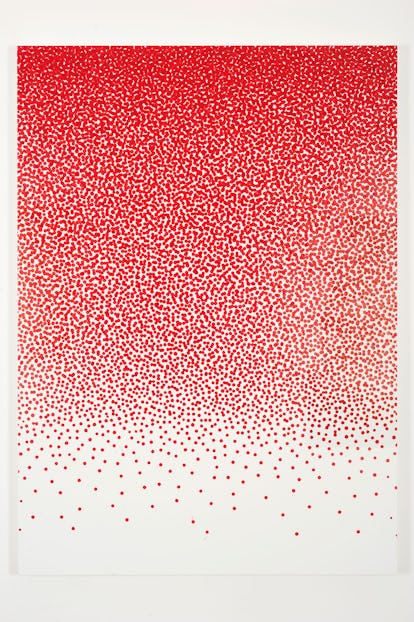 On a recent visit to Piotr Uklanksi's Brooklyn studio in the once-heavily Polish-American enclave of Greenpoint, the artist stopped to point out rims of red paint on the concrete floor—leftover traces of his series of paintings inspired by drops of blood. When he first started making his bloody paintings in 2007, Uklanski, who was born in Warsaw, meant to draw on his Polish nationality—or rather, "the clichéd understanding of a payment in blood that you make to sustain your national identity," as he explains it.
Since then, the series—which will be the subject of Uklanski's new museum show, opening September 21 at the Dallas Contemporary—has grown to include references to the horror filmmakers Dario Argento and Maro Bava. "The violence in their films was very stylized, to the point that it looked beautiful," Uklanski says. "You push it to the extreme and violence loses its meaning, at least emotionally."
Indeed, if it were not for the titles of the work—Blood Test, Virgin Blood, Untitled (Tears of Blood)—the subject of Uklanski's abstracted violence would likely be unrecognizable. In order to achieve the layered patterns entirely made up of dots, the artist, who has an affable, amused presence despite his macabre work, lays his canvases on the floor and drips paint onto them in a predetermined grid repeatedly. "As I worked on them over the years, I felt it was a little bit like marking time," he explains. "Flakes join into little groups. It's almost unavoidable after a couple of layers. There are so many layers, and you have to wait for them to dry before you reapply. There's no way to speed it up." He added, "That's the beauty of it."
"Piotr Uklanski" will be on view at the Dallas Contemporary from September 20 through December 21, 2014.
Blood Is the New Black, 2012.