The Secret to a Red Carpet-Ready Pixie Cut, Courtesy of Zoë Kravitz's Hairstylist
"When in doubt, mess it up!"
---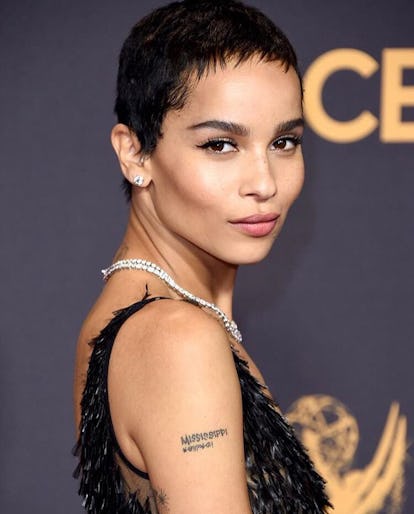 @ninapark
The pixie cut continued its reign as hairstyle of the moment on Sunday night at the 2017 Emmy Awards, thanks to Zoë Kravitz who paired her short, feathered hairstyle with a fantastic Dior dress. The Big Little Lies star was one of the best looks of the night.
So, what's the secret to a flawless pixie? Hairstylist Nikki Nelms, who works with stars like Janelle Monáe, Beyoncé, and Kravitz, explains that it all starts with a great cut. "No matter how the wind blows, the texture is there because you already started with a really textured cut," she says. Here, Nelms talks about the trend, and offers her best tips and tricks on styling a pixie cut for a night out.
Pixies seem to be taking over the red carpet again, why do you think that is?
Hair, to me, is no different than clothes and fashion – there's nothing new under the sun. Sometimes it's all about who the style is on and who we are bringing this style back on. Are they hot enough to make the world notice it again and want to recreate it? And is it customized to them or does it look like they are imitating something that came before them? I think with my clients who wear pixies like Zoë Kravitz and Janelle Monáe, they are so pretty and so cute, so it definitely draws attention to the pixie, which definitely makes my job a lot easier.
What are your favorite ways to style a pixie?
I love to style a pixie with my hands instead of using a comb. It helps add a more personalized level of texture to the look.
From where and whom do you pull inspiration from?
I pull my inspiration from my clients' personal style. There's so many different ways to do pixies. Some clients have more of a sweet personality, image or style. Others are a little more edgy.
What is your go-to look?
My go-to look is usually the "junky look" – that's what I like to call it. When in doubt, mess it up. If there is an error and something happens to the hair or I'm not able to be on the carpet, or I'm not able to be in a particular shot for a touch up, it's okay. If it messes up, then no one will notice because it already started with so much texture, so much junkiness and so much messiness, but in a very stylized way.
How do you add texture into short hair?
My favorite way to add texture is through the cut. You won't have to fake it because it's already there. No matter how the wind blows, the texture is there because you already started with a really textured cut.
What are your go-to products for styling?
My go-to products have always been products that are interchangeable. I don't like to have the most massive kit with everything in it. I like to have items in my kit that are multi-purpose and can be used in different ways. Right now my favorite go-to product is Dove Style + Care Curls Defining Mousse ($5, ulta.com) because it acts as a shine on dry hair but still works to define curls.
Does it differ by length, color or texture?
The product that I choose to use does sometimes depend on the color, length, etc, but not as much as the style that I'm trying to achieve.
When styling for a red carpet, how do you approach short hair as opposed to long hair? Are there challenges working with short hair?
Sometimes I'm a little more attentive to short hair. I pay more attention to the face frame and face shape because with short styles, you really don't have much length to work with. Any little imperfection can be more visible because the focal point is the hair and you don't have as many distractions with length and volume as you would with longer hair, so you could say I'm a lot more meticulous.
25 of the Most Iconic Pixie Cuts, From Mia Farrow to Zoe Kravitz
Actress Audrey Hepburn posed with full brows and a creamy, red lip in 1955.

Getty.
British supermodel Twiggy made her pixie cut the ultimate fashion statement by pairing it with her famous spider lashes.

Getty.
Known for her iconic feathered, golden locks, in 1986 actress Goldie Hawn briefly rocked a tousled pixie.

Getty.
Actress Mia Farrow wore her sleek, golden blonde pixie in her film A Dandy in Aspic in 1968.

Getty.
Madonna wore her feathered, platinum blonde pixie with a dark burgundy lip while out in Los Angeles in 1986.

Getty.
Supermodel Linda Evangelista wore her dark brunette pixie swept over at The Fashion Group International's 6th Annual Night of 100 Stars in 1989.

Getty.
Actress Gwyneth Paltrow put a minimalist spin on her golden pixie with a single hair barrette at the Marie Claire Magazine's First Reader's Choice Fashion & Beauty Awards in 1997.

Getty.
Actress Winona Ryder attended the Girl, Interrupted Hollywood premiere in 1999, pairing her tousled pixie with a satin mauve lip.

Getty.
Supermodel Kate Moss wore her pixie cut with full bangs and luminous skin at the Montjuic Palace: Frock'n Roll Gala in 2001.

Getty.
As one of the most iconic moments in Oscar's history, Halle Berry accepted her Academy Award with her ultra sleek pixie in 2002.

Getty.
Actress Keira Knightley wore her highlighted pixie in swept over bangs with a soft brown smoky eye at The Jacket Los Angeles premiere in 2005.

Getty.
Actress Natalie Portman sported a pixie for her action-packed role in V for Vendetta in 2006.

Getty.
Designer Victoria Beckham wore her dark brunette pixie with her signature smoky eye at the Marc Jacobs Spring 2009 fashion show in 2008.

Getty.
With her ever-changing hairstyles, British actress Emma Watson briefly sported a an ultra sleek pixie in 2010.

Getty.
Pairing her polished, golden blonde pixie with a subtle smoky eye and a hint of blush on the cheekbones, actress Carey Mulligan looked chic at the Film District Party in 2011.

Getty.
At the 2012 MTV Video Music Awards, Rihanna wore a simplistic do with a bold red lip.

Getty.
South African beauty Charlize Theron wore an ultra cropped pixie at the 85th Annual Academy Awards in 2013.

Getty.
Actress Anne Hathaway wore her dark brunette pixie with neutral smoky eye and lips at the 70th Annual Golden Globe Awards in 2013.

Getty.
Actress Jennifer Lawrence accepted her Golden Globe win at the 71st Annual Golden Globe Awards, wearing her golden blonde pixie with a maroon red lip.

Getty.
Singer Miley Cyrus paired her platinum pixie with a pale pink lip and radiant skin at the 56th annual Grammy Awards.

Getty.
Actress Scarlett Johansson looked pretty with rose-tinted cheeks, a pale pink lip and an asymmetrical bob at the 2015 MTV Movie Awards.

Getty.
Attending the 2016 New York Film Critics Circle Awards, actress Michelle Williams kept her platinum pixie sleek and side-parted with luminous skin.

Getty.
Following in the footsteps of A-listers taking over Hollywood with their platinum pixies, singer Katy Perry was the latest to join the ranks during Paris Haute Couture Fashion Week.

Getty.
Actress Zoë Kravtiz made the pixie an enviable accessory as she attends the BAMcinemaFest 2017 Opening Night Premiere of Gemini.

Getty.
British model Cara Delevingne sported an ultra platinum pixie paired with a chic black headband.

Getty.
Watch: 10 Famous Actresses Who Drastically Cut Their Hair Short For Movie Roles