The Hippest Planned Parenthood PSA You're Likely to See Features Grimes, Jemima Kirke and Hari Nef
Photographer Harley Weir directs Amber Valletta, Grimes, Jemima Kirke, Hari Nef, and more in Proenza Schouler's new kind-of PSA in support of Planned Parenthood.
---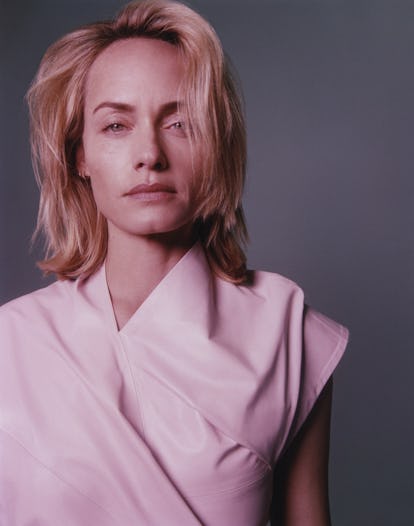 Harley Weir
On Tuesday, the United States Senate voted—by a margin of 51 to 50, split nearly evenly along party lines—to open debate on the Republican-drafted healthcare bill that would begin to dismantle Barack Obama's signature legislation, the Affordable Care Act. As they have done in both the House of Representatives and the Senate thus far, Republican lawmakers will undoubtedly press for defunding of Planned Parenthood.
All this makes Proenza Schouler's new video, "A Film for Planned Parenthood of New York City," which debuted Wednesday, all the more timely. The third installment of the label's collaboration with photographer Harley Weir, the Camilla Nickerson-styled "A Film for Planned Parenthood of New York City" features a truly wild lineup of sex educators, models, artists, musicians, and actors, including supermodel Amber Valletta, the musicians Grimes and Hana, actresses Jemima Kirke and Hari Nef, who discuss "'femininity' and what it means to be a woman today," according to a press release from Proenza Schouler.
All are dressed in Proenza Schouler, and they are joined by Hailey Benton Gates, models Hanne Gabby Odiele, Selena Forrest, and Stella Tennant, and the musician Jojo. In one scene, Valletta narrates the creation myth of Adam and Eve; in another, Kirke discusses the changes wrought by pregnancy and Gates describes the "small, simmering feeling of being underestimated."
"Shame is the number-one perpetrator of all the wrong ways we learn about our bodies," she adds. By contrast, the video is an overt, yet quiet celebration of the bodies of women and gender-nonconforming individuals.
It ends with a call to action, informing viewers how they can support Planned Parenthood. Proenza Schouler is not the first to venture into this space. The health organization has benefited from the support of fashion, film, and music, especially over the past year: The Council of Fashion Designers of America teamed up with Planned Parenthood; designer Gabriela Hearst designed a ram-ovary sweater benefiting the organization; Young Thug, Haim, Chvrches, and Halsey have all held events or spoken out in support of Planned Parenthood.
And the organization's blowout 100th anniversary gala drew an array of Hollywood heavyweights including Meryl Streep and Sofia Coppola.
Miley Cyrus gets steamy for Planned Parenthood with Marilyn Minter: