Playwright Cyrus Aaron Is Here to Help America Talk About Race
The Brooklyn writer-director's Someday, which has ardent fans among the likes of activist Deray Mckesson and Pyer Moss designer Kerby Jean-Raymond, is the affecting, troubling play we need right now.
---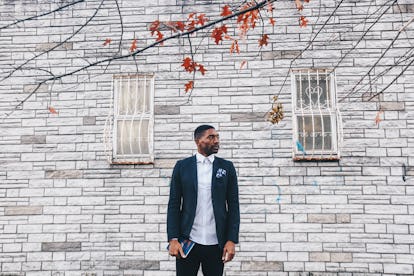 Courtesy of Cyrus Aaron
Cyrus Aaron was on a trip through Southeast Asia last summer when he finally found a place in Thailand where the wifi was stable enough to allow him to check his feeds. As the connection cut in and out, he refreshed with increasing urgency — not because he was finally getting his notifications-induced dopamine rush, but because he'd come across the crushing news that yet another African American, Sandra Bland, had died at the hand of police brutality.
"That was the first time I've ever had to grieve away from home," said Aaron, 31, a writer from the South Side of Chicago who was at that point working in hospitality. So he tucked those feelings away until he was on his way back to Brooklyn, at which point his thoughts and emotions started pouring out almost as soon as he boarded the plane. "When I got back I said, 'This is the time, you're a writer, you're a voice, you have a message to tell, and you need to do it,'" Aaron recalled. He ended up quitting his jobs and essentially locking himself in his apartment for the month of October, blaring Tupac, Nina Simone, Kendrick Lamar, and Marvin Gaye.
He was also writing the words that ended up forming Someday, the first play he's ever written or directed, which opened at the University Settlement House in New York's Lower East Side with two sold-out performances in March, and has continued to sell out each restaging since, including an encore tonight at the Wild Project Theater, also in the LES. Tickets have been hard to come by, but so far everyone from the activist Deray Mckesson to the Pyer Moss designer Kerby Jean-Raymond have found a way to make it in. The latter was so moved that he tapped Aaron to open his spring 2017 show, where he performed a spoken-word piece as store clerks plugged away at cash registers on the runway.
The pair are of similar minds. The season before at Pyer Moss, a model walked the runway with a placard that read: "My demons won today. I'm sorry," a quote from the suicide note of the 23-year-old Black Lives Matter activist MarShawn McCarrel that is also read aloud each time Aaron and his cast take his largely set-less stage. Composed of 12 vignettes, Someday lays bare America's everyday instances of racism, running the gamut from the insidious — well-meaning white friends whose jokes go too far, or who can't seem to understand their black friends' "victim mentalities" — to the blatant, like McCarrel's collapse, and an otherwise jovial cook-out interrupted by an unprompted police shooting.
Unfortunately, each scene feels all too familiar, eliciting both tears and laughter from audience members, no matter the race. They all come together in the final scene, "Eulogy," as the cast leaves the stage to hand each a white rose, leaving images of "the slain" — names like Trayvon Martin and Michael Brown, along with too many others — in their place. "It's a place for us all to pay our respects," Aaron explained.
It's the type of moment that, particularly on the opening night, caused Aaron and others to burst into tears — an occurrence so frequent in the production of Someday that Aaron took to putting aside hours during each run-through to allow for breakdowns and discussion. "I'm fine with being vulnerable, because I know what's at stake and I know the importance of our voices being heard. If that means me breaking down in the middle of a show, so be it." Aaron said.
Lately, he's taken to calling those moments "breakthroughs." The play, he said, is all about starting conversation, which is why he always encourages attendees not to come alone. Someday, he acknowledged, is a platform of release and refuge for black people, but it's far from his goal to simply "preach to the choir" when discussions can lead to real change. That started with heartfelt talks between black and white cast members backstage, and has continued throughout the performances, to which even more people will bring their experiences and opinions as Aaron gears up to take the play on a nationwide tour next year.
At that point, of course, the president-elect and his family will have made their way into the White House. "Donald Trump is the tunnel, and our choices come January will be the light at the end of the tunnel," Aaron said. "We have to make a decision to either come together or remain divided."
At the same time, though, Aaron is continuing to take the long view. "The election results haven't really shown anything different, and I think that's the part we can't overlook," he said. The play's title, he noted, comes from a quote by the Roman poet Ovid: "Someday this pain will be useful to you."