Discover Ponza, the Mediterranean Island Where Real Italians Vacation
Planning a getaway? It doesn't get better than Ponza, the Italian island that's managed to fly under the radar despite devotees like Beyoncé and Mariah Carey.
---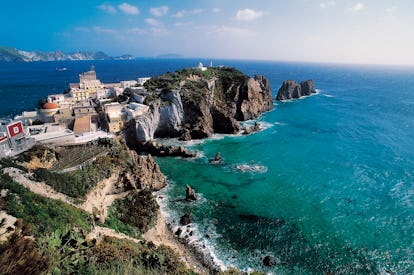 De Agostini/Getty Images
For as long as I've known my Italian boyfriend, Fabrizio, he's been talking about Ponza, the island where real Romans vacation and where he's been summering with his family since his childhood. In America, though, no one seems to have heard of it, even though unlike most resort islands it is fairly accessible. No need for two flights, baggage misadventures, various trams, trains, taxis or three doses of dramamine here.
As I embarked on my maiden voyage to Ponza, I wondered, how on earth this place maintained its secrecy? Is it possible the Romans wanted to keep it for themselves?
Upon landing in Rome, we drove an hour south to the port of Anzio and took a boat to the island. Cars were scarce, and most people walked to their lodging right from the port with their luggage in tow. As we made our way down the main street (there is only one), the island's surprisingly low-key, laid-back vibe was immediately evident. The streets were unmanicured, the flora and fauna wild and untrimmed. People sat outside in beachwear, happily oblivious to their surroundings, rather than people-watching behind oversized sunglasses or Instagramming bowls of chips and olives carefully placed next to extravagant looking Mojitos. Life was simple here, unfazed by ostentation and far-removed from the dusk-til-dawn party culture of other Mediterranean hotspots such as Mykonos, Ibiza, the Maldives or Formentera. This unpretentiousness is Ponza's main appeal, offering a reprieve from the glitz and garishly high price tag of the paparazzi strewn streets of other Italian isles like Capri.
Ponza feels like a secret. The island's charm lies in its timelessness and simplicity, attracting the fashion crowd and celebrities such as Rihanna, Bruce Springsteen, Mariah Carey, Beyoncé and Jay Z. There is little shopping, save for a few stores selling Panama hats and swimsuits, and you hear few languages spoken besides Italian. During the day people rent a motor boat from the port, dropping their anchors in one of the windless alcoves that surround the island. You spend the day diving off the boat, enjoying fresh mozzarella, tomatoes and focaccia. Night life is equally simple; a sunset aperitif followed by a dinner that goes until the last man standing.
On my last night, I met Brooklyn-born, 60-year-old "Taxi Joe," who moved to Ponza when he was 23 and now shuttles people around the island in his putt-putt. "What else do you need?" he asked. "Great food, nice people, and it's always sunny." La vita è bella.
Ponza Is the Fendi Family's Best-Kept Secret
TO DANCE Covo Nord Est The one discotheque on the island where you'll find a 20-something year old crowd. Say hello to Italo Disco.
TO DRINK Bar Tripoli Located right on the main drag and always packed, guests arrive beach swept and sandy for an early evening Spritz, or – at four Euros each – two.
Il Melograno Housed in an old Mediterranean villa, this restaurant / bar is perfect for those looking for a more posh aperitivo. Arrive on the early side to nab a seat at their pool-side lounge.
TO EAT Il Tramonto Call a taxi and head up to this cliff-side eatery to watch a truly breath-taking sunset, standing on the roof. Order the 'Pasta Il Tramonto,' a cream-based zucchini pasta. It is house specialty, and the best pasta you'll ever taste.
Ristorante Eea Located in the center of town, the fish restaurant is known for its unbeatable quality and ingredients. Their catch of the day is always local (naturally), and has a wine pairing to boot.
TO STAY Grand Hotel Chiaia di Luna Located in an ancient amphitheater overlooking the island harbor, the hotel has all the charms of a Mediterranean oasis. A ten minute walk from town, it's perfect for those not staying on a boat or at an Airbnb.