Pretty Please
Bushy brows, trout pouts, spray tans, stick-straight hair, barely there Brazilians—we ladies have done it all in the name of beauty. Jessica Lustig looks back on a lifetime of plucking and primping our way to perfection.
---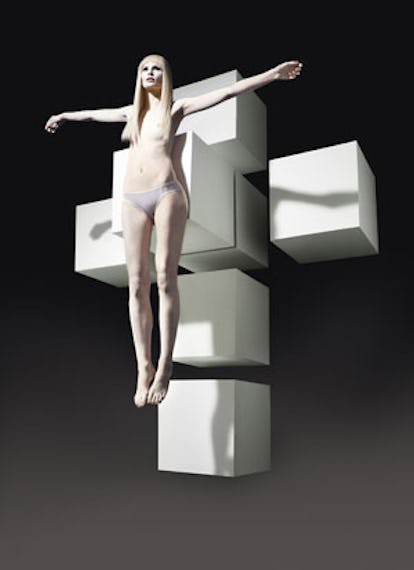 There used to be only so much you could do. Beauty was a matter of the genetic gifts you were allotted, along with the grooming and decoration that made the most of what you had and allowed you to venture forth in public. Every era had its signature look, but from the vantage point of our own sci-fi age—in which beauty is ­increasingly pursued through high-tech chemicals, needles, ­lasers, and scalpels—even people of the very recent past might as well have been ancient Egyptians daubing themselves with kohl and clay.
Our current culture calls to mind something more like Brave New World, Aldous Huxley's prescient 1932 novel, in which the appearance of youthful beauty is societally mandated and fetishized. You can't help but wonder whether we have embarked on a modern adaptation, where every stray hair, gray hair, wrinkle, pimple, and pore—every last imperfection—is ruthlessly hunted down and eliminated. So how did we get from there to here?
Gucci's 2003 provocative G-spot ads caused quite a stir.
Forty years ago, as the seventies got into swing, women were reveling in their newfound freedom from the constraints—the girdles, conical bras, and salon-set helmet hair—of the Pan-Caked past. If makeup was worn at all, it was Cabaret eyelashes and blue or green shadow with disco-doll glitter and lollipop-sticky lip gloss. Hair was grown long, straight down to the waist, or up and out in a Toni home perm or in the aptly named "natural," also known as the Afro. This was the do-it-yourself era of the Ivory girl, of washing your face with Noxzema or yogurt, of shaving your legs in the shower or swiping them with Nair—or, if you were hippie enough, just letting it all go. A splash of Jean Naté and you were done. Nobody seemed to be wearing a bra. Farrah Fawcett's epochal 1976 red-bathing- suit poster was a California-esque celebration of feathered blonde hair, blindingly white teeth, a tawny Bain de Soleil tan, and, not least, nipples. Soon enough everyone looked as though they'd just stepped off the set of Charlie's Angels or Soul Train.
Artifice came back with a vengeance in the eighties. In the iconic Francesco Scavullo photographs of the time, the models look like members of Mötley Crüe. War-paint makeup was worn with even fiercer hair towering above, in wings and layers and hair-metal mullets that were teased, streaked, and frosted into oblivion. (Sun-In was a kind of bleach-blonde training-wheels starter kit.) Mousse, gel, and spray kept the confections aloft. Brooke Shields's thick brows defined the decade (did anyone ever pick up a pair of tweezers?). Eyeliner was black or blue and emphatically drawn around the entire eye—then, along the inner rim as well. And why stop there? You needed lip liner too. The best-selling book Color Me Beautiful told you what "season" you were so that you could determine your makeup and clothing palette with the help of color swatches. Nails were long and vampirically pointed, or shellacked in a French manicure. Scent was no ­subtler, with blasts of heavy-hitting perfumes like Giorgio Beverly Hills, ­Poison, and Obsession filling the air. And then the body came into focus. Teenagers, as well as aspiring actresses, got nose jobs. Shoulder pads created a Working Girl power silhouette. Jane Fonda launched a nation's worth of leg warmers with her workout studio and VHS tapes, and everyone began to "feel the burn," as Fonda exhorted them on toward aerobics, Jazzercise, and Nautilus machines.
Clockwise from top left: Goldie Hawn's "trout pout" in The First Wives Club, 1996; Farrah Fawcett's 1976 poster; Shalamar's Jody Watley on Soul Train, 1971.
Just beneath the surface, something else was happening. There stood the white-lab-coated attendants of Clinique, ready to instruct you in a three-step skincare routine, with "toner" and other products you hadn't known you needed. But now you did. There was a sort of analog machine you used to figure out what type of skin you had. Large pores? Oily? Visible lines? Dry and flaky? Helpful mirrors stood on the counter, so you could get a close-up look—My God, yes, now that you mention it…—while you answered the questions. The process, the packaging, and the name itself signaled a new direction toward the scientific.
With the arrival of the nineties came the waif look, embodied by Kate Moss, as a counterpoint to the Guess ad glamazons of the eighties. First it was time to get all that hair under control. You needed a hair dryer, a flat iron, and the new anti-frizz products containing silicone, or else a salon blowout a few times a week. Foil highlights were supposed to make you look as though you'd spent the summer basking on the beach, not bent over the bathroom sink. Black women got weaves, and some went blonde too—like Mary J. Blige and, later on, Beyoncé. Eyebrows were shaped, penciled, and lightened. Vats of wax were heated to tame even more hair. The euphemistic bikini wax became de rigueur. One had to clip, trim, and prune the topiary that was left behind. And then word began to spread of a new, much more denuded depilation called the Playboy wax. It was quickly rebranded the Brazilian.
As hair was plucked, everything else was pumped up. Pamela Anderson's Baywatch physique, life-raft buoyant and golden-hued, became the pop-culture paragon. The 1996 movie The First Wives Club built in a visual joke about Goldie Hawn's character having "trout pout" lips from an overenthusiastic collagen injection. But that didn't stop the swelling, as women lined up to have their faces, necks, eyes, and breasts "done." Fat was vacuumed away with liposuction. Faces were sandblasted with dermabrasion or chemically peeled. A cult arose around the prohibitively expensive Crème de la Mer face cream, originally developed for burn patients—which many customers now were, in a sense.
Along with cosmetic surgery and "procedures" came cosmetic dentistry. Teeth were bleached white and then whiter still, or a set of veneers was glued atop the originals like a white picket fence. (Perfect teeth had become the new American Dream.) Makeup was formulated to give the illusion of wearing no makeup, with ingredients like "light-reflecting particles" that promised to "mattify" and otherwise remedy the complexion. As for the rest of the body, with self-tanning cream you could be tan everywhere, all the time. Women went bare-legged and wore sandals in winter. It became unthinkable to go without a pedicure. Nails were shortened, squared off, and coated in dark Chanel Vamp. Everyone went to the gym; everyone began to do yoga and Pilates. A high colonic was said to do wonders for your skin. Everyone wanted to "detox." Pop stars once made pilgrimages to the Maharishi; now it was to plastic surgeons, dermatologists, and wax estheticians, who enjoyed guru status.
From left: Pamela Anderson during her Baywatch years; Kate Moss stars in Calvin Klein's Obsession ads, circa 1993; Eva Herzigova as the Guess girl in 1992.
By the turn of the millennium, the paparazzi culture that had followed celebrities on the red carpet, at parties, and on every Starbucks run was creating a new camera-ready concept of beauty. False lashes were back for stars and civilians alike. Lines and furrows were targeted with Botox, fillers, and even fat cells extracted from the rear end and injected right into the face until the skin was stretched smooth, plump, and ­poreless—like a balloon. The body had to be defined, muscled, long, and lean. "Booty­licious" became a word. Everyone suddenly wanted abs. Trainers wielded increasing power. If there was any fat left, new machines claimed to cryogenically freeze it away. Nails were shaped into "squovals," and men, women, and children all got mani-pedis. Spray tans basted people a rich shade of reality-TV mahogany. Hair was made stick-straight with Japanese, ­Brazilian, and keratin treatments that promised to last for months—or with the help of extensions. But only on the head. Everything else—everything—was threaded, waxed, or lasered off. A notorious Gucci ad featuring a model pulling down her briefs to ­reveal a patch shaped into the brand's capital-G logo was startling for a moment—until waxing accelerated from the "landing strip" to the take-it-all-off "sphinx," and the sight of any pubic hair at all came to seem quaint and retro. "My entire body is hairless," Kim Kardashian announced. The goal, in the end, was to look as if you'd been completely Photoshopped, from head to toe.
"We're more and more sensitive to what can be seen," says Nancy Etcoff, a Harvard professor, evolutionary psychologist, and the author of Survival of the Prettiest: The Science of Beauty. "Because of the camera, you can see everything, you can look at it pixel by pixel, it's all over your iPhone, and you can scrutinize and see things that really weren't that apparent to the naked eye. That's how I think people are starting to see themselves, as if they're in these big magnifying mirrors, and all these tiny flaws look just much more obvious."
In Brave New World, the society is staggered by the return of a woman who has been lost for decades, out of reach of the antiaging prescriptions that keep everyone preternaturally young:
"Oh, look, look!" They spoke in low, scared voices. "Whatever is the matter with her? Why is she so fat?" They had never seen a face like hers before—had never seen a face that was not youthful and taut-skinned, a body that had ceased to be slim and upright. All these moribund sexagenarians had the appearance of childish girls.
But didn't they look terrific?
Hair by Yoichi Tomizawa for Shu Uemura at art-dept.com; Makeup by Robert Greene for MAC at See Management; manicure by Ana-Maria for Chanel at Artists by Timothy Priano; set design: Bryn Bowen at The Magnet Agency; Anderson: Everett Collection; Calvin Klein, Guess: The Advertising Archives