Ryan Murphy Hints at How Madonna Will Help Shape Pose Season Two
"Vogue" plays a key role in the second season of Pose.
---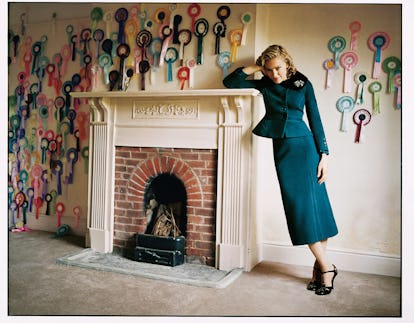 Tim Walker
Just shy of a month ago, the newest addition to Ryan Murphy's armada of television shows, Pose, was renewed for a second season. And at a Television Critics' Association preview this past Friday, Murphy gave a hint of what was to come in the next installment of the series. The first season closed in 1988; season two will pick up the following year and conclude with the release of Madonna's "Vogue," in March 1990.
"Vogue" describes the ballroom culture that is also the subject of Pose; its release, on March 27, 1990, was one factor that helped the ballroom community achieve some mainstream recognition. (Murphy described it as putting the scene "on display" to the wider world.) Though it's not clear if Murphy has yet acquired the rights to the track, he explained that he has "a very good relationship with Madonna thus far," adding that the Queen of Pop offered up several songs for the series' first season (though none of them made their way onto the soundtrack, which has featured everything from Janet Jackson to Ryuichi Sakamoto). Madonna was also the subject of an episode of Glee, entitled, fittingly, "The Power of Madonna."
Looming over the announcement was the idea that Madonna might make a cameo in the next season, given that her song is its centerpiece. Murphy didn't dismiss the idea outright, but he noted that Pose, unlike some of his previous shows (American Horror Story: Coven, for example, featured Stevie Nicks in a season that also included a Stevie Nicks–obsessed witch), has foregone his frequent stunt casting. Instead, its focus remains on its core cast, largely made up of trans women of color, placing queer and trans talent at the center of their own stories.
"We haven't tried to do too much of my typical stunt-casting, and I don't think we will," Murphy said. "But I always like to talk to Madonna."
The same day, another major announcement emerged from the Murphy television dynasty: Jessica Lange, longtime star of American Horror Story and Feud, will return for the upcoming eighth season of American Horror Story—this one titled "Apocalypse"—reprising her role as Constance Langdon from the first season, "Murder House." (The same day, FX announced American Horror Story had been renewed for a tenth season.) Sarah Paulson, another American Horror Story regular and the star of American Crime Story, made the reveal. Meanwhile, Murphy is off to Netflix to propagate the species elsewhere.