Prada Is Challenging Conventions of Gender with Its Latest Fragrances
Prada gets intimate with the notion of gender fluidity—and four very savvy spokesmodels.
---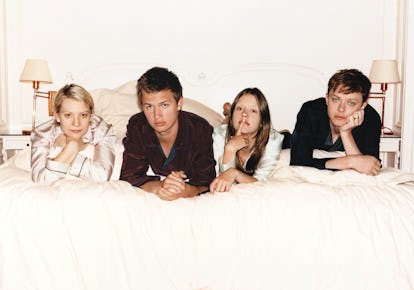 Photograph by Jonas Unger, Styled by Jack Borkett; Hair by Sebastien Le Corroller for Bumble and Bumble; Makeup by Anthony Preel AT Airport agency; Grooming by Sonia Messaoudi; Photography Assistant: Paul Lehr; Fashion Assistant: Camille Bodinier; Grooming Assistant: Debora Emy.
Perfume is one of society's great mirrors. The good ones, to borrow from Nina Ricci, capture l'air du temps. So it's no surprise that an entire subset of the fragrance industry, starting with Calvin Klein's CK One back in the '90s through Prada's latest offerings, La Femme Prada and L'Homme Prada, questions notions of gender. And while Prada's new his-and-her scents, which come in blingy yin-yang bottles backed in black or white leather, appear to draw a gender line, their stated mission is, in fact, to blur it.
To front the campaign, Miuccia Prada selected four talented—and self-aware—­millennial actors whom she felt represent today's surfable spectrum: the waifish and terrifically talented Mia Wasikowska, 26, Tim Burton's latter-day Alice and our generation's answer to Mia Farrow; the slightly spooky-looking Mia Goth, 22, who appeared in Lars von Triers's Nymphomaniac: Volume II, and whose Betty Boop voice belies her intelligence and deep curiosity; the heartthrob Dane DeHaan, 30, who played a flirty James Dean opposite Robert Pattinson in last year's Life and assumes the title role in Luc Besson's sci-fi Valerian and the City of a Thousand Planets next year; and the sensitive rising star Ansel Elgort, 22, of The Fault in Our Stars fame.
The four of them, as it happens, have strong views of their own about changing social norms. "I think the perception of gender has shifted from an external thing to an internal thing," Wasikowska says. "At the core, men and women have the same fundamental needs." For DeHaan, who counts his mother and his wife as the most important people in his life, "the worst thing you can say to a boy is 'Don't cry.' I try to have emotional intelligence that I think a lot of men lack or deny. Men may have more physical strength, but that doesn't get you very far. The strength is in being able to embrace your femininity." Elgort, who studied ballet five days a week from age 9 to 15, points to both Marlon Brando and Prince as masculine ideals, and admires tough women, like his mother, his agent, and his manager. "You play characters in life anyway," he says, whether it's dressing up for the red carpet or playing pickup basketball in Brooklyn, where he lives. For Goth, who was a classic girly-girl as a child—"pink, Barbies, completely into all that"—growing up has meant letting go of preconceptions. "People today don't have to define themselves as one thing. That's an exciting place to be, though it's taken long enough. Being a woman, or an adult in general, means honoring the fact that you don't know what is going to happen, and dealing with it in an elegant way." Just ask ­Mrs. Prada.
Watch W's most popular videos here: