Prince Harry and Meghan Markle's Bachelor and Bachelorette Parties Will Be As Glamorous As You'd Think
They're going to be as "glamorous" (and civilized) as you'd think.
---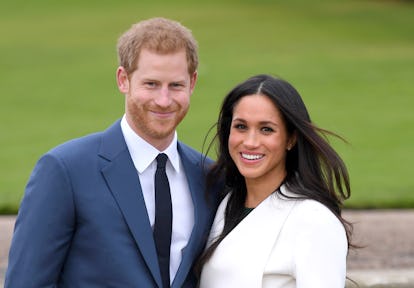 Karwai Tang/WireImage
If there's one thing The Crown has taught us, it's that the word scandal is synonymous with the UK royal family. Prince Harry and Meghan Markle, however, have steered clear of it throughout their courtship and engagement. Their next test: their bachelor and bachelorette parties, or "stag" and "hen" parties, as they're known colloquially. The soon-to-be-newlyweds, who will exchange vows in 50 days, will soon be celebrating their upcoming historic wedding with their friends.
Currently, both parties are in planning mode, as Vanity Fair's royal expert Katie Nicholl reports. And, they're going to be as "glamorous" (and civilized) as you'd imagine, in the words of a source close to Markle's bestie Markus Anderson, who in is in charge of her bachelorette party. Anderson, who has already planned an event for the couple — one of their early dates at Soho House in London during the summer of 2016 — is going all out for it.
"It is going to be fabulous, glamorous, and very exclusive," the source told Vanity Fair, "Markus knows some wonderful venues, saying that, I bet he'll keep it simple and close to home." Never mind the oxymoron of a party being both "fabulous, glamorous" and "simple" — what's simple to a future princess is, naturally, luxurious to anyone else. No doubt, Markle is likely relieved to have Anderson assisting with some of the planning.
Markle has been spending most of her time perfecting every other detail of the wedding. "She is very hands-on with everything," says the source. "She met with the Queen who wanted to talk through some ideas for flowers and introduced her to some of her events staff. Meghan is taking everything on board, but she has her own ideas when it comes to flowers." Could that include peonies? The flower was a fixture on Markle's Instagram before she deleted it, as Vanity Fair notes.
As for Prince Harry's bachelor party, no expense is being spared, either. His best friend Tom Inskip, aka "Skippy," is taking the lead on it, and has been apparently spotted scoping out a high-end boutique hotel in Mexico. "Tom is in charge of finding the location," says the source. "It has to be somewhere they won't be found and a place they can completely take over. Tom was checking out this fabulous place in Mexico last week and he loved it. It might be a step too far for everyone to go to Mexico but it's one of the places on the wish list." To make sure that nothing goes a step too far, his older brother Prince William — who has been historically more immune to party tabloid fodder — will be co-hosting the party. Needless to say, wherever the party ends up happening, it likely won't be Las Vegas. Those days are clearly behind Prince Harry.