Prince Harry Had a Crush on Meghan Markle Years Before They Even Met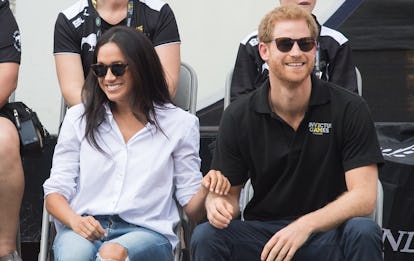 Getty Images
Prince Harry and Meghan Markle's relationship is a total spectacle. The two of them have rarely discussed their courtship, but that hasn't stopped royal fans from consuming endless stories about them. They haven't even announced their engagement yet, but the Internet is already planning their wedding and Markle's move to England.
One thing that is confirmed, though, is a new documentary titled When Harry Met Meghan: A Royal Romance is airing on Channel 4 in the UK on October 28. The film gives an insider's look not only into Markle and Prince Harry's relationship, but also their backgrounds. And one tidbit in particular is sending the Internet into a tailspin: It turns out that Prince Harry developed his crush on Markle two years before they even met.
The redheaded royal was first introduced to Markle on Suits, where she plays a paralegal named Rachel Zane. "He had a crush on Rachel Zane two years before he met Meghan and the reason I know is because I was having drinks with one of his friends," royal commentator Katie Nicholl says in the documentary. "She [Harry's friend] told me she'd been on a night out with Prince Harry. He was single at the time, so she said, 'Harry, who's your ideal girl?' And he said, 'Meghan Markle from Suits.'"
He met his "ideal girl" soon after: A mutual friend, Markus Anderson, arranged a group hangout last year where Markle and Prince Harry could chat…and they hit it off. "She was funny, feisty, confident, and she wasn't swayed or knocked by the fact that he was Prince Harry. She thought he was terribly cute," Nicholl says. The rest is well-documented tabloid history.
Watch: Jake Gyllenhaal Confesses His Cinematic Crush
Related Stories:
Prince Harry and Meghan Markle Will Reportedly Announce Their Engagement 'Soon'
Prince Harry Reportedly Doesn't Want a Big, Fancy Wedding
Meghan Markle Opens Up for the First Time About Prince Harry: 'We're Two People Who Are Really Happy and in Love'