Photos of Prince Harry's High School Dorm Room Resurface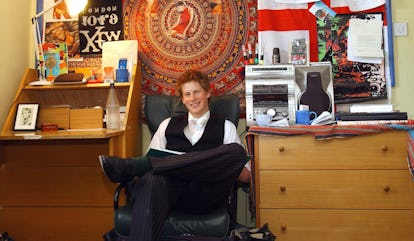 Pool/Tim Graham Picture Library/Getty Images
Prince Harry and Meghan Markle are likely still settling in to their new home of Adelaide Cottage, and there's been little word on what they have in store for the place. Though, if you want to look back to Harry's taste level before it really developed, well, recently resurfaced photos of the Prince's dorm at Eton College, the preferedr elite boarding school of the royals, should give you a few hints. This week, the Daily Mail ran collection of photos from Harry's time at Eton and, though you probably won't pick up any style tips from the then 18-year-old, you probably will get a few hearty chuckles out of what the young prince thought constituted as tasteful wall hangings.
As seen in the photos, above Harry's desk and dresser, the royal plastered his walls with a variety of elements: Among the clutter, you can spot a large London flag; a brightly colored tapestry with a cutout of a woman posing tacked to the center; a snapshot of Harry with a few friends or, perhaps, his older brother Prince William; and, of course, not one, but two photos of bikini-clad women. The desk and dresser are loaded with even more artifacts, including a giant stereo, a stack of photography books, a collection of teacups, and an electric toothbrush. All the necessities.
Other photos show Harry shining his shoes on his bed — peep his "generic bro" blue plaid comforter — and doing some schoolwork at his desk. Rather than bikini-clad women, those workspaces are filled with more meaningful imagery, including individual photos of his parents, Prince Charles and Princess Diana, over his bed, and another framed glamour shot of Diana, who died in a car crash nearly six years before Harry's Eton graduation, sitting on his desk.
Perhaps even more striking than any of Harry's wall hangings, however, are the clothes he's wearing in these photos. He may look like he's dressed for the fanciest event of the year but, in fact, that's not even the entire daily uniform for Eton students. Traditionally, while attending classes, they wear pinstriped trousers, a white button-down shirt, a white fold-over tie or bowtie, and a vest, all under a long morning coat, the Daily Mail notes.
Some of the resurfaced photos show Prince Harry exploring other areas of the Eton campus. In one, he perches on his dorm's kitchen counter while a piece of toast pops dramatically out of a toaster. In a few other shots, Harry wears an apron and stands behind an easel, poses with two abstract paintings, and goofs off with a skeletal school pal. The latter three photos appear to have been taken in the school's art studio; the Duke of Sussex reportedly studied art during his time at Eton, eventually taking his A-level exams in that and geography — though his grades reportedly weren't quite as good as those of Prince William, another Eton alum. Perhaps all that wall decor was a little too distracting to keep him focused on his studies.
Related: Meghan Markle Was Either in Toronto or at George Clooney's Italian Home or Maybe Just in England