See Prince Harry and Jane Goodall Greet Each Other as Chimpanzees
Turns out he and Meghan Markle are quite the Jane Goodall stans.
---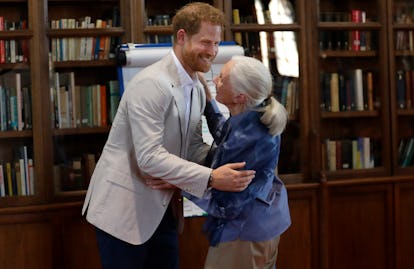 WPA Pool/Getty Images
Along with Leonardo DiCaprio, Jane Goodall can now officially count Prince Harry and Meghan Markle among her many stans. On Tuesday, the royals welcomed the 85-year-old dame to use Windsor Castle as the venue for the sixth global leadership gathering of Roots & Shoots, Goodall's environmental action group for youth, which Prince Harry was apparently ecstatic to attend.
At first, the royal simply listened to student presentations on endangered species, reducing plastic waste, and, as the Duke and Duchess of Sussex's Instagram account put it, "embracing the wild." It wasn't long before Prince Harry quite literally embraced the latter with open arms. As it turns out, Tuesday's gathering marked the third time that he's spent time with Goodall in recent months—enough time, it seems, for Goodall to put him to the test, by calling on him to reenact the "chimp greeting" that she taught him in December. And, in a true testament to his devotion to environmental conservation, Prince Harry enthusiastically obliged.
At that point, Goodall did her best impression of a nervous female chimp approaching a "male chimp" in the form of Prince Harry, who got into character by arching his back. He then reached out and patted Goodall's head, ending the interaction by pulling her into an embrace.
And, "because working hard and playing hard are not mutually exclusive," as the royals' Instagram account continued, complete with a monkey emoji, Prince Harry and Goodall also "share[d] an impromptu dance":
Markle was nowhere to be found, but rest assured: Her affection for Goodall also knows no bounds. "She told me she's followed me all her life," Goodall told reporters of her visit to the Duke and Duchess's home, Frogmore Cottage, last month. "She told me, 'You've been my idol since I was a child. I've hero worshipped you all my life.'" Meanwhile, Prince Harry echoed Markle's sentiments to more reporters: "She is a woman of kindness, warmth, immense knowledge and a softness that's needed by mankind just as much as it is chimpkind," he said of Goodall on Tuesday. "I've been admiring her work since I was a kid, and it was so wonderful to find that she was even more amazing in person."
During her visit to Frogmore Cottage, Goodall also got the opportunity to meet Archie Harrison Mountbatten-Windsor, aka the royal baby—meaning she got to do so even before Prince George and Princess Charlotte, whose first meeting with their newborn cousin took place just two weeks ago. "He's very cute and very gentle," Goodall said of Archie, adding to the long list of celebrity endorsements that Archie's racked up in his time on Earth, which currently amounts to less than three months.