Andie MacDowell Quitting Twitter is, Frankly, Inspiring
She might be logging off Twitter, but like most moms, she'll always have Facebook.
---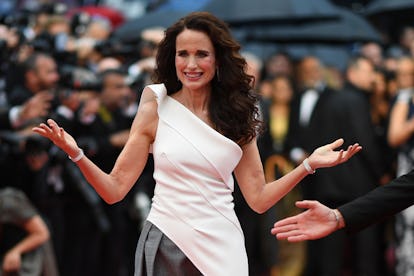 LOIC VENANCE/Getty Images
It's not every day that a celebrity peels back the curtain and admits that they may not be finding success with their social media strategy. In fact, they're not really supposed to do that if they want to keep up the illusion of perfection that is propagated by social media, but Andie MacDowell has never been much of a rule-follower, nor has she been one to follow the typical path laid out for celebrities by Hollywood.
MacDowell is, after all, the type of Hollywood fixture who was into the self-care movement and wearing SPF since way before it was a trend, and made a return to the runway at 60 years old. Her prescience has now lent itself to her musings on the digital space, when she tweeted today that she feels like she has "failed" at Twitter. "I have failed at twitter. I like it to catch up on information or read articles. My sharing has mostly cause me pain. I read mean things from people I don't know. It opens me up to sarcasm & too many mean people. I am a different generation.I don't understand that kind of joy," she wrote.
For anyone who has been online for longer than five minutes, that tweet is undeniably, as they say, a mood. And of course she followed up with more musings on how wasteful it is to spend endless hours scrolling through the app, especially when you fancy yourself a "positive" person. "It is hard not to look here or participate especially on a day when I am tired & sitting around the house doing nothing…I sit here read tweets, share, waste time like everyone else. But I think someone in my positive is like a sitting duck," MacDowell said.
And if you think her frustrations with social media ended with the hellscape that can be Twitter, think again. The actress is fed up with Instagram, too, and that's supposed to be the happier app! For the record, she doesn't hire someone else to post for her "like others do."
Why would anyone tweet something rude to MacDowell and what prompted these unedited thoughts on the nature of sharing yourself online? Well, it seems that the actress has had enough brushes with trolls, or nerds who reply with the occasional"Well, actually…" with regards to the points she has made about eliminating all forms of plastic so as to keep the oceans and marine life healthy. Her trolls will remain unfed, too.
MacDowell finished up her social media treatise with a note revealing that it was her own daughter, Once Upon a Time In Hollywood star Margaret Qualley, who told her "years ago to get off" Twitter. She then signed off with "Peace be with you."
Ironically, it is this transparency that renders MacDowell not only relatable (who hasn't felt that they have failed at projecting a perfect image of themselves on social media?) but successful at Twitter. She's not a failure, after all. And like most moms, she's got Facebook on lock, anyway.
Related: Andie MacDowell, 60, Walked the Runway at Paris Fashion Week