Andie MacDowell, 60, Walked the Runway at Paris Fashion Week
The model-turned-actress has been a face of L'Oréal Paris for more than 30 years.
---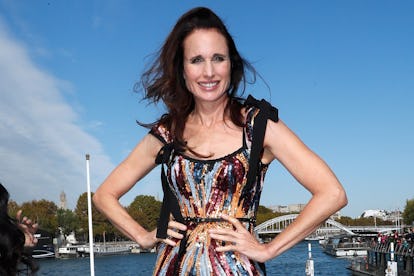 Bertrand Rindoff Petroff/Getty Images
Before setting her sights on Hollywood, Andie MacDowell started her career, in the late 1970s, as a model for brands including Calvin Klein and Yves Saint Laurent. Four decades later, wearing an Elie Saab gown, MacDowell returned to the runway, smiling and waving as she walked in L'Oréal Paris's second Le Défilé runway show in the French capital on Sunday. According to Vogue, the show took place on a 200-foot-long catwalk floating in the Seine, and it featured MacDowell's fellow L'Oréal ambassadors Eva Longoria, Elle Fanning, Doutzen Kroes, Winnie Harlow, and Duckie Thot.
Backstage at the show, the 60-year-old actress spoke to Vogue about making her runway return for the brand that she's been working with for more than 30 years. "I haven't walked a show in a long time," she said, adding that she loved getting to walk alongside such a diverse group of women and that she was thrilled to be back in Paris, where she'd moved when she first started modeling, at age 20. "I grew up in a teeny-tiny town in South Carolina, so I wasn't exposed to anything like Paris," she said. "This city is where I got my education and grew up in so many ways. Oh, and learned how to wear red lipstick."
The actress also spoke about what it's like to still be a beauty icon as she enters her seventh decade. "I'm in the process — and have been in the process — of aging," she said. "And with L'Oréal, I've really been able to [spread the message] that there's no time limit on beauty." She added, "It's a journey, but you can't go back in time. I don't want to pretend to be what I'm not and have never been ashamed of my age. I want to be positive about right where I am at each stage of my life."
Last year, MacDowell shared a similar sentiment in an interview with W, "The beauty myth that I'd like to debunk is that you must be young to be beautiful, age isn't a detriment and we don't need to chase youth, we should all embrace every moment of our life," she said. "Finding beauty as mature women in a culture that glorifies youth can be challenging but we don't have any other choice if we want to be happy. Time is precious and cannot be wasted and there are so many aspects of maturity that are outrageously gorgeous. Don't look back unless it is to see how far you've come."
Related: Andie MacDowell Has Been Growing Her Own Wheatgrass and Wearing SPF Since Before It Was Cool