Prince William Recreated One of Kate Middleton's Childhood Photos While on a Royal Tour in Jordan
"She is very upset that I am coming here without her."
---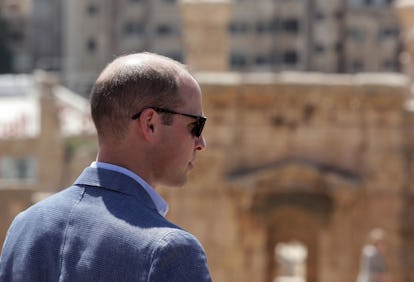 AHMAD ABDO
Prince William is currently on a royal tour of the Middle East, and to make up for the fact that he's there without Kate Middleton, he recreated one of his wife's childhood photos from when she was in Jordan. On Monday, the Duke of Cambridge visited the exact same site in Jerash that the Duchess of Cambridge's family had visited way back when. When Middleton was 4, she and her father and sister posed in front of a particular rock. Prince William decided to take a photo in front of "Catherine's rock" too, joking that he'd bring the kids next time, according to Daily Mail reporter Rebecca English. As Hello Magazine reported, he cracked a couple more jokes at the site, saying, "Need to come back with the family for this shot," and "Michael's looking very smart in his flip-flops," in reference to his father-in-law.
Later, the official Kensington Palace Twitter account posted a side-by-side comparison of the two photos, writing, "The Duke of Cambridge visits Jerash, the same site that The Duchess of Cambridge visited, aged 4, with her sister and father when the family lived in Jordan."
According to Hello Magazine, Prince William talked about Middleton's three-year residence in Jordan with Save the Children Jordan CEO Rania Malki, who revealed that her children's pediatrician currently lives in the duchess's childhood home. "No way! She will be thrilled. She loved it here, she really did. She is very upset that I am coming here without her," the prince replied, according to Hello Magazine.
Prince William is currently on day two of his five-day Middle East tour, and so far he's met the Crown Prince of Jordan, Al-Hussein bin Abdullah II, spoken to students at the Al-Hussein Technical University, visited the TechWorks Fabrication Lab, celebrated the Queen's birthday at a British embassy reception, watched a rerun of England's World Cup match with the crown prince, and met Syrian refugee children who are receiving psychological support services from Unicef's Makani program, among other events, according to Kensington Palace's Twitter account.
"Over the next five days The Duke will visit Jordan, Israel, and the Occupied Palestinian Territories—and is looking forward to building a real and enduring relationship with the people of the region," Kensington Palace tweeted.
Related: All of the Hot Bachelor Princes Twitter Has Rounded Up Now That Prince Harry Is Married