Rocks and Royalty
In the latest chapter of her storybook life, Princess Cécile of Hohenlohe-Langenburg has turned to designing stunning, multifaceted jewelry befitting her epic family history.
---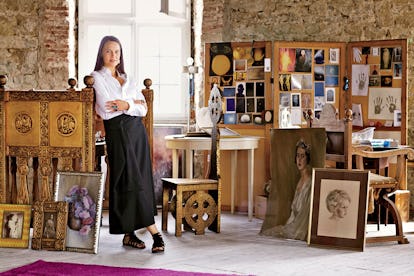 Once Upon a Time The life of Princess Cécile of Hohenlohe-Langenburg reads like a fairy tale—albeit one with a sequel. The oldest daughter of Prince Kraft of Hohenlohe- Langenburg and Princess Charlotte of Croÿ, she grew up in a 12th-century castle in Langenburg, Germany, where she developed an obsession for jewels from rummaging through her grandmother's and mother's drawers. "I would adorn myself like a Christmas tree," Princess Cécile says. "It was my first form of artistic expression." After graduating from art school in London, she worked for the industrial designer Tom Dixon and consulted for the porcelain company Nymphenburg. She recently returned home, where her late grandmother's empty jewelry chest awakened a desire to fill it, so she partnered with a local master jeweler to create a series of massive, multipronged rings.
Suitcase Closet Princess Cécile's wardrobe is a reflection of her travels. "I think people look to brands to give them a sense of security, but great style is always more about the ownership one has over the clothes," says the designer, who cites provocative female artists like Michele Oka Doner and Frida Kahlo as style icons. Always suitcase-conscious, Princess Cécile favors easy staples like vintage Halston caftans, silky Thai fishing pants, and Comme des Garçons T-shirts, which serve as the perfect counterbalance to the raw, oversize jewels she usually has on. One of her most cherished accessories, a three-finger ring she made out of four heirloom jewels from her family archive, acts as the anchor for her bohemian-chic aesthetic. "I like to wear things that tell a story. It's a shame to think of these jewels just sitting in a box somewhere."
A Room of One's Own When Princess Cécile is not on one of her stone- finding missions in India or on set with her boyfriend, the visual effects specialist Ajoy Mani, she retreats to her studio, in a rotunda atop one of the castle's towers. "I keep the things that inspire me there," she says. "It's like my painter's palette." Her favorites include a wicker S-Chair from her years working for Dixon and a photo triptych by her ex-husband, Cyril de Commarque, as well as unique items like a xylotheque—a library of wooden pieces—and her father's gunmetal objects. Princess Cécile has not inherited her parents' appetite for collecting—with the exception, of course, of stones. "Both my boyfriend's and my mentor Khyenste Norbu's last names are derived from the word 'stone,' which is fitting because wherever I go, my eyes are always on the ground looking for new ones," she says. "At some point, I looked up and realized I was surrounded by jewels."
Photos: Rocks and Royalty
Princess Cécile at the castle, 2014.
A ring of melted bronze and her mother's engagement ring.
The family castle in Langenburg, Germany.
Portrait of Princess Margarita.
Her lapis lazuli Buddha pin. Courtesy of Cecile of Hohenlohe-Langenburg.
Princess Cécile, held by her mother, Princess Charlotte of Croÿ, at her christening, 1968, with her grandmother Princess Anne of Croÿ. Courtesy of Cecile of Hohenlohe-Langenburg.
A rock crystal, aquamarine, lava stone, and garnet ring designed by Princess Cécile, price upon request, thegreyarea.com.
Her father's gunmetal objects.
The castle and a view of the gardens.
Princess Cécile, in her studio.
Door to the castle's tower ballroom.
Siblings Philipp Gottfried Alexander, Princess Xenia Margarita Anne, and Princess Cécile (from left), 1974. Courtesy of Cecile of Hohenlohe-Langenburg.
She collects works like this Tibetan Yantra diagram. Courtesy of the Rubin Museum of Art.
Princess Cécile, in a vintage Afghan caftan.
Princess Cécile at play, 1974. Courtesy of Cecile of Hohenlohe-Langenburg.