The Reason Princess Diana Was So Often Spotted Carrying a Clutch Close to Her Chest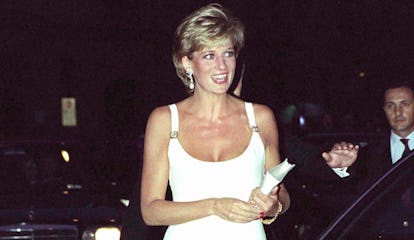 Tim Graham
Princess Diana will forever be a style icon. Her style, which ranged from jeans and a button-down for an afternoon with sons Princes William and Harry to ball gowns and skirt suits for professional events, has been closely dissected through the years. It wasn't until now, though, that we've learned the very practical rational behind one of her signatures: carrying a clutch close to her chest.
In an interview with The Telegraph, British handbag designer Anya Hindmarch shared the story:
The princess was one of Hindmarch's first clients when she opened her Chelsea store in 1993, and Hindmarch described Diana, saying, "She was a very loyal customer and a lot of fun. She would come and see us with no bodyguards or any fuss." Diana would often come to the store on the hunt for those clutches she loved so much, which the duo referred to as "cleavage bags." Why, you ask? Hindmarch told the publication, "We used to laugh when we designed what she called her 'cleavage bags,' little satin clutches which she would cover her cleavage with when she stepped out of cars." Genius.
Leave it to Princess Diana to figure out a way to use fashion to avoid any public photographs of buzzed-about wardrobe malfunctions. Consider this trick next time you're trying to figure out how to elegantly emerge from a vehicle, whether it's into a swarm of snapping paparazzi or not.
Princess Diana, Style Icon: See 20 Photos of the Natural Beauty
A young Princess Diana let her hair down during a summer holiday in Itchenor, West Sussex in January, 1971.

Getty Images
The Prince and Princess of Wales return to Buckingham Palace by carriage after their wedding, 29th July 1981. She wears a wedding dress by David and Elizabeth Emmanuel and the Spencer family tiara. Photo courtesy of Getty Images.

Princess Diana Archive
Lady Diana Spencer, soon to be Diana, Princess of Wales (1961 – 1997), looking pensive at a polo match in Windsor after the Ascot races, 16th June 1981. Photo courtesy of Getty Images.

Tim Graham
Attending the premier of the Bond film 'For Your Eyes Only' at the Odeon Cinema in Leicester Square in June, 1981. All eyes were certainly on her with that sparkly red dress and gorgeous blush.

Tim Graham/Getty Images
For a visit to the Isles of Sicily in April 1982, Princess Diana kept her hair and makeup natural.

Getty Images
For a day watching a Polo Match in August, 1983, Princess Diana embraced her hair's curly texture.

Tim Graham/Getty Images
In November 1984, Princess Diana visited a Barnados Charity and wore her hair pulled back in a new ladylike style.

Getty Images
Attending a polo match at the Guard's Polo Club in Windsor in June 1985, Princess Diana was the picture of '80s fashion and beauty.

Getty Images
Princess Diana arriving at the Serpentine Gallery, London, in a gown by Christina Stambolian, June 1994. Photo courtesy of Getty Images.

Princess Diana Archive
Princess Diana (1961 – 1997) at a state dinner in Canberra, November 1985. Photo courtesy of Getty Images.

Princess Diana Archive
The princess positively glowed during a visit to Bahrain in November 1986.

WireImage
Princess Diana Carries Prince Henry (harry) On Her Shoulders At Highgrove on July 18th, 1986. Photo courtesy of Getty Images.

Tim Graham
Diana Princess of Wales at a desert picnic in Saudi Arabia in November 1986, during the Royal tour of Saudi Arabia. Diana wore an outfit by Catherine Walker. Photo courtesy of Getty Images.

David Levenson
Princess Of Wales In Hong Kong Wearing An Outfit Described As The Elvis Look Designed By Fashion Designer Catherine Walker. Tour Dates 7-10 November, 1989. Photo courtesy of Getty Images.

Tim Graham
Princess Diana wore a fashionable gown and loaded up on the jewelry when attending a gala at the Cannes film festival in May 1987. Photo by Getty Images.

Tim Graham/Getty Images
Princess Diana wore flowers in her hair for a dinner with the King of Thailand during her official visit to Bangkok in February 1988.

Getty Images
While attending the Federation Cup Tennis Ceremonies in July 1991, Orincess Diana wore her hair short so as not to compete with her then-fashionable shoulder pads.

WireImage
A voluminous blowout gave Princess Diana some extra lift in December 1995, at the a gala in New York.

NY Daily News via Getty Images
A soft purple ensemble and natural makeup made Princess Diana look fresh and modern when visiting the Royal Air Force in England, in September 1995.

Getty Images
A brighter shade of blonde and soft bangs was a chic—and so '90s—look for the princess in June 1997.

Tim Graham/Getty Images
Princess Diana's 8 Most Iconic Looks