Princess Diana's Niece Wore Her Aunt's Wedding Tiara to Her Own Nuptials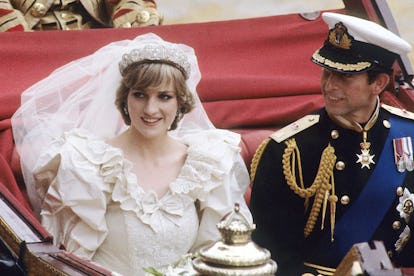 Anwar Hussein/Getty Images
When it comes to tiaras, none has ever been quite as iconic as Princess Diana's. And though it may not have been the pick for Meghan Markle to wear at her and Prince Harry's May 19 royal wedding, over the weekend it got a chance to take another spin down the aisle, courtesy of Prince Harry's cousin.
Celia McCorquodale — who is Princess Diana's niece — married George Woodhouse in England on Sunday and accessorized her princess-style lace gown with the "Spencer Tiara." The crown is the same one that Princess Di wore to her 1981 wedding to Prince Charles, and it was also worn by Celia's mom, Lady Sarah; Lady Jane Fellowes, her aunt; and Victoria Lockwood, the first wife of Charles, the Earl of Spencer, her uncle, People reports. The decision for Celia to follow in their footsteps makes sense, because in royal tradition, a bride usually wears a tiara from their own family's collection on her wedding day, and begins borrowing from their husband's family once they're married.
The central part of the family heirloom was given as a wedding present to Diana's grandmother, Cynthia Hamilton, in 1919. The side pieces were added later on, and are said to have belonged to Frances Manby, the last known Viscountess of Montagu. The tiara, as it appears now, was likely completed sometime in the 1930s.
The fact that Celia chose her aunt's tiara to wear for her big day is especially notable considering the topper hasn't been seen in public since Princess Diana's death in 1997. It's been exhibited in museums, but this is the first time it's been worn by a member of the Spencer family. Many people speculated that Kate Middleton and Meghan Markle would choose to honor their late mother-in-law with the crown on their own respective wedding days, but each bride opted for jewels from the Queen's collection instead. In her 2011 trip down the aisle at Westminster Abbey, Kate Middleton wore the Cartier Halo Tiara, and for her own recent walk down the aisle St. George's Cathedral, Meghan went with the Queen Mary Diamond Bandeau.
Related: A Rare Glimpse at the Prized Pearls and Jewels That Once Adorned Marie Antoinette's Head
Kate Moss and Lindsay Lohan Show You How to Dress for a Royal Wedding
Lindsay Lohan photographed by Michael Thompson for W Magazine, April 2005.

Photographed by Michael Thompson, styled by Alex White
Photograph by Tim Walker for W Magazine, April 2011.

Tim Walker
Kate Moss photographed by Steven Klein for W Magazine, March 2012.

Steven Klein
Photograph by Tim Walker for W Magazine, December and January 2016/2017.

TIM WALKER
Photograph by Tim Walker for W Magazine, April 2013.

Walker Tim
Kristen McMenamy photographed by Tim Walker for W Magazine, September 2012.

Walker Tim
Tilda Swinton photographed by Tim Walker for W Magazine, August 2011.

Walker Tim
Anna Piaggi photographed by Tim Walker for W Magazine, November 2012.

Walker Tim
Photograph by Tim Walker for W Magazine, March 2013.

Walker Tim
Photograph by Tim Walker for W Magazine, April 2013.

Walker Tim
Lara Stone photographed by Steven Klein for W Magazine, August 2009.

Steven Klein
Photograph by Tim Walker for W Magazine, April 2011.

Tim Walker
Karen Elson photographed by Michael Thompson for W Magazine, December 2005.

Thompson Michael
Jennifer Lawrence photographed by Tim Walker for W Magazine, October 2012.

Walker Tim
Photograph by Reljin Dusan for W Magazine, August 2005.

Reljin Dusan
Photograph by Tim Walker for W Magazine, April 2011.

Tim Walker
Photograph by Tim Walker for W Magazine, April 2011.

Tim Walker
Lucy Birley photographed by Tim Walker for W Magazine, April 2013.

Walker Tim
Lily Donaldson photographed by Steven Klein for W Magazine, March 2014.

Steven Klein