The Designer of Princess Diana's Wedding Gown Is Starting a New Fashion Label
"It will have the spirit of the most iconic women of the time like Elizabeth Taylor, Carolina Herrera and Joan Collins."
---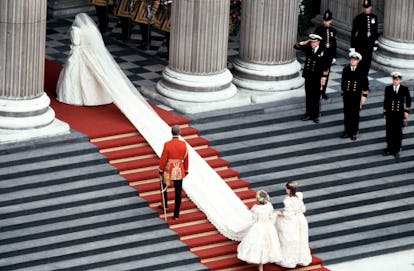 Ron Bull/Toronto Star via Getty Images
There's no question that Princess Diana was an icon of 1980's fashion. There is, however, a question of whether we ought to be bringing all of 80's fashion back, even with a woman as classy and elegant as the late Lady Di as inspiration. Elizabeth Emanuel, one of the designers who crafted Diana's legendary balloon-sleeved wedding gown, has no such reservations, and is set to launch a new line next year that will "capture the energy of the 1980s and offer a dynamic twist on current trends," per People. At the time, Diana going with the less-experienced and lesser-known Emanuels was something of a surprise, but the unusual dress instantly put them in the spotlight. In case your memory isn't crystal-clear, this is what Diana Spencer got married in:
Listen. It was 1981. Diana was like, 12. (Okay, she was 20.) There was no Project Runway, there was no Say Yes To The Dress (the UK version of which, by the way, Emanuel's then-husband and design partner David now works on). There was, of course, Vogue magazine, but, you know, whatever. It looks glamorous but yeah, pretty dated. The dress happened, people lost their minds, the world moved on.
Emanuel, who looks like the British Patricia Field, or maybe the British Betsey Johnson, told People that the new label, Emanuel Mayfair, "will have the spirit of Emanuel from the days when we made dresses some of the most of the most iconic women of the time like Elizabeth Taylor, Carolina Herrera and Joan Collins, but is taking it into the present… That whole period of time was wonderful but this will capture that but will also look contemporary and edgy. I'm bringing back the spirit in a new form after all these years. We will concentrate on bridal wear and evening wear – things to get dressed up in, pieces that are handcrafted and made to order."
The first collection is due in Summer or Fall. Too late for Meghan Markle's Spring wedding, sadly.
Related: A Princess Diana Wedding Musical Is Coming Soon
Royal Engagement Portraits Through the Years: From Prince Harry and Meghan Markle to Princess Margaret and Lord Snowdon
Prince Harry and Meghan Markle pose for one of two official engagement photos at Frogmore House in December, 2017 in Windsor, United Kingdom. Photo by Alexi Lubomirski via Getty Images.

Photo by Alexi Lubomirski via Getty Images
Prince William and Kate Middleton pose for photographs in the State Apartments of St James Palace on November 16, 2010 in London, England. The couple became engaged during a holiday in Kenya having been together for eight years. Photo by Chris Jackson via Getty Images.

Chris Jackson
Sophie Rhys-jones And Prince Edward on The Day Of Their Engagement. Photo by Tim Graham via Getty Images.

Tim Graham
Prince Charles and Lady Diana Spencer pose outside Buckingham Palace following the official announcement of their engagement. Lady Diana, 19, had been a friend of the Royal Family all her life. Prince Charles, 32, was regarded as one of the world's most eligible bachelors. Photo courtesy of Getty Images.

Bettmann
Prince Andrew with Sarah Ferguson at Buckingham Palace after the announcement of their engagement. Photo by Tim Graham/Getty Images.

Tim Graham
Princess Anne and Mark Philips Engagement In London On 1973. Photo by Keystone-France/Gamma-Keystone via Getty Images.

Keystone-France
Princess Anne and her fiance, Captain Mark Phillips. Photo by Fox Photos/Getty Images.

Fox Photos
Princess Margaret and Antony Armstrong-Jones in the grounds of Royal Lodge after they announced their engagement. Photo by Hulton Archive via Getty Images.

Hulton Archive
Princess Elizabeth II and Prince Philip, Duke of Edinburgh, at Buckingham Palace shortly before their wedding. Photo by Hulton Archive/Getty Images.

Hulton Archive
The first official picture after the announcement of the engagement of Princess Elizabeth and Lieutenant Philip Mountbatten, the former Prince Philip of Greece, at Buckingham Palace. Photo by Hulton Archive/Getty Images.

Hulton Archive