Princess Eugenie's Royal Wedding Will Reportedly Be Much, Much Bigger Than Prince Harry's
It's something her family supposedly feels she "deserves."
---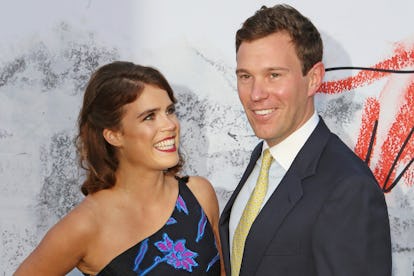 David M. Benett/Getty Images
After a longer-than-they-apparently-would-have-hoped wait, Princess Eugenie and Jack Brooksbank's royal wedding is finally right around the corner. And, if recent reports are to be believed, you should expect the October 12 nuptials to be a whole lot bigger than that other royal wedding that went down earlier this year—something that Eugenie's family, supposedly, feels the younger York sister "deserves."
Princess Eugenie was famously asked to push her wedding date back to allow time for her cousin, Prince Harry, to walk down the aisle with Meghan Markle and embark on their initial few royal engagements as newlyweds first. According to Vanity Fair, since Harry is sixth in line for the throne, versus Eugenie's number nine spot, his engagement and wedding took precedence over his cousin's. Now that it's her turn to put on a white dress, though, Eugenie is reportedly making sure that her nuptials were worth the wait.
"It's my understanding that Eugenie and Jack decided some time ago that they wanted to get married, and there was some talk about a wedding in 2017, but they had to wait for Harry to go first," a source told Vanity Fair. "The feeling among the Yorks is that she deserves her moment in the spotlight and a big royal wedding with all the frills."
Despite this statement, however, there is reportedly no ill will between the two royal couples over the timing clash of their respective weddings. "There are no bad feelings at all," the same source said. "Eugenie is very close to Harry, and she knows how the system works."
While Eugenie and Jack will walk down the same aisle that Harry and Meghan did in May, at Windsor Castle's St George's Chapel, they're expecting a much bigger crowd, dwarfing the latter's 600-person guest list with their own 850 invites. On top of that, just like the Duke and Duchess of Sussex, the soon-to-be bride and groom have also invited members of the public to join them for the ceremony, plus A-list guests like the Clooneys, the Beckhams, Ellie Goulding, James Blunt, and Sir Elton John. They're expected to celebrate with a garden party hosted by the queen at St George's Hall, on the grounds of Windsor Castle, followed by a two-day event at the Royal Lodge.
Though there's no doubt a lot of planning that goes into an event like this, according to Vanity Fair, Princess Eugenie is "cool as a cucumber." More importantly, she's "hugely looking forward to her wedding day." Same and same.
Related: Kate Moss and Lindsay Lohan Show You How to Dress for a Royal Wedding
Kate Moss and Lindsay Lohan Show You How to Dress for a Royal Wedding
Lindsay Lohan photographed by Michael Thompson for W Magazine, April 2005.

Photographed by Michael Thompson, styled by Alex White
Photograph by Tim Walker for W Magazine, April 2011.

Tim Walker
Kate Moss photographed by Steven Klein for W Magazine, March 2012.

Steven Klein
Photograph by Tim Walker for W Magazine, December and January 2016/2017.

TIM WALKER
Photograph by Tim Walker for W Magazine, April 2013.

Walker Tim
Kristen McMenamy photographed by Tim Walker for W Magazine, September 2012.

Walker Tim
Tilda Swinton photographed by Tim Walker for W Magazine, August 2011.

Walker Tim
Anna Piaggi photographed by Tim Walker for W Magazine, November 2012.

Walker Tim
Photograph by Tim Walker for W Magazine, March 2013.

Walker Tim
Photograph by Tim Walker for W Magazine, April 2013.

Walker Tim
Lara Stone photographed by Steven Klein for W Magazine, August 2009.

Steven Klein
Photograph by Tim Walker for W Magazine, April 2011.

Tim Walker
Karen Elson photographed by Michael Thompson for W Magazine, December 2005.

Thompson Michael
Jennifer Lawrence photographed by Tim Walker for W Magazine, October 2012.

Walker Tim
Photograph by Reljin Dusan for W Magazine, August 2005.

Reljin Dusan
Photograph by Tim Walker for W Magazine, April 2011.

Tim Walker
Photograph by Tim Walker for W Magazine, April 2011.

Tim Walker
Lucy Birley photographed by Tim Walker for W Magazine, April 2013.

Walker Tim
Lily Donaldson photographed by Steven Klein for W Magazine, March 2014.

Steven Klein