Melusine Ruspoli: Roman Holiday
The Italian It girl masters a mix of ladylike prints.
---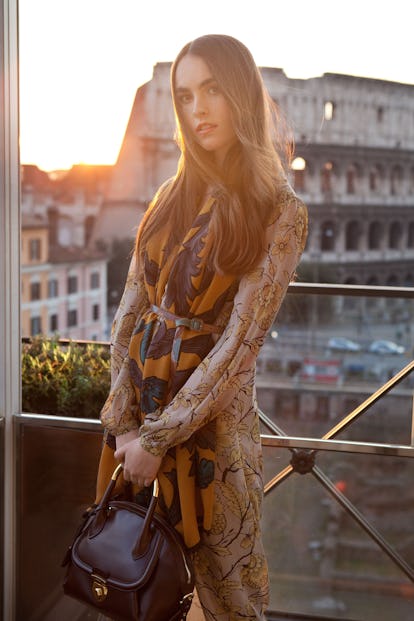 The daughter of a French former model and the late Prince Alessandro "Dado" Ruspoli, an eccentric aristocrat whose family titles reportedly date back more than 1,000 years, Melusine Ruspoli is the epitome of Italian royalty. Just don't call her a princess. "I never use the title," insists the 19-year-old. "Of course, I have some advantages—but I'm like everyone else."
Well, not exactly. Ruspoli spent her childhood at the Palazzo Ruspoli, in Rome, among family friends like Roman Polanski and Balthus. Summer vacations took place northwest of the city in Vignanello, at Castello Ruspoli, a storied enclave boasting labyrinthine gardens, where she celebrated her 18th birthday with a moon-themed ball. In November, she made her official social debut dressed in Chanel Haute Couture at the Crillon Ball in Paris, though it was hardly her first big event. ("We had to waltz, but I already knew how to from other balls in Italy.") And she can be seen front row at Chanel, Emporio Armani, Valentino, and Salvatore Ferragamo.
In fact, Ferragamo's creative director, Massimiliano Giornetti, was so taken with the young beauty that he invited her (and her mother, Patricia), along with other international notables, to represent the brand's new Fiamma handbag collection—named for Salvatore Ferragamo's daughter. Portraits and a film including Ruspoli recently debuted on the Ferragamo website. For Ruspoli, it was a project that hit close to home. "Ferragamo is a traditional fashion house that really represents my country," she says. "And we did the shoot at the castle. It's not possible to get more Italian than that!"
Photos: Melusine Ruspoli: Roman Holiday
Chanel jacket, $9,050, select Chanel stores, 800.550.0005.
Chloé bag, $3,890, Chloé, New York, 212.717.8220.
Hair by Nuala; makeup by Arianna Campa at Close Up Milano; photography assistant: Paolo Gerina; fashion assistant: Marta Donadi. Special thanks to Hotel Palazzo Manfredi.