NEW YORK FASHION WEEK FALL 2017
Proenza Schouler Ditches New York Fashion Week for Haute Couture for Spring 2018
The New York-based fashion favorite will switch to a bi-annual model beginning in July, aligning itself with the couture calendar.
---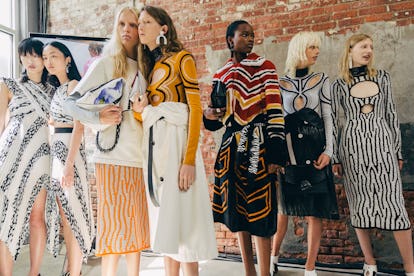 Another day, another major fashion week shakeup.
Today, Proenza Schouler announced that the upcoming New York Fashion Week will be its last. Beginning with Spring/Summer 2017, the brand, founded by Jack McCollough and Lazaro Hernandez in 2002, will be moving off the traditional fashion week calendar in favor of a bi-annual show held in January and July. In doing so, the main ready to wear and pre-collections will be unified into one collection. In a statement issued by the brand, the designers said the move is an effort to "pursue a business model more aligned to the realities of commerce today."
According to the label, "a large percentage of the brand's sales are placed during the pre-collection market with the smaller balance going to the runway delivery, which, in truth, is the heart and soul of the Proenza Schouler brand," the release continues. "This shift in strategy will ensure that Proenza Schouler's runway collection, including both ready-to-wear and accessories, will be the focus of buys and deliver to stores earlier, thus giving them a longer life at retail. The collection will be divided into monthly deliveries each representing key groups from the show."
The fall collection will take place as originally scheduled in New York on February 13th, but come July, Hernandez and McCollough will be heading to Paris, where the first unified collection will be shown during couture week. The location of the subsequent shows has yet to be confirmed. This initial move to Europe is a conscious effort for the New York-based label to achieve a more international presence as they gear up to launch the first Proenza Schouler fragrance—a project that has been in the works since 2015—with L'Oréal Luxe in 2018.
Hernandez and McCollough's decision to restructure is just the latest in a series of shakeups surrounding New York Fashion Week. Last week, Rodarte announced that they would be leaving the traditional calendar, effective immediately, to pursue a similar model, while both Kenzo and Vetements have already made the change. What's more, Tommy Hilfiger, Rachel Comey and Rebecca Minkoff are all ditching New York this season in favor of Los Angeles, and Hood By Air for Paris, while Opening Ceremony moved off the official calendar for a politically-inflected ballet over the weekend choreographed by Justin Peck at Lincoln Center.
As Peck's ballet's is called, the times are racing.
Proenza Schouler's Blockbuster Spring Show Pops with Color
Taraji P. Henson Gets Down to "I Will Survive" — With a Few Embellishments