Proenza Schouler's Rise to the Top
Designers Jack McCollough and Lazaro Hernandez open up at F.I.A.F.
---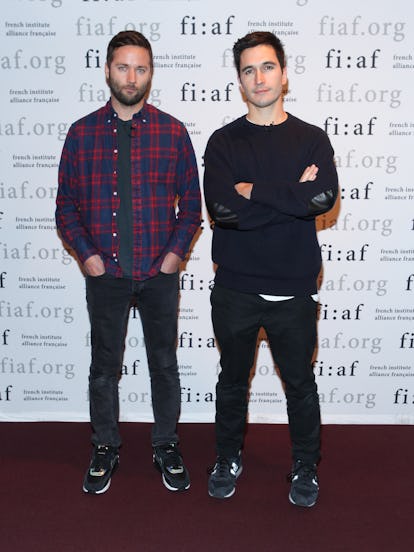 On Wednesday evening, Jack McCollough and Lazaro Hernandez, the founders and designers of [Proenza Schouler](Jack%20McCollough and Lazaro Hernandez. Photo courtesy of FAIF.), spoke with Vogue's Sally Singer at F.I.A.F (French Institute Alliance Française) in New York City. The duo arrived in jeans and sneakers and started from the beginning: how they met as students at Parsons and paired up for their senior thesis, which was purchased by Barneys New York immediately after the presentation. In the whirlwind that followed, they sought help from friend and now-CEO Shirley Cook, who took notes from the Barneys crash course collection book (can we get a copy?) and relied on intuition for the rest. "We delivered [the collection] to Barneys in a taxi cab," says Hernandez. And they were on their way.
Over ten years later, Proenza Schouler is a global brand, which requires a small army of people to manage. "There's three countries involved with almost every look we put together," says McCollough. "We like to drive our team completely insane." And although they say they "don't like to plan," Hernandez reveals that men's wear is something they're talking about. "If we have something to say about men's, we'll say it," he adds.
When they're not designing, Hernandez and McCollough revealed that they are intimately involved in the business side of the brand. "Every day we get a sales report sent to us in email saying who went to the store, their names and what they bought," says Hernandez. McCollough elaborates: "Sometimes we email our friends like, 'Oh, saw that you went to the store today. How's that T-shirt?'" Hernandez laughs: "It really freaks people out when we do that."
To save time and energy, the pair is now trying to work it out so that they both don't have to be at every meeting, but it's when they put their heads together that they get the best results. "You get something that's never existed before," says McCollough. In fact, the designers admit that they don't see colors the same way. "We both did a test last week just to see," says Hernandez. But they've mastered the art of compromising. Hernandez explains: "If I want to do white and he wants to do black, we do gray."