The Ultimate Guide to Puglia, Italy: How to Travel Well in "the New Tuscany"
Where to eat, stay, and play in Italy's hottest new destination.
---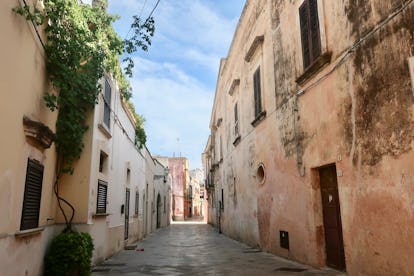 Photo by Fabrizio Amoroso
When Helen Mirren was on the Italian press tour for The Queen in 2007, she fell so in love with Puglia that she went back and bought herself a castello (a castle) a few months later. And who can blame her? Heralded as "the new Tuscany," the region has attracted admirers from Bella Hadid to Tom Hanks to Madonna, who threw herself a rager in Puglia last year, and returned this month for round two. Located at the southernmost "heel" of the Italy boot, Puglia's bucolic charm, fairy-tale towns, UNESCO heritage sites, and locally-sourced cuisine has landed the region on our vacation hot map.
To Eat
The most important decision you'll make each day. Puglia is culinarily self-sustainable, and known for using exclusively local products; it's common that a restaurant or hotel even makes their own olive oil. For lunch, head to the picturesque village of Alberobello, known for its trulli architecture and regional cooking. In Alberobello, you'll find Trullo d'Oro, highly recommended by the Michelin guide, but without the Michelin price tag. Be sure to order the staples such as eggplant caponata, fava bean puree, and grilled octopus.
For dinner, head to Masseria Le Mandorle in Ugento, where you'll be greeted by a lavish antipasto bar that changes nightly. Expect an array of fresh vegetables from chicory and peppers to beets, and the best tomato focaccia you'll ever have, freshly baked by the mother of one of the waiters. For the main course, choose from an option of traditional cuisine, from veal cutlets to spaghetti with clams. For those looking for an unforgettable fine dining experience, your answer is Grotta Palazzese, which also happens to be the most Instagrammed restaurant in Italy. Set inside a cliffside cave, your prix-fixe meal is served by suit-clad waiters, and set to a soundtrack of live classical music and panoramic views of both the Adriatic Sea and a bat-laden cave. Another not-to-be-missed dining experience is a candlelit dinner at Masseria Frantoio, and make sure to arrive hungry. From the doughy pasta to apple tarte tatin,, everything is homemade by a kitchen of nonnas who whip up simple, yet scrumptious traditional dishes, from spaghetti al pomodoro to zucchini fritters. Naturally, they also make their own olive oil on site, and the aperitivo sampling is to die for.
To See
If you do anything in Puglia, make sure you get lost in its idyllic medieval towns, each one more enchanting than the next. Start your journey in the northernmost province of Matera, and visit the historical center of Sassi in which you'll find the Park of the Rupestrian Churches, a cluster of monasteries, houses, and churches which have been naturally carved into the volcanic hillside over the course of 800 years. Known as the "city of caves," the medieval town has re-appropriated its landscape into dreamy cave hotels and atmospheric restaurants which overlook the city.
Puglia is also known for its paradisal rock beach swimming alcoves and hidden grottos. The best swimming holes are clustered at the southernmost point of Puglia on the eastern coastline. Do not miss Grotta Verde in the town of Andrano, a strictly local spot with an illuminated swimming cave. The best of the swimming alcoves are rustic and service-free, so make sure to bring your own towel and umbrella to spread out with locals on the rocks.
To properly take in traditional Trulli culture, do not skip Alberobello, the most famous UNESCO town in Puglia which looks like a white-washed hobbit village. Shopping is minimal in Puglia, but there are plenty of worthwhile souvenir stores to wander into which sell local ceramics and regional mandarin and lemon liqueurs. Alberobello is also known for its killer restaurants, so make sure to book one in advance as they're often filled up!
Another must-see town is the municipality of Ostuni, known as the "White City". Like Alberobello, peruse the local crafts stores such as a sandal window on Via Cattedrale, where you can customize your own leather sandals. Try to visit Ostuni on a Saturday so you don't miss the Saturday morning market, where you'll find local vendors selling crafts and fresh produce.
For those who want to unwind and relax, spend a day at hotel Furnirussi Tenuta and relax by the natural pool or work out in the outdoor gym. Make sure not to skip lunch! Order simply: the homemade spaghetti al pomodoro is a knock out, and end your day with a twilight stroll through the hotel's fig plantation, the largest one in Italy.
Accomodations
Puglia is known for its three different types of architecture: trulli (coned huts), masserias (old stone farmhouses), and castellos. To get the most out of your time here, try to stay at all three types of classic Puglian accommodations.
For the ultimate masseria experience, look no further than Masseria Trapanà. Housed in a 16th century farmhouse, the eight-room property boasts six gardens that are laden with lemon trees and hammocks. The rooms retain their authentic walls, and the suites boast private terraces with outdoor baths overlooking the region. If you don't want to leave the property, you're in luck. There's a croquet pitch with an accompanying closet of lavish sun hats to complete your look. There's also a sulfur pool in the property's cave-turned-spa area, and pizza making lessons in a state-of-the-art kitchen. Enjoy your evening aperitivo on the masseria's roof or beneath their vine covered pillow-strewn outdoor fireplace.
For those who've always wondered what it would be like to live in a castle, there's Castello di Ugento, an 800-year-old castle which opened its doors to the public for the first time ever in May, after an eight year renovation. The hotel is a seamless blend of modern and medieval charm, with nine beautiful rooms, surrounded by the original moat that once protected the castle. Owners Massimo d'Amore and Diana Bianchi's objective is to make your stay an intimate one, so you'll feel as if the castle is your own private home. You'll rarely run into other people, and Bianchi personally welcomes each guest inside the fairytale vegetable garden each evening to enjoy an idyllic aperitivo. The thing you can count on at Ugento is a good meal. In the winter months, the hotel is turned into a cooking school, and trust us when we say that dinner inside the castle's majestic courtyard cannot be missed.
For an authentic rural experience, try Trullo Sant'Angelo, a straightforward, fully functioning farm with olive and lemon groves. Owned and operated by the same family for three generations, you'll get the feeling of what its like to live like a local in the countryside. Dogs and wild cats roam freely throughout the property, and guests are invited to pick tomatoes, figs, and lemons right off the trees. You'll often find the owner cracking and shelling almonds near the entrance, and you'll see carts of figs and tomatoes drying out in the sun. While the trullo serves a proper breakfast, any daytime snack you can forage for yourself on the property. If you go for any reason, it should be for the figs. They are the most mouth-watering figs you will ever consume.