SEOUL FASHION WEEK SPRING 2017
Pushbutton, Blindness, and Münn: Three Emerging Designers to Know From Seoul Fashion Week
Seung Gun Park, Kyu Yong Shin and Jong Taek Lee, and Hyun Min Han are the three young designers from the South Korean capital who left the strongest impression after its latest fashion week.
---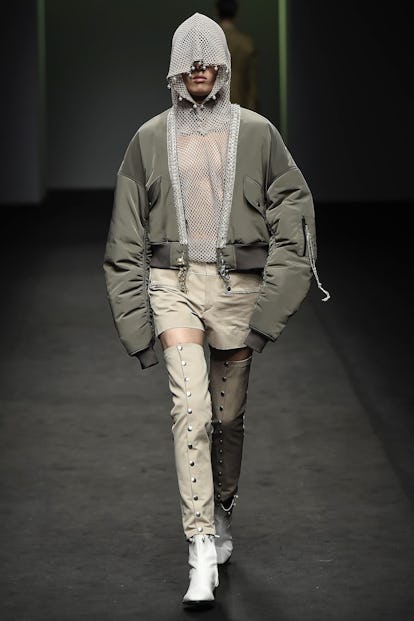 At Seoul Fashion Week, it was the originals who left the strongest impression in a sea of imitations and re-interpretations of top Western and European brands like Gucci and Vetements.
Three such standout designers were Seung Gun Park of Pushbutton, Kyu Yong Shin and Jong Taek Lee of Blindness, and Hyun Min Han of Münn. Each demonstrated the range of South Korean style, from colorful K-Pop fantasy to unisex dandies and modern handmaidens. Interestingly enough, all three brands showed unisex looks for Spring 2017, despite most of them coming from a menswear background. Because of the commercial success of womenswear in Korea, it's the menswear designers who are usually the ones pushing boundaries and taking risks. However, many menswear designers in Seoul stay afloat thanks to female customers, which is why so many of them have feminine-leanings. These three up and comers accepted the challenge of appealing to everyone this season — and succeeded.
At the Seoul Fashion Week closing gala on Saturday evening, Seung Gun Park of Pushbutton was named Best Designer by a committee of buyers and editors. Founded in 2003, the brand is a favorite amongst K-Pop stars for its poppy designs, girlish silhouettes, yet also unisex styles. This season, Hyoyeon Kim from the group Girls Generation sat front row while men walked the runway in heeled boots and female models strutted in oversized suits. Park himself took a bow in men's jeans and a ruffled women's blouse. "I was inspired by Duchamp's Readymades this season," he told W. "In this way, I wanted to be artistic and commercial at the same time."
Blindness was a unanimous favorite among buyers this season for its standout menswear collection. Founded in 2012 by Kyu Yong Shin and Jong Taek Lee, for Spring 2017 they were inspired by the film The Danish Girl, starring Alicia Vikander and Eddie Redmayne, who plays a male painter in the midst of a gender transition. In this vein, the collection included dandy-esque ruffled shirts, pearl and diamond embellishments, plus a dress as the final look. There were also more street-influenced pieces interspersed throughout, like pink puffer coat and fishnet hoodies.
The Münn designer Hyun Min Han worked so tirelessly on his Spring 2017 collection that he passed out the day before the show. Because he was hospitalized, his team wasn't sure he was even going to make it to the runway, but he pulled through and received a standing ovation when he bowed. So, it all paid off. "I was working really late every night until the show, so I fainted because of lack of sleep," Han said at the closing gala, somehow still standing. This season, he was inspired by Korean director Park Chan-Woo's The Handmaiden — a film getting much international attention right now, particularly for its eroticism. However, Han said he was "especially inspired by the colors in the film," as well as it being set during the country's Japanese occupation years. References to Korea's history included shirts that looked like burlap rice sacks, plus an earthy color palette and even a handmaid's needlepoint frames dangled from some garments. It was truly a creative pastiche rather than an interpretation, like so many other shows.
The Top 15 Looks From Seoul Fashion Week Spring 2017